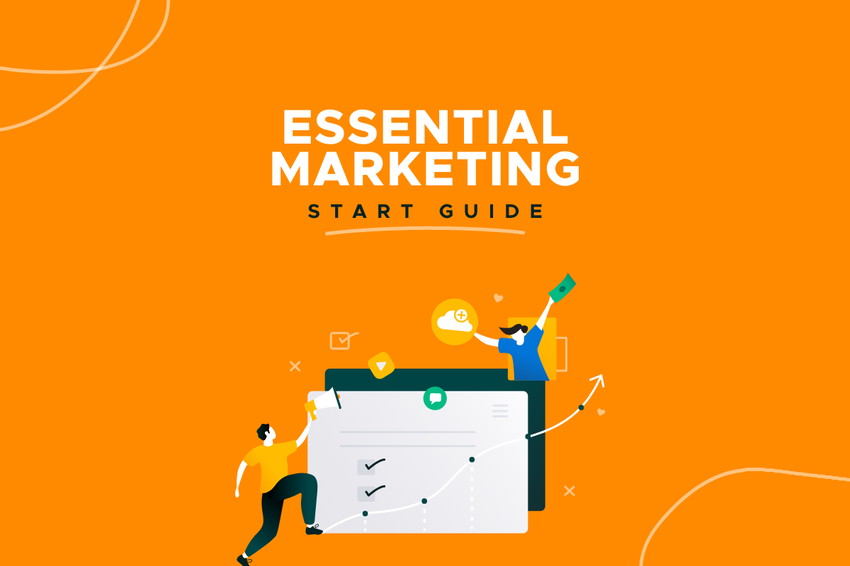 Level up your digital marketing with our best tips for freelancers and agencies
What if you could get over 10 hours of free one-on-one consulting directly from the AppSumo marketing team?
But instead of making you attendanotherZoom meeting, we condensed all 10 hours of tips into… (*drumroll please*)
A FREE step-by-step digital marketing playbook.
Presenting the AppSumo Essential Marketing Start Guide.
Dive into step-by-step walkthroughs on creating Facebook and Google ads
Access best practices for launching a newsletter, getting B2B customers on social media, and more!
Hear marketing tactics and strategies straight from the growth minds here at AppSumo
Overview
The AppSumo Essential Marketing Start Guide is an ebook that helps lean professional service businesses take control of their digital marketing with direct advice from the AppSumo team.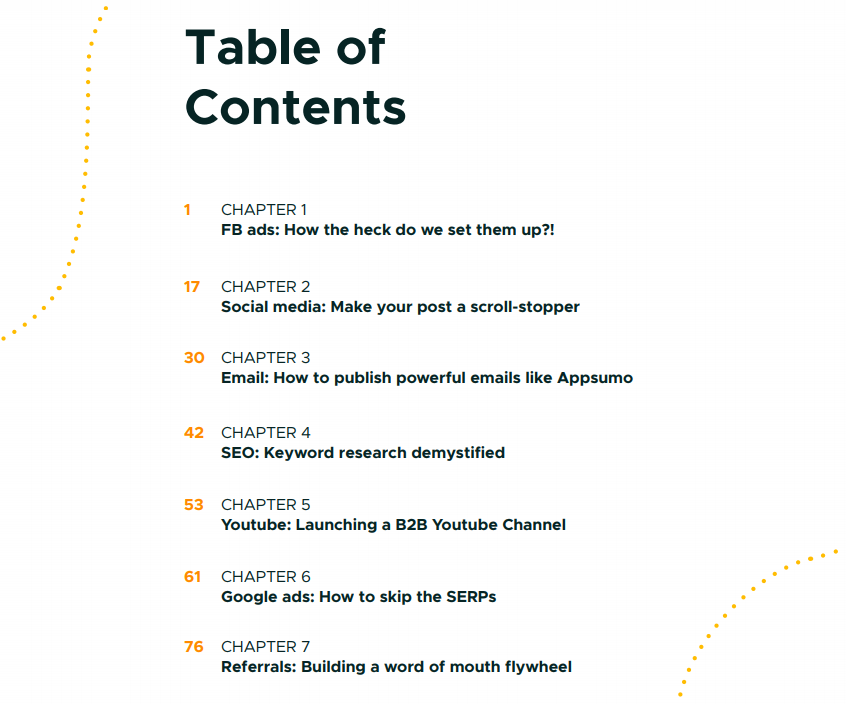 Written with small teams and tight budgets in mind, the AppSumo Essential Marketing Start Guide fills in the gaps of your digital marketing strategy.
Get ready to take your business to the next level with advice straight from the mouths of Sumos.
Real-life copywriters, Alex and Sarabeth, sat down with 7 members of the AppSumo marketing team for real consulting calls.
They dove into seven unique aspects of their business — Facebook ads, social media, email, SEO keyword research, YouTube, Google ads, and referrals — and how to improve them.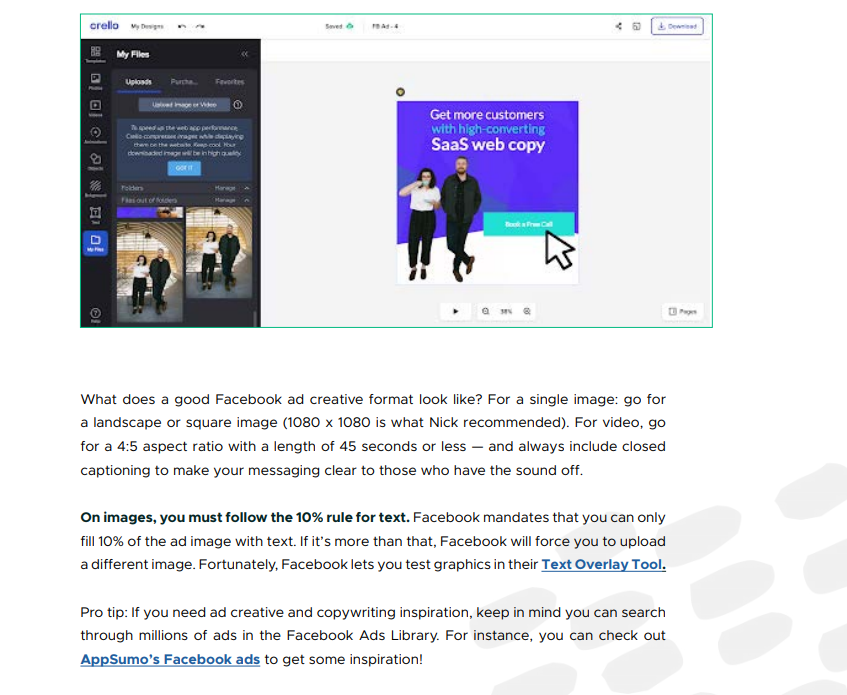 When you're killing it for your clients, it's easy to spend all your time working in your business instead of on your business.
And when you finally have a free moment to spare, where do you even start?
This guide is packed with ideas, step-by-step walk-throughs, and even one-off growth tactics we use here at AppSumo.
The next time you need to plan social media, create a powerful digital ad, or launch that new viral referral program, we've got you covered.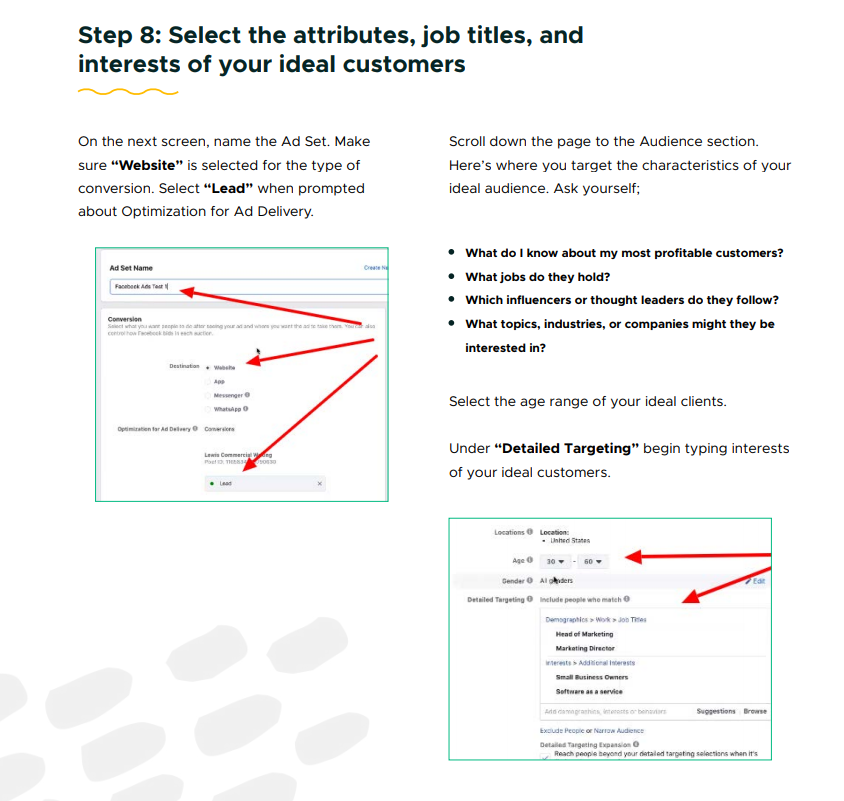 You'll read video creation advice from Brandon — a content producer behind many of Noah Kagan and AppSumo's most popular YouTube videos.
Then, get a step-by-step Google ads walkthrough from Jack — the mastermind behind some of AppSumo's highest-ROI digital ads.
Plus, you'll receive email tips from Chris — the newsletter guru who writes and manages the memorable emails for AppSumo that generate tens of thousands of dollars every week.
And that's just 3 out of 7 chapters…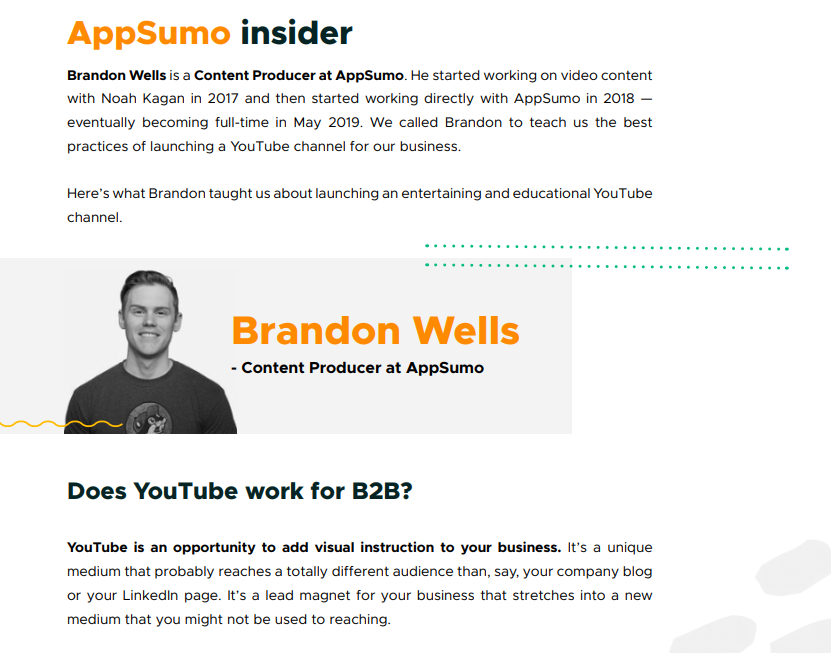 So much of the digital marketing advice online is a total scattershot — it's generic or focused on an irrelevant industry.
All the advice in this ebook is geared toward small service businesses: freelancers, small agencies, solo consultants, and business coaches.
After all, you don't have 40 hours, a full marketing team, or a massive advertising budget to spend every week on digital marketing.
These tips take a lean approach, helping you get the basics right, so that you can get quality leads and level up your business.
Every entrepreneur has big challenges to overcome on their way to success.
With this guide, we hope your next big challenge is just figuring out how to handle all your newfound success (just don't forget the little people).
Dive into this ebook today — and start raking in those leads this week.
Get free access to the AppSumo Essential Marketing Start Guide now!
Deal terms & conditions
FREE lifetime access to AppSumo's Essential Marketing Start Guide eBook

GDPR compliant
Get lifetime access. Just download and save within 60 days.