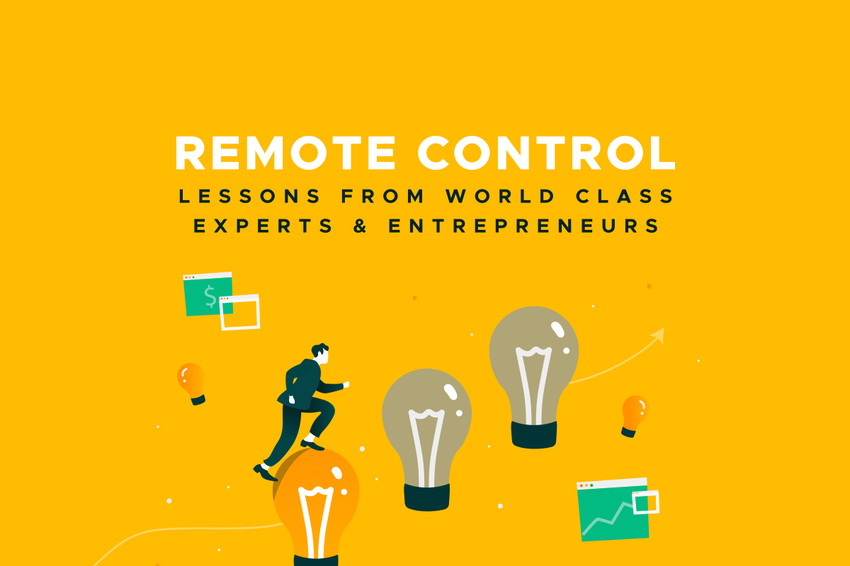 Get actionable advice from industry experts on topics from marketing to productivity
At AppSumo's Remote Work Academy, we've interviewed dozens of industry leaders on their best insights for success.
But if you're always on the grind likeTony Hawk's Pro Skater 2, you need one resource that maximizes your time and money (gotta nail those combos).
For Sumo-lings who don't have time to tune in, we've condensed all that awesome info for you.
Introducing Remote Control: Lessons from World-Class Experts & Entrepreneurs.
Access actionable takeaways in growth hacking, marketing, productivity, freelancing, and more
Learn insights from tons of industry experts, including Chris Voss, Marie Forleo, James Clear, and Mark Manson
Discover the core lessons from over 20 hours of expert interviews
Overview
Remote Control: Lessons from World-Class Experts & Entrepreneurs is an ebook that condenses over 20 hours of interviews into simple, actionable advice for a variety of industries.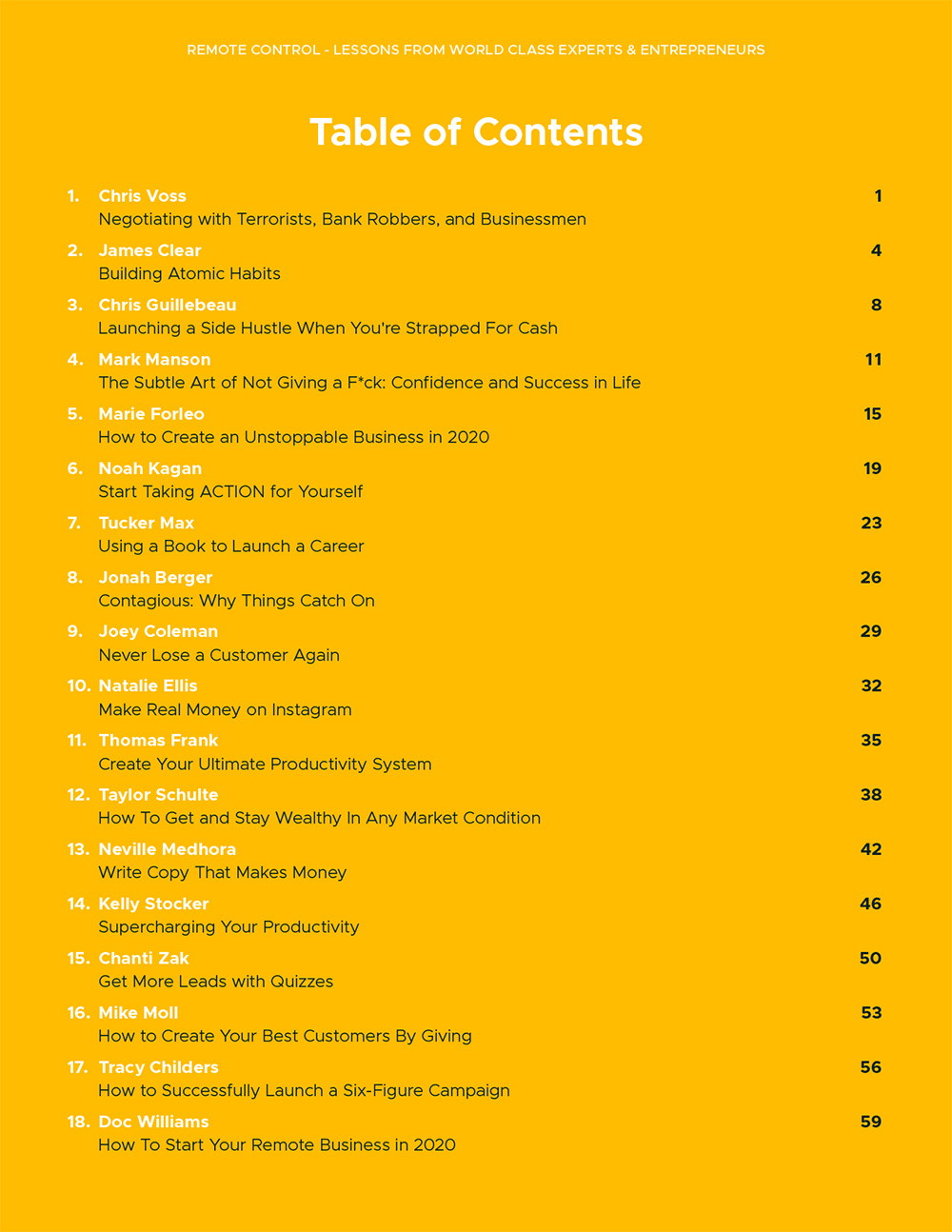 Regardless of what industry you're in, Remote Control has you covered.
You'll learn how to up your game in productivity, marketing, and business growth, with multiple perspectives on topics that combine for a detailed view.
This ebook also dives into behavioral psychology, negotiation, copywriting, freelancing, and way more, so you'll be able to find real-world examples of how to boost your bottom line.
This is one of the best resources you'll find that covers such a broad range of topics with so much precision—no fluff here (except your cozy WFH sweatpants).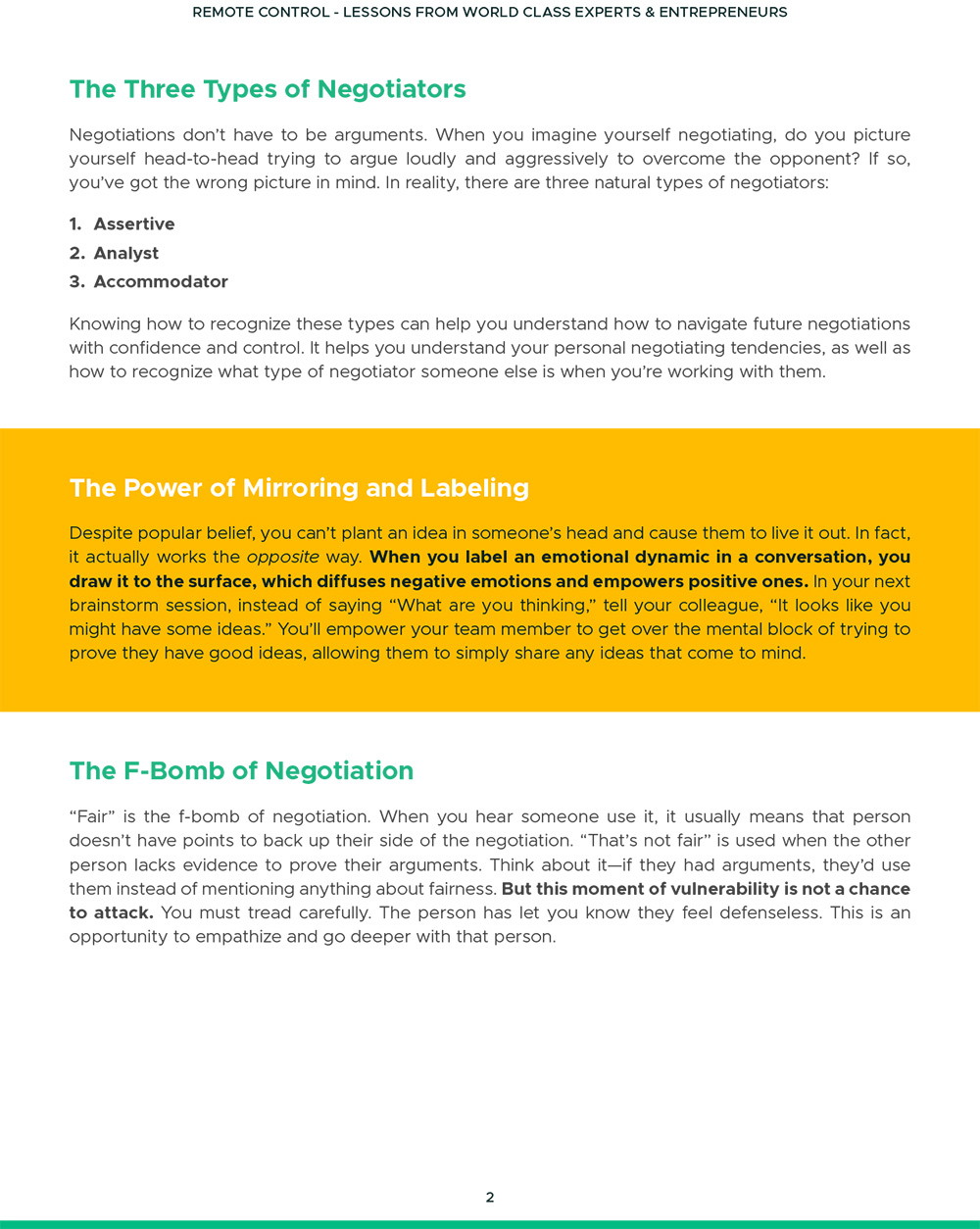 The Remote Work Academy interviews assemble a dream team of industry leaders.
We've got Marie Forleo showing you how to make an unstoppable business, Chris Guillebeau helping you launch a side hustle, and Tucker Max teaching you how to write your first book.
And did we mention FBI negotiator and Masterclass extraordinaire Chris Voss?
That's just scratching the surface of the experts lined up, including our own Chief Sumo Noah Kagan and copywriting OG Neville Medhora.
There are over 20 hours of interviews, all boiled down to their tastiest bits of bite-sized knowledge.
Each hour-long interview is condensed into 2 pages —we'll let you do the math.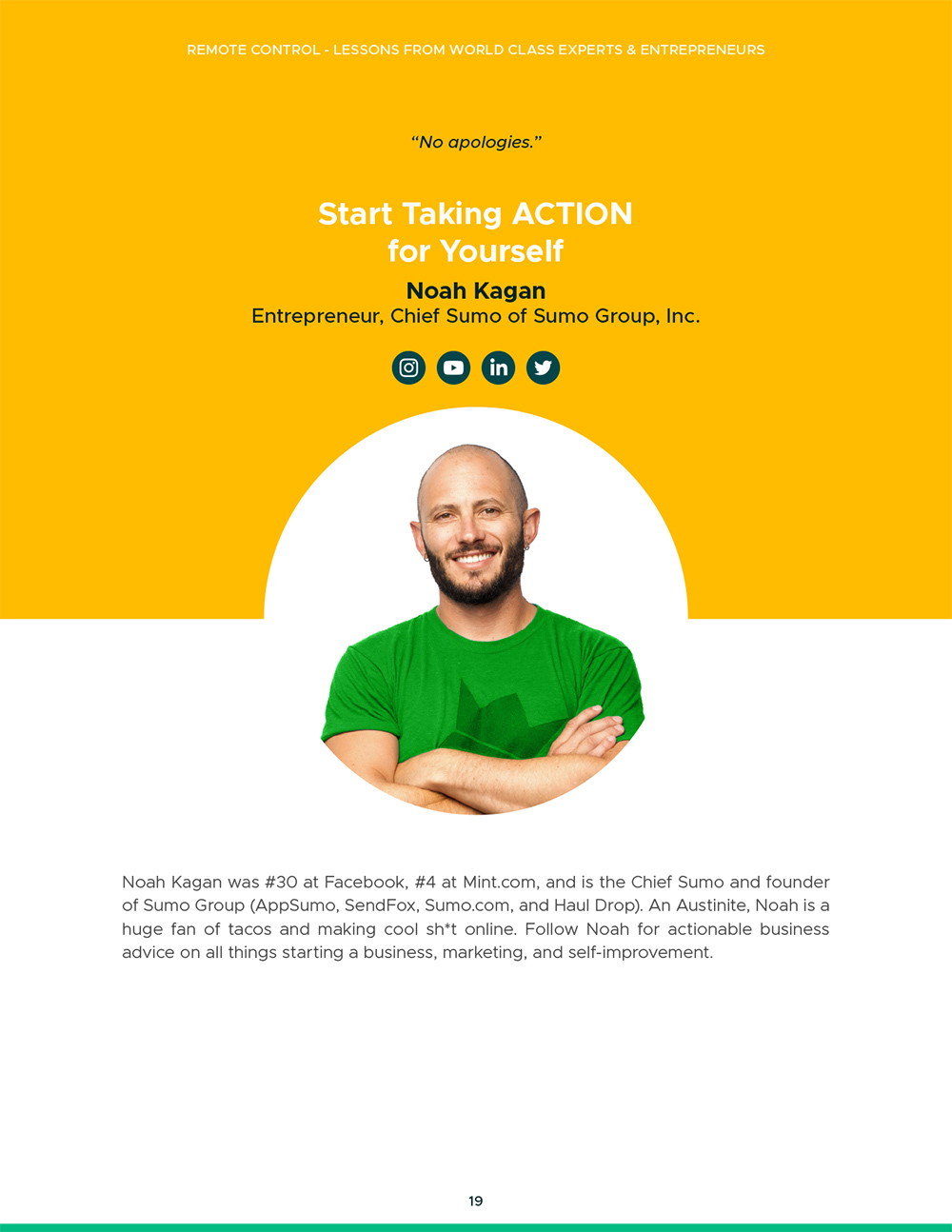 We've also saved you the time you'd spend Googling everything our experts brought up during the conversation.
Each entry comes with recommended tools and resources listed at the end, so you can quickly find the books and tools suggested by our experts.
These resources also serve as a handy reference if something slips your mind later, or you're putting off another book purchase until you finish that stack on your desk (we are also guilty of this).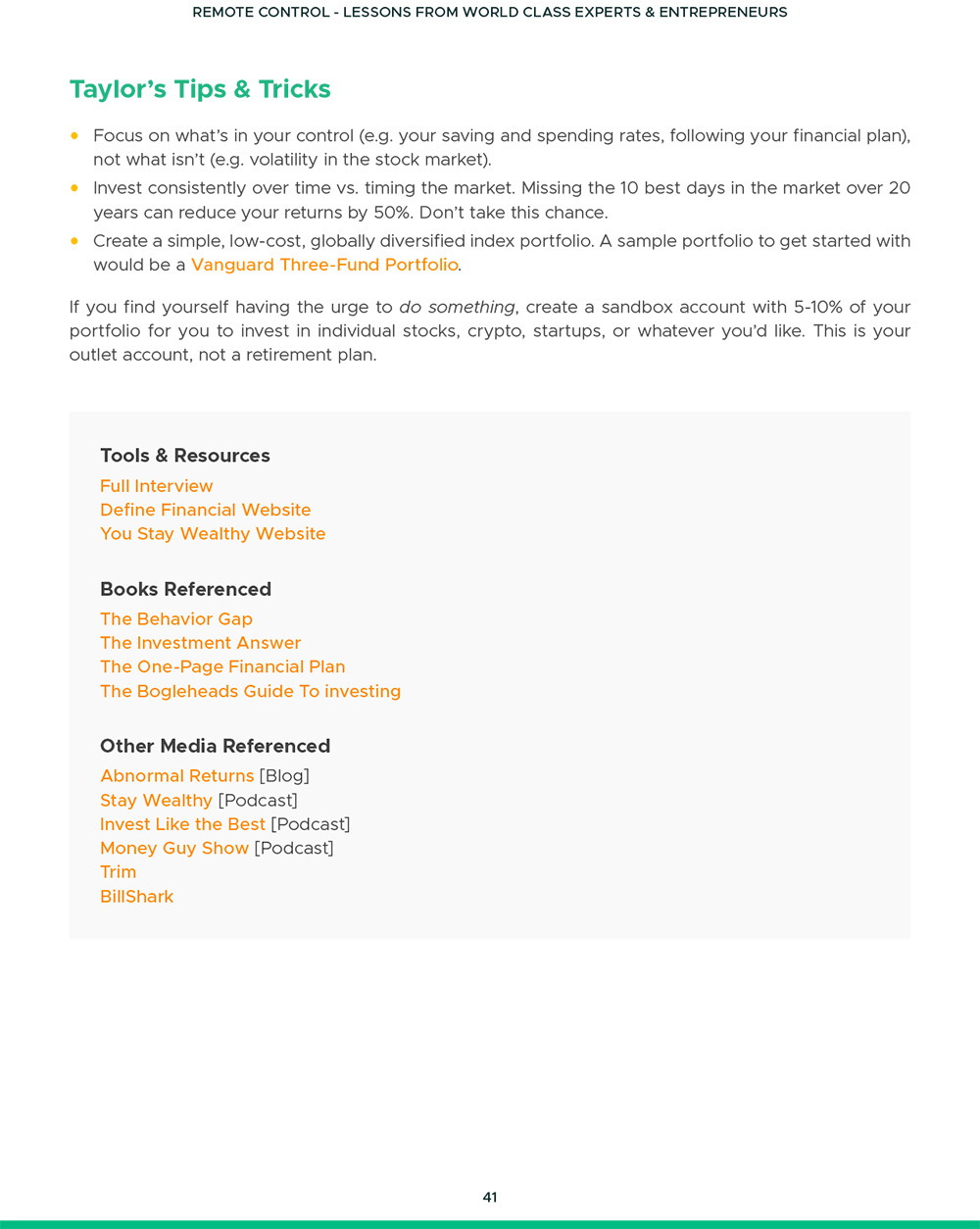 Resources and links at the end of each section help you expand your knowledge even further!
Working from home is a new frontier for a lot of people.
But whether you're a seasoned freelancer or new remote office outpost, you'll definitely find something to help you succeed.
If you're struggling to focus at home, we've got a section for that.
If you're looking to scale a new enterprise, there's a section for that, too. If you want better remote work… you get the idea.
Remote Control is worth a look no matter where you are in your professional journey, and it can even help you transition to a new career.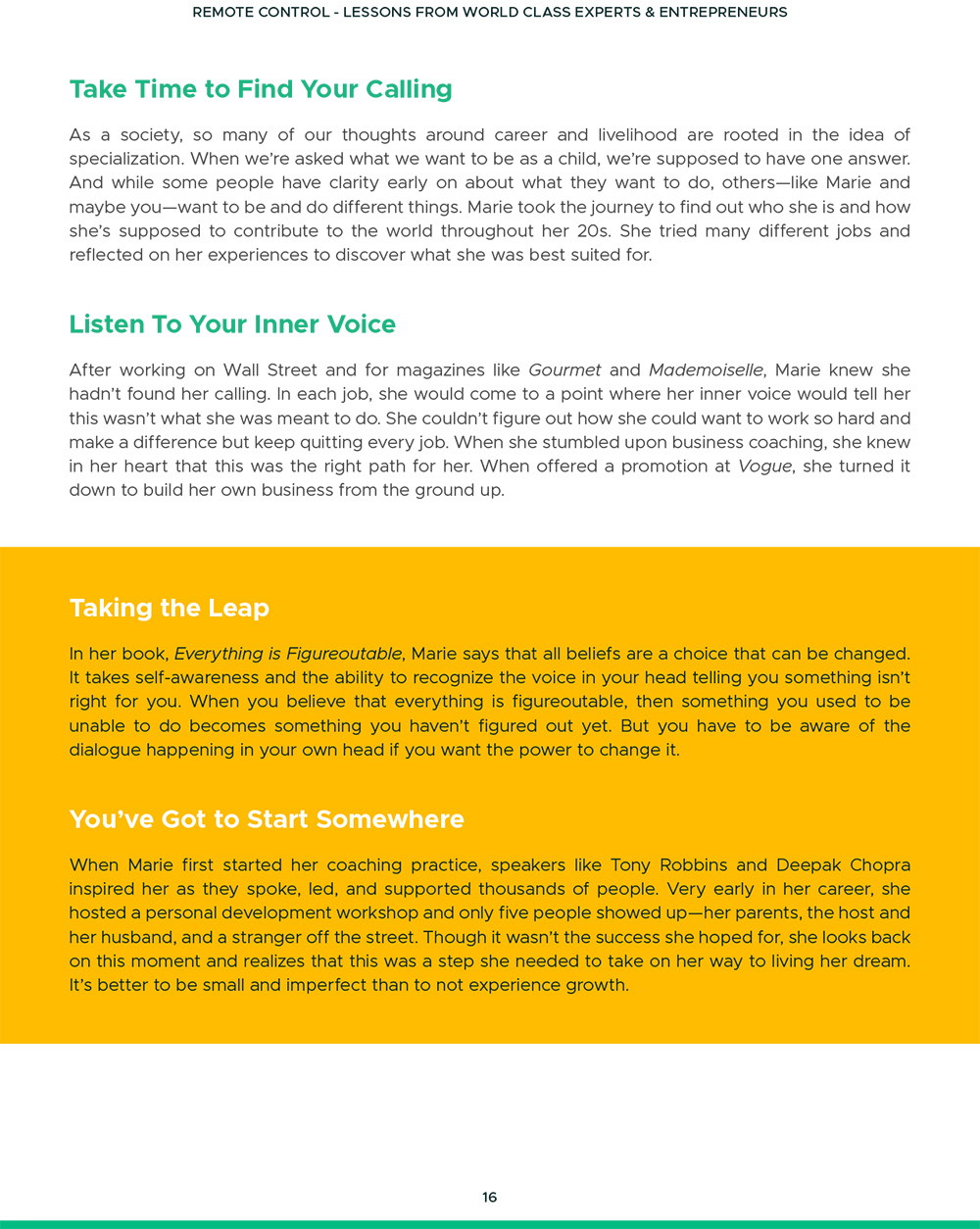 We know you don't always have time to sit and watch an hour-long interview, even if you're a hardcore Chris Schelzi fan (#SchelShocked).
But all of the knowledge in the Remote Work Academy was too good not to share with everyone.
Jump into all the lessons, advice, and resources from dozens of hours worth of expert interviews, packed into one easy-to-read ebook.
Get free access to Remote Control: Lessons from World-Class Experts & Entrepreneurs now!
Deal terms & conditions
FREE lifetime access to AppSumo's Remote Control: Lessons from World Class Experts & Entrepreneurs Ebook

GDPR compliant
Get lifetime access. Just download and save within 60 days.