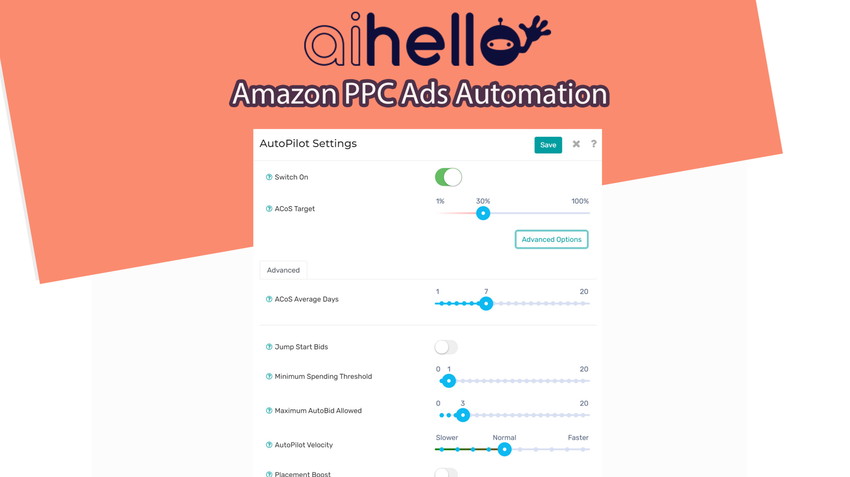 Amazon Ads Automation to help grow your revenues, reduce work hours and decrease your ad costs.
AiHello AutoPilot is Amazon ads automation to grow your revenues, reduce work spent on ads management, and decrease your ad costs for Amazon sellers. Automate PPC campaigns with AiHello AutoPilot. Save time, reduce AdCost (ACOS), and increase sales. With "Hands-Free" AutoPilot, there's no manual configuration for scheduling, boosting, or bidding. AutoPilot helps you optimize for profit by ensuring every dollar spent on Amazon advertising goes to what matters most: growing your business and increasing profits. AiHello AutoPilot helps grow your revenues and reduce work hours spent on Amazon ads management with automated keywords discovery, AI boost that bids automatically depending on forecasts. Increase bid boost during higher volume predicted days and during peak hours. Automate your Amazon seller ads now to grow your sales and reduce your ad costs. Want to chat with Customer Success team before deciding the plunge? Want more information on how AutoPilot Hybrid Automation can help your Amazon business succeed? Schedule a demo: https://www.aihello.com/schedule.html
Lifetime access to AutoPilot PPC Automation (until $25000 worth of managed Amazon ad spend credits are used)
You must redeem your code within 60 days of purchase

All future plan updates

Please note: this deal is not stackable
60 day money-back guarantee. Try it out for 2 months to make sure it's right for you!