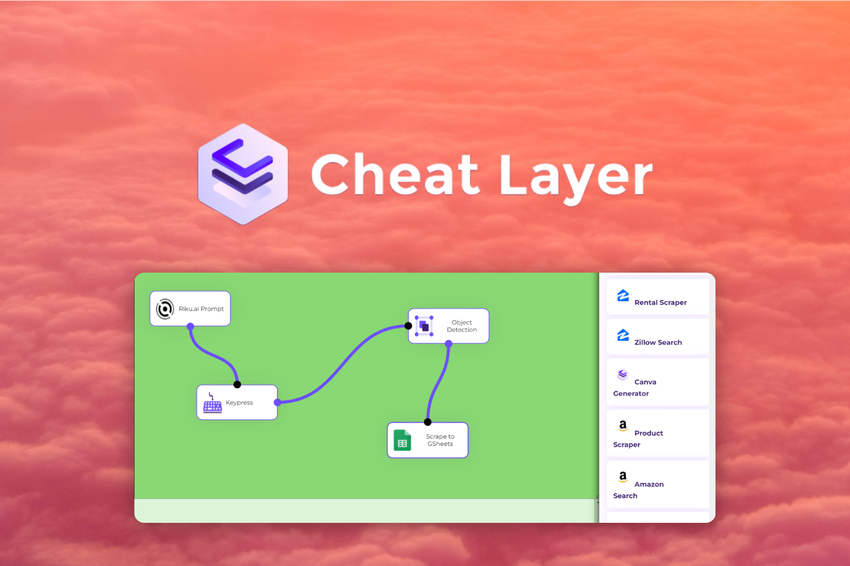 Build white-label automations with no-code tools and OpenAI machine learning
)
The reality is that your business needs to connect a bunch of complicated tools to run every day, but your makeshift solution just isn't sustainable.
What if you could build fully-functional automations using no-code tools and machine learning, all within a few minutes?
Get it done with Cheat Layer.
Generate business automations using powerful no-code tools and OpenAI Codex-powered machine learning—no experience required
Turn any automations into branded Chrome Extensions to resell to clients super quickly
Overview
Cheat Layer lets you build white-label automations using no-code tools, action recorders, and OpenAI machine learning.
With Cheat Layer, you can build complex automations in minutes with action recorders, no-code tools, and OpenAI Codex machine learning.
You just need to record actions like clicks, movements, and scrolls, or choose from pre-set actions types, to generate custom solutions.
Run unlimited automations across any program and browser using state-of-the-art computer vision, or even user-trained custom machine learning models.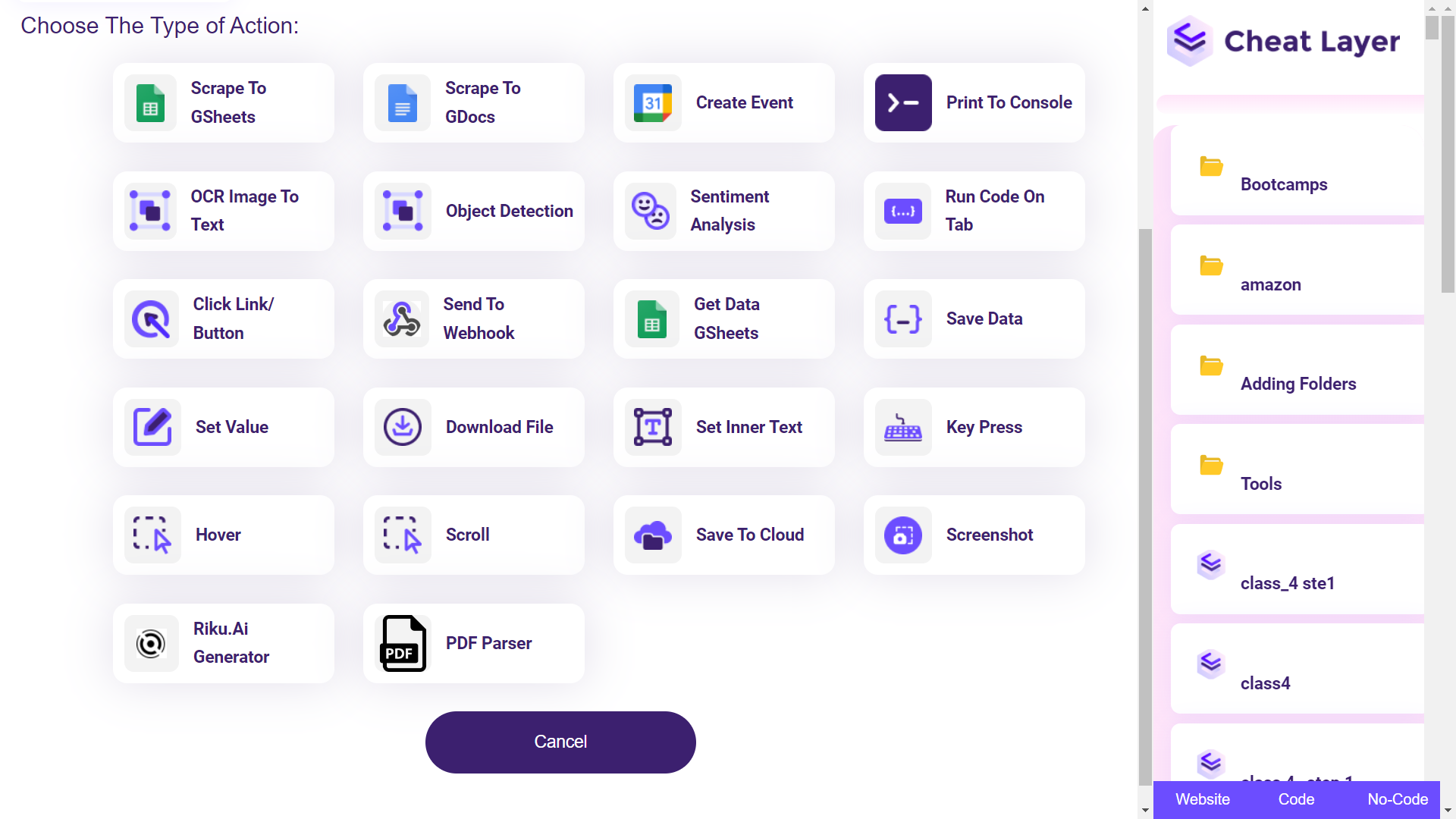 Build your automation in no time by recording actions or choosing from pre-set action types.
You can create your own unlimited integration service (like Zapier but without the extra fees!) using webhooks that run in the background of your browser.
Connect with business tools, including Google Sheets, Riku.ai, Canva, and LinkedIn, to automate everyday processes.
The tool also lets you run countless scheduled automations locally via extension or on the Cheat Cloud servers—with zero downtime.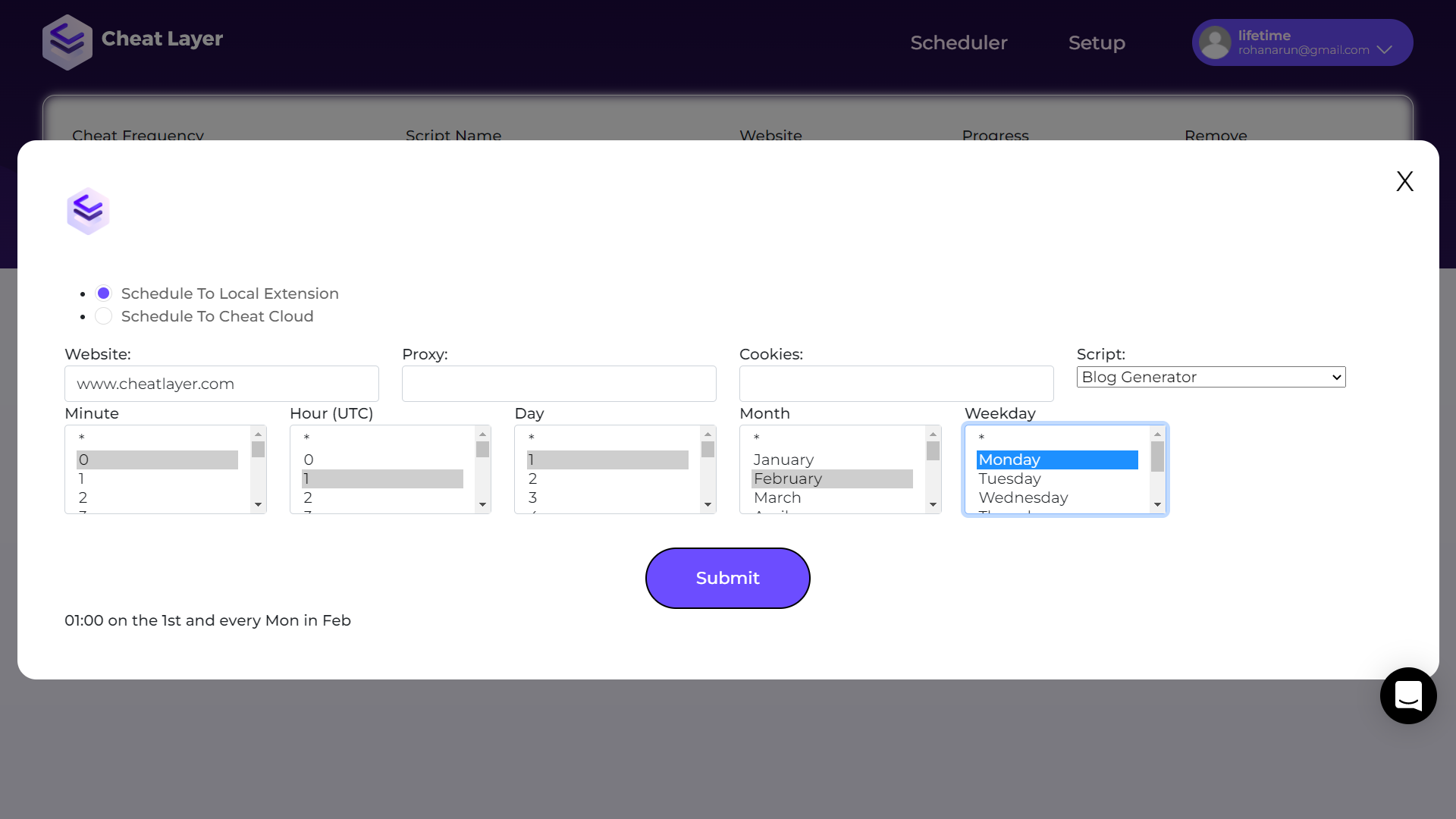 You can schedule automations months in advance to run locally or on Cheat Cloud servers.
You'll also be able to resell your automated solution as a white-label Chrome extension to all of your clients.
Cheat Layer even lets you pick from pre-built automations, as well as integrate a backend template that accepts Stripe subscriptions or AppSumo codes.
Plus, you can connect with expert engineers via Office Hours and request custom scripts for your projects.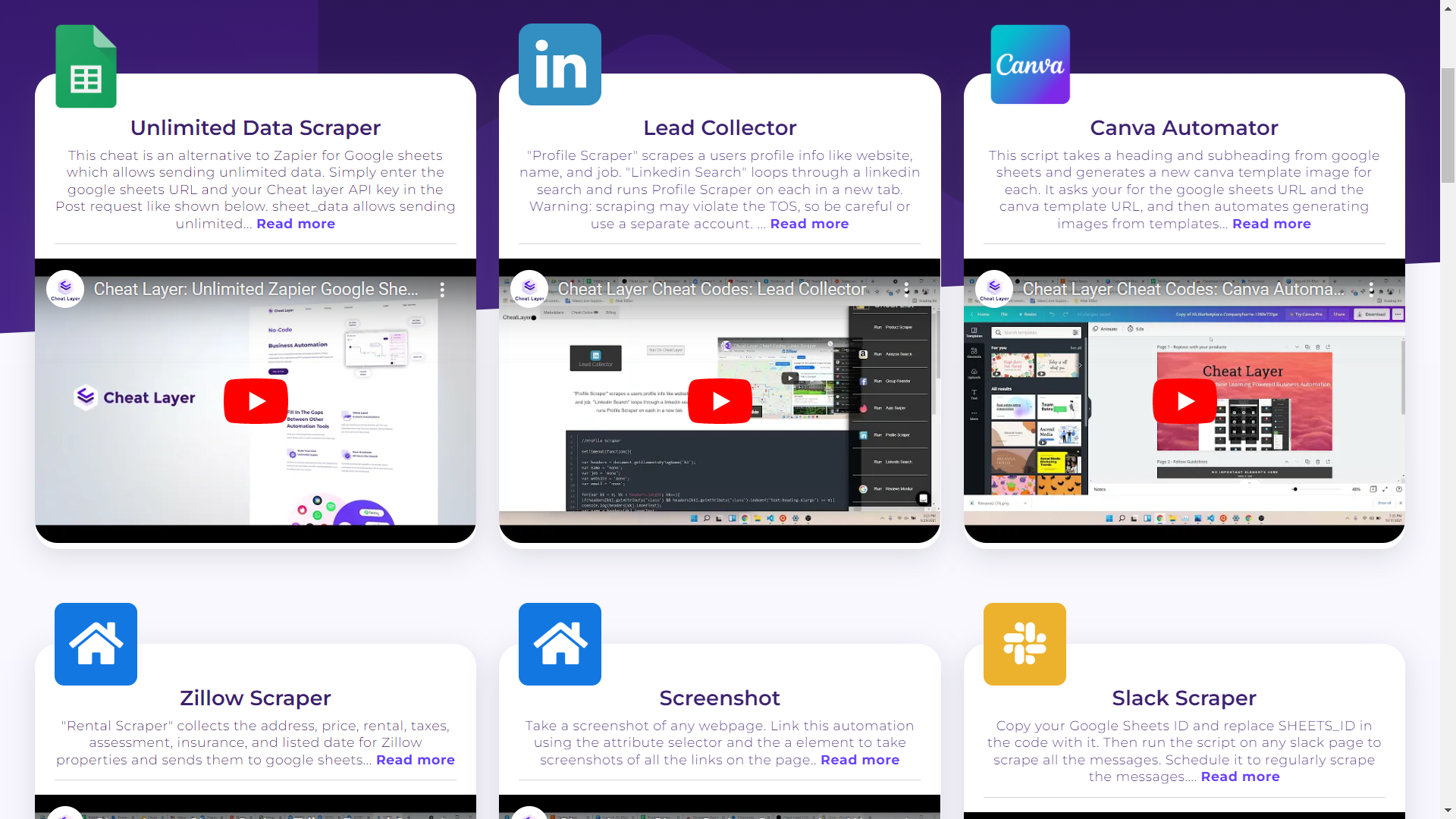 Choose from pre-built cheat codes or generate complex automations using Project Atlas, a Codex-powered automation generator.
And thanks to Cheat Cloud, you'll be able to convert any website into an API, even if it doesn't offer its own API yet.
That way you can build unique SaaS services that aren't on the market and start earning some recurring revenue.
Cheat Layer also lets you create robotic process automations (RPA) for desktop across Mac, Windows, and Linux, so you're not stuck performing repetitive tasks.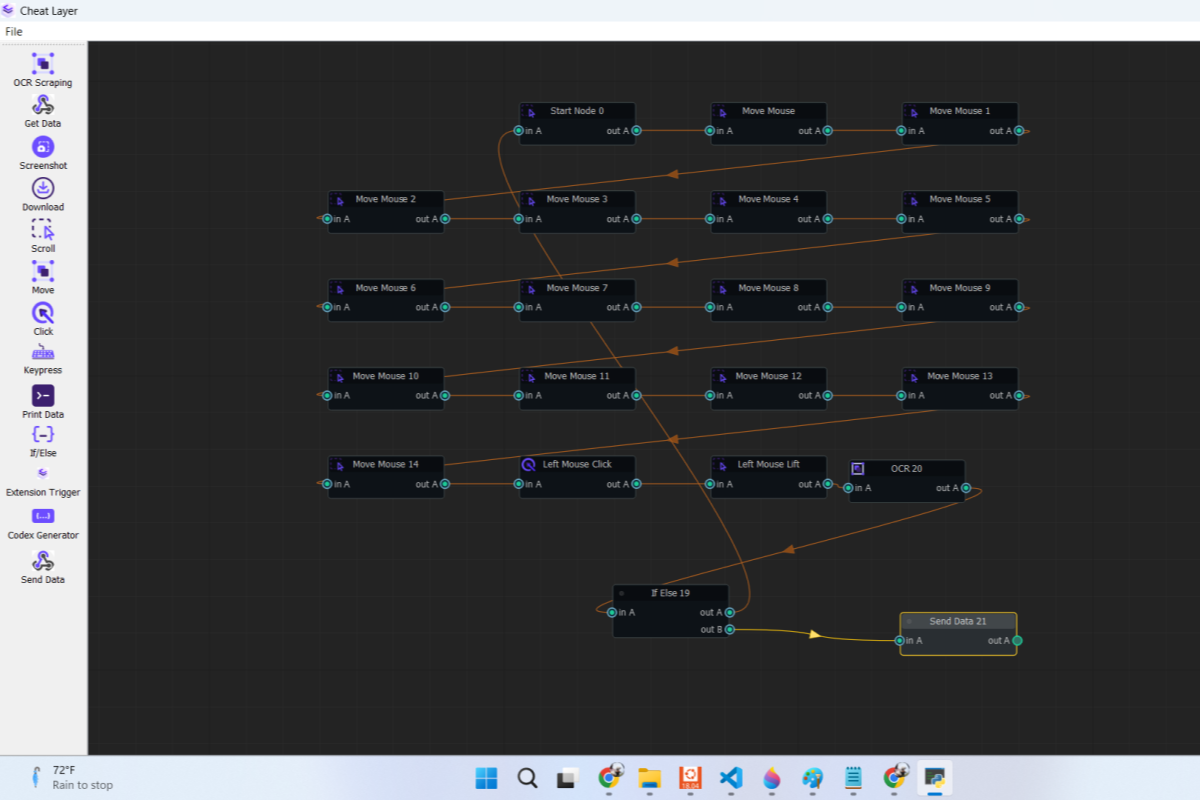 You can even create unlimited desktop RPAs to perform repetitive tasks for you!
You don't have the bandwidth to grow your business when you're bogged down by repetitive tasks every day. ("Looks like our top goal for Q3 is to find time to talk about Q4.")
With Cheat Layer, you can generate automations using advanced computer vision and OpenAI-powered language models—no matter your skill level.
Automate your business with a no-code solution.
Get lifetime access to Cheat Layer today!
Deal terms & conditions
Lifetime access to Cheat Layer

All future Workflow Automation Plan updates

You must redeem your code(s) within 60 days of purchase

Stack unlimited codes

GDPR compliant

Previous AppSumo customers will be grandfathered into the new feature limits

Previous AppSumo customers who purchased Cheat Layer can buy more codes to increase their feature limits

Each additional code stacked (10+) unlocks 500 machine learning credits and 2,500 cloud tasks per code. Max of 50 team seats.

White labeling unlocks on code 10
60 day money-back guarantee. Try it out for 2 months to make sure it's right for you!
Features included in all plans
Desktop automation

Unlimited automations and local executions

Webhook triggers (build your own unlimited Zapier)

Turn any website into an API

Automate any website using JavaScript

Generate scripts using natural language with AI