Monitor your software's uptime & cronjobs and get notified if it's down
⚡️⚡️
Our mission is to keep you fully informed to ensure you avoid losing revenue or customers!
⚡️⚡️
CheqUptime
helps you monitor your software, notifies you on emergencies, and allows you to launch a beautiful status page.
Set up your monitors in less than 5 minutes!
CheqUptime is built by solopreneurs for solopreneurs & small teams! ❤
We're monitoring 100+ websites ever minute and 24/7.
Monitor your websites, servers & ports. It's uptime monitoring reimagined – and from multiple locations.
Track your Cronjobs, too
– you simply need to send a GET or POST request each time your Cronjob runs, and that's it.
Get emergency notifications on incidents.
You can set-up email, SMS, Slack, Discord, Telegram, or webhook notifications.
Launch a beautiful status page with CheqUptime
! Build confidence in your product by sharing your system status via status.yourdomain.com. We're a monitoring platform you can trust.
We have a 100% uptime till date
(and planning to keep it this way)!
Get access to CheqUptime today!
TL;DR
Monitor your websites, servers & ports; it's uptime monitoring reimagined – and from multiple locations
Overview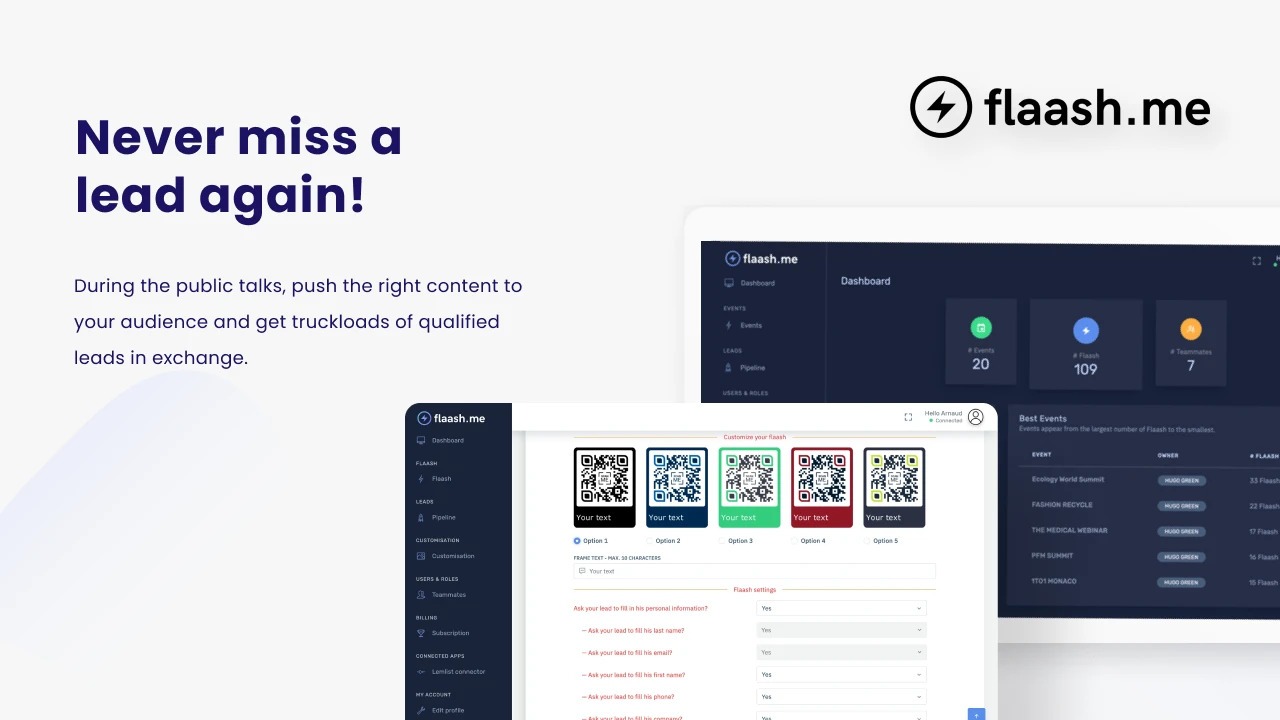 You'll never miss a lead again with Flaash.me.
Push the right content to your audience and get truckloads of qualified leads in exchange.
Link every QR Code with specific content in exchange for your prospects' information: share your product, docs, website, social post, video of your product, or share an engagement form to get new leads.
Easily generate, manage, and statistically track your forms & QR codes.
Manage all your leads in one place for every public talk you do, and quickly assign leads to your teammates.
Create your personalized form: define the different fields you want to collect (in any format you want: text, number, date, date and time, etc.).
Set up what you want to share with your audience: documents, links, videos, images or the opportunity to start a WhatsApp chat.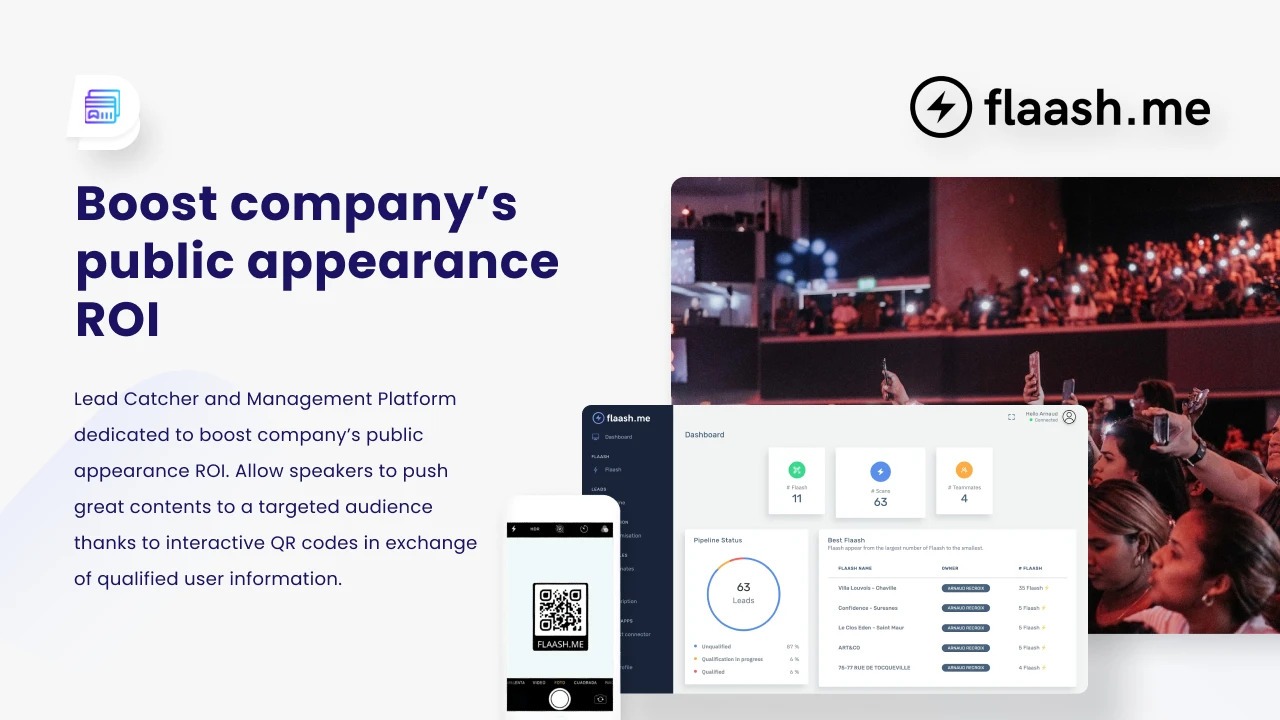 Create a customized QR code for every event, paste the QR code in your presentations, and you are now all set!
Customize and design everything as you like: fill in all the information and use our customization interface to get a unique design.
Download your QR code, print it or show it in a digital format, and here we go!
It's that simple.
Create events and manage the associated content (video, PPT) you will push to your audience.
Flaash.me is the perfect UX for your prospects.
It's designed for them to easily download your additional content and signify their interest in your expertise.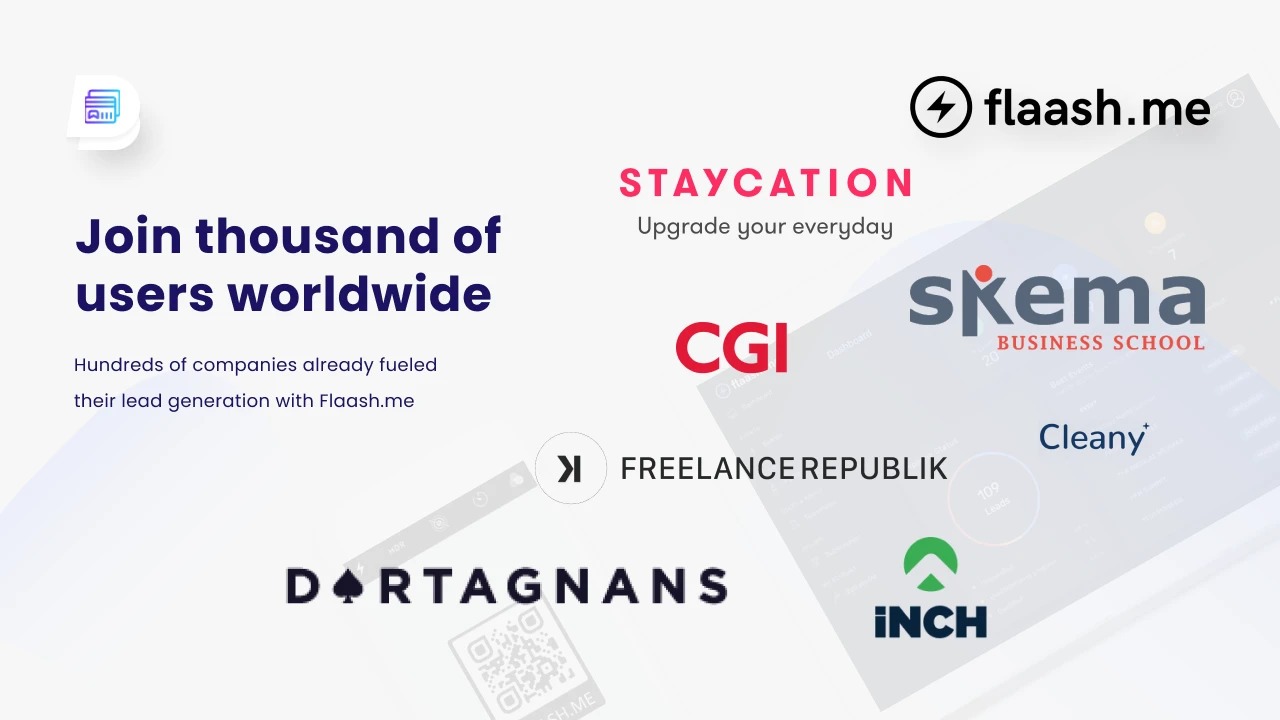 These are just a few of the many companies and users who love Flaash.me!
Get lifetime access to Flaash.me today!
Lifetime access to Flaash.me Plan
You must redeem your code(s) within 60 days of purchase
All future Flaash.me Plan updates
Please note: This deal is not stackable
60-day money back guarantee, no matter the reason
60 day money-back guarantee. Try it out for 2 months to make sure it's right for you!