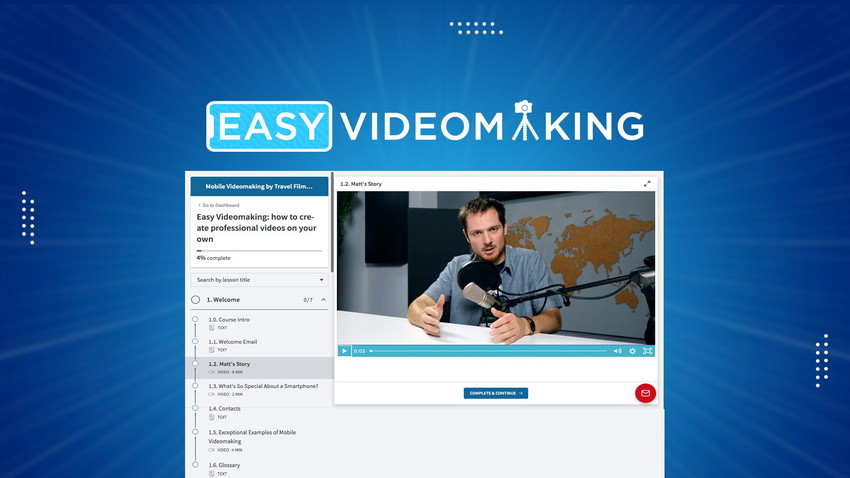 Do you need video content? This is the online course you need! You will learn the secrets of Videomaking and Smartphone Videography in less than three hours and you'll be crafting powerful videos that will boost your business, expand your social media and sell your products in a metter of days! "Easy Videomaking" has a clear and precise structure which allows you to find all the info you need in no time. No more watching long, incomprehensible YouTube tutorials, and no more searching endlessly for tips on obscure websites. The course is constantly updating, you will have access to future content without additional costs. You can take the course anywhere, with any device, at any time. Promotional, travel, vlog, documentary, real estate, food, fitness… you name it! From script to screen, your instructor teaches everything you need to know: theory, planning, structure, gear, filming, techniques, apps, editing, and video marketing to create videos that get results. Trust in the product creators' experience too: they are Travel Media House, an Italian production company which has already produced 14 successful online filmmaking courses in Italy (over 25,000 members are enrolled in the Italian version of Mobile Videomaking.) Get lifetime access to Mobile Videomaking today!
Lifetime access to Smartphone Videomaking Free Webinar Plan
You must redeem your code(s) within 60 days of purchase

All future Smartphone Videomaking Free Webinar Plan updates

Please note: This deal is not stackable
60 day money-back guarantee. Try it out for 2 months to make sure it's right for you!