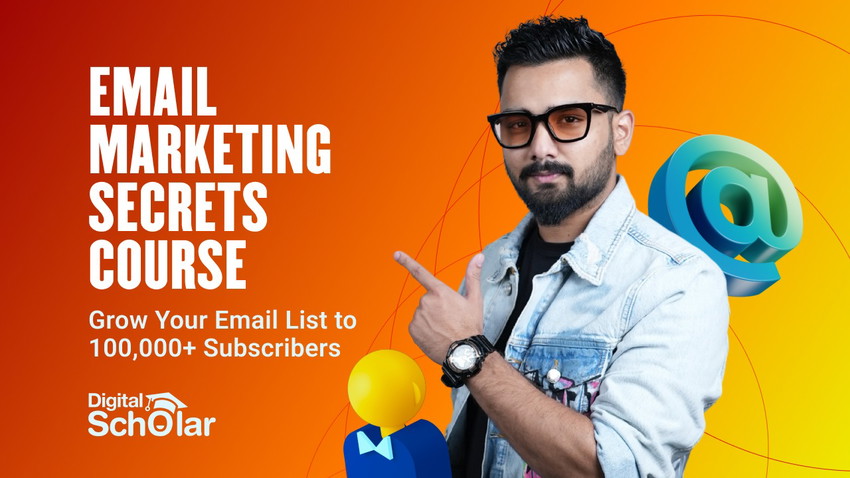 Hey, looking for a way to optimize your email list and grow your subscriber count to over 100,000? By using these simple email marketing strategies:
👉 I grew my subscriber list to 200,000+
👉 Converted 5% more leads for my agency
👉 Sold 1000s of my courses and got revenue of more than $1million!
All this with a few inside secrets and complete automation.
Want to be a part of it?
Then get your hands on the Email Marketing Secrets course and grow your email list as well! In the course, you will learn:
✅ How to craft emails that convert
✅ Setting up your email marketing tools
✅ Lead magnets to grow your list to 10X
✅ Marketing automation and more!
The list doesn't end there. Along with the usual modules for the email subscribers, you also get bonus lessons like:
🎁· Template to create your own ebook in 10 mins
🎁 Warm-up your domain using AI
🎁 Email deliverability checklist So, all in all, get the course with 7+ modules, 3+ bonuses, guides & templates, case studies, tools, and a whole lot of other things that bring the course value to 30,000!
Here's the link; https://digitalscholar.in/email-marketing-mastery-course/
Master Complete Email Marketing with one course (No Upsells)
Worked with 200+ National and International Brands for Email Marketing
Learn to Setup Lead Magnets, Get the Domain Tech Right, Segmented Emails, Clean-up and a lot more.
Deal terms & conditions
Lifetime access to EMAIL MARKETING SECRETS Course

You must redeem your code(s) within 60 days of purchase

All future EMAIL MARKETING SECRETS Course updates

This deal is non-refundable