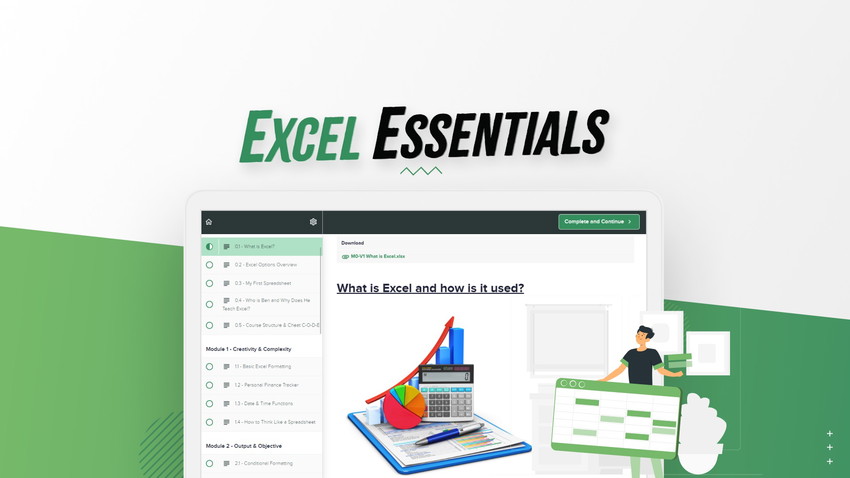 Over 5 hours of content that covers everything from the basics up to advanced concepts on Excel.
Ben walks you through his custom cheat C-O-D-E to unlocking your inner Excel ninja. M0: Introduction & Setup – What is Excel, what options should I use, who is Ben, creating your first spreadsheet, and overall course structure. M1: Creativity & Complexity – How to think like a spreadsheet and plan your Excel documents in advance. Early tools for Excel success including Date & Time functions and formatting techniques. M2: Objective & Outputs – Here we focus on thinking about the output of your Excel spreadsheets and what you're trying to get out of them. Also covers Conditional Formatting, Pivot Tables, Reporting & Math Functions. M3: Data & Drivers – The inputs for your model and how to drive towards the output you want. Also covers Lookup & Reference Functions, Data Validation, and Tables. M4: Error-Proofing & Explanation – Making sure your spreadsheets are bullet-proof and easy to explain to others. Includes Logical Functions, Text Manipulation Functions, and Macros!
Lifetime access to Excel Essentials Course
You must redeem your code within 60 days of purchase

All future course updates

Please note: This deal is not stackable
60 day money-back guarantee. Try it out for 2 months to make sure it's right for you!