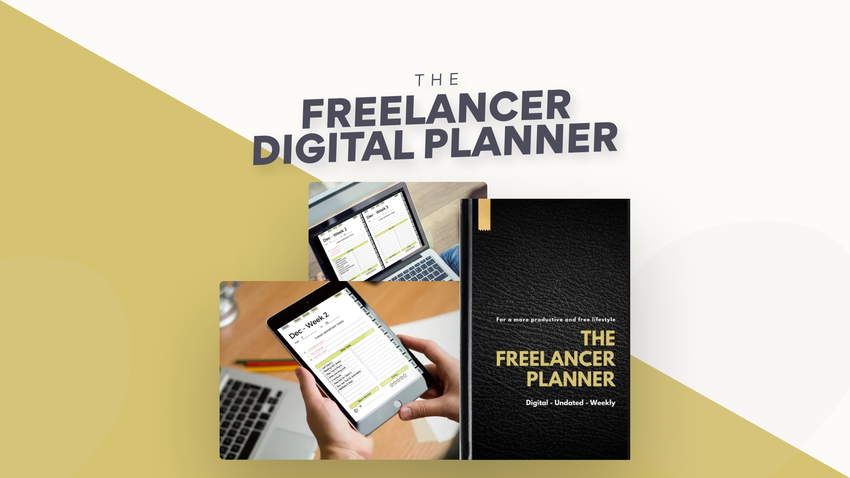 A Digital, Undated, Weekly Planner made by Freelancers for Freelancers If you are a Freelancer, probably you are struggling with many different tasks and clients and sometimes (or should we say "always"?) you feel overwhelmed, lose focus and work too much? Being organized is KEY for a Freelancer and you can do it easily with the Freelance Digital Planner! The Freelance Digital Planner has different sections that will help you organize better, stick to your plan, build stronger habits and track your progress: – Year Goals & Review – Quarter Goals & Review – Monthly Goals & Reviews – Weekly Tasks – Daily Habits – Books, Courses & Tools The Freelancer Digital Planner is a DIGITAL Product: You can Download it IMMEDIATELY! It's UNDATED, so you can use it every year (just Copy & Paste) and start using it when you want, there's no need to wait for next January! Use it on your favourite device: iPad, Tablet, Mobile and also Desktop with your favourite PDF-editor App Compatible Apps: Goodnotes (iOS), Notability (iOS), Noteshelf (iOS, Android, Microsoft), Xodo (iOS, Android, Microsoft), Drawboard PDF (Windows 10) Save your edited Freelancer Digital Planner on the Cloud to sync across devices (if your App doesn't do it natively) What are you waiting for? START PLANNING NOW!
Digital download of Freelancer Digital Planner
This deal is non-refundable
Get lifetime access. Just download and save within 60 days of purchase.