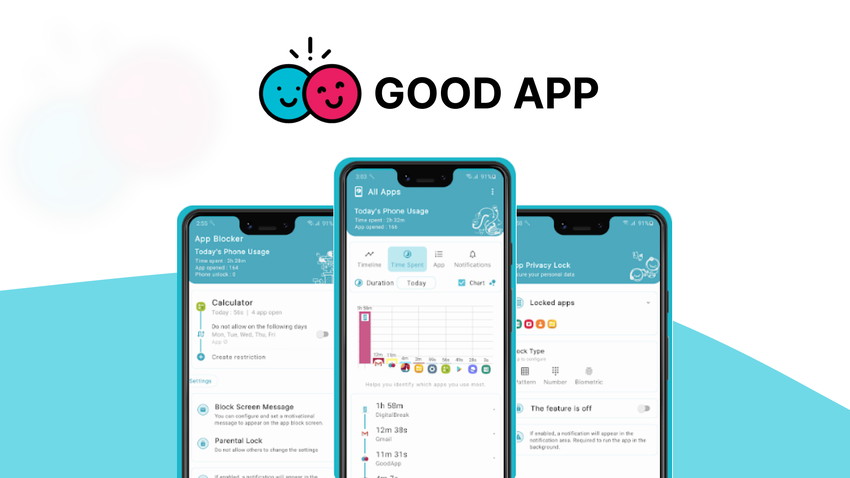 GoodApp is a self-improvement suite with 20+ apps in one & can help you become a better version of yourself
Welcome to digital wellness that can help you use your mobile phone in a better way.
GoodApp's mission is to help you become a better version of yourself. It is a self-improvement tool with more than 20 apps all in one appcarefully crafted to add value in your life.
Productivity Suite:Helps you focus more and work efficiently. It includes, to-do, focus sound, and pomodoro
Self-Improvement:Set of tools to improve your personal and professional life. It includes a habit builder, journal, and task dashboard
Digital Wellness:Our unique solution to use your phone carefully
Notification Assistant:Includes screen reminders and an app blocker
Stress Buster:Helps you to calm yourself and live in the present. It includes a unique game, relaxation music, deep breathing exercises, and background sound
Motivation Punch:It includes positive affirmation and motivation quotes
Fun with English:Brain games to improve memory, focus, and vocabulary
Knowledge bytes:Interesting facts, general knowledge, and what is today – learn something new everyday
Get started with GoodApp today!
TL;DR
Best for: Kids and adults wanting to become the best version of themselves
1 Year of access to Ad World Masters
You must redeem your code within 60 days of purchase
1 Year of plan updates
Please note: this deal is not stackable
GDPR Compliant (Partner Verified)
Only for new Ad World Masters users who do not have existing accounts
60 day money-back guarantee. Try it out for 2 months to make sure it's right for you!