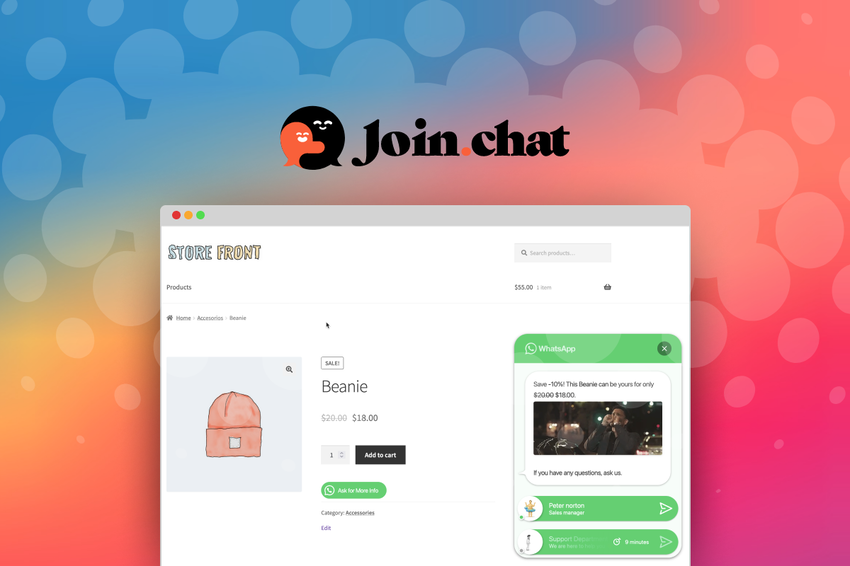 Capture leads through popular messengers like WhatsApp
Add custom contact buttons to your website and connect with leads using their favorite messaging apps
Configure your channels and support management settings without code, right from the platform
Overview
Joinchat is a no-code WordPress plugin that captures more leads with contact buttons that connect via WhatsApp and other messaging tools.
With Joinchat, you can add a floating button to your site that connects users to customer support teams via WhatsApp and other messaging services.
Engage visitors with customizable UX elements, like tooltips, notification balloons, texts, images, videos, gifs, and QR codes.
It's even possible to add links in each element that take users directly to sales pages, making your chance of converting even higher.
Plus, you'll be able to launch dynamic calls to action based on custom triggers that direct users to lead capture pages.
Best of all, you can track user interactions automatically by syncing with Google Analytics, Facebook Pixel, and Google Tag Manager.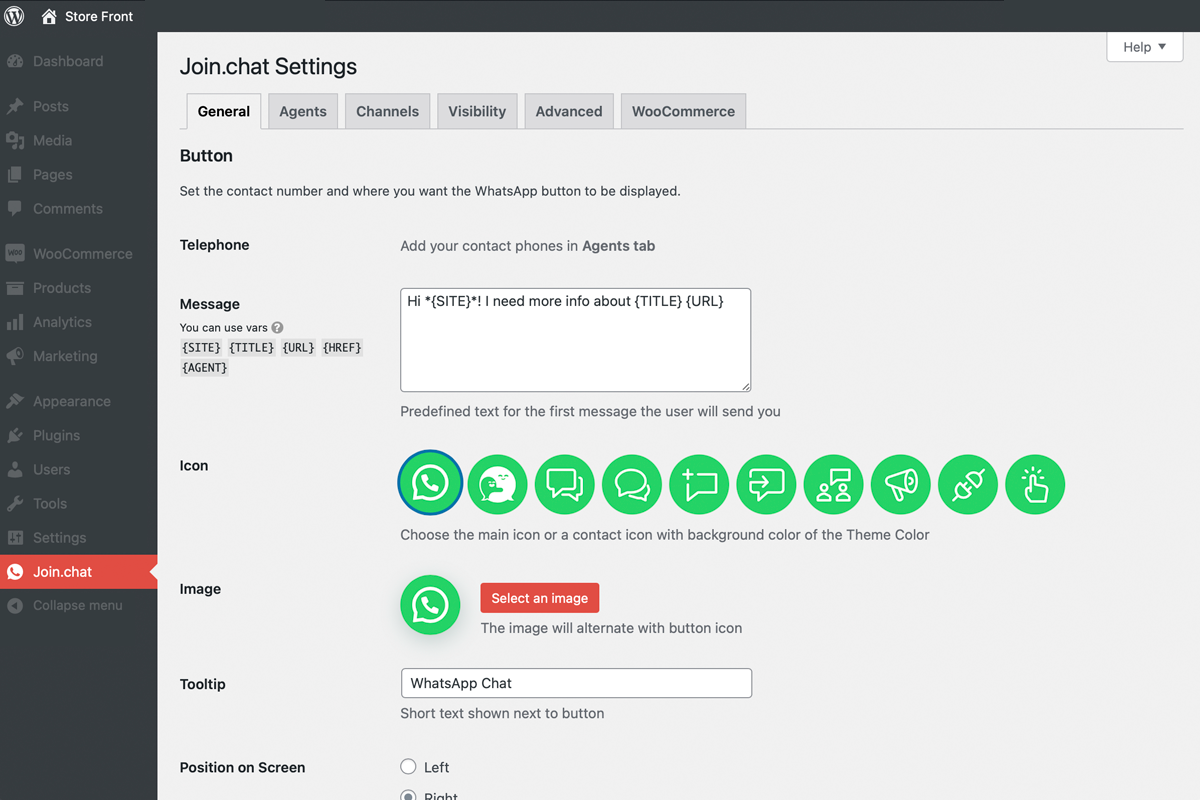 Build custom contact buttons and collect leads through messengers like WhatsApp.
Joinchat makes it easy to manage and personalize customer support operations for teams of any size!
You can set custom schedules for support agents so there's always someone on hand to help users.
It's also a cinch to create profiles for each agent that display helpful info like their name, title, photo, and working hours.
There's even an option to let users know if an agent is reachable outside of their stated office hours.
And to avoid support bottlenecks and missed calls, you'll be able to add multiple contact numbers for random and assigned customer referrals.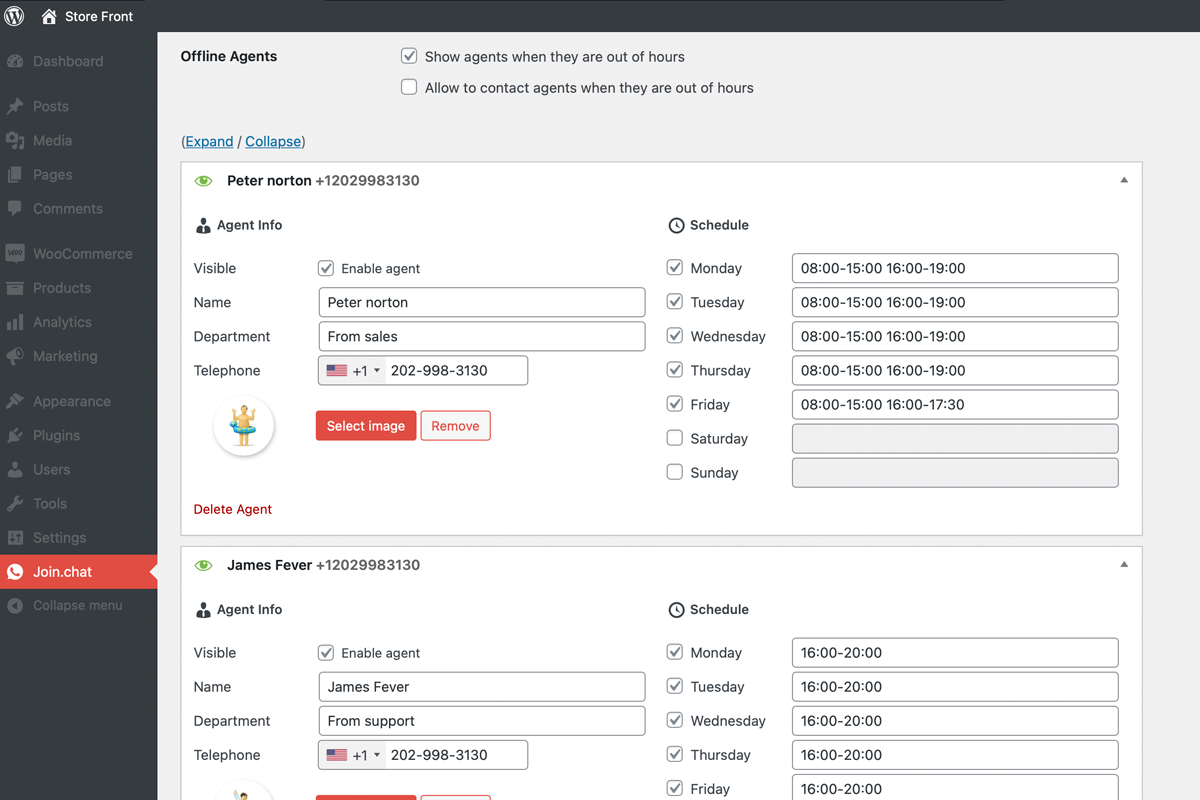 Handle every part of backend support team management right from Joinchat.
Today's consumers use tons of different messaging apps—which is why Joinchat lets you capture leads across more than a dozen major communication channels.
All you have to do is connect your accounts to add buttons to your site for platforms like TikTok, Instagram, and Facebook.
And because Joinchat supports SMS, phone calls, and FaceTime, you can also reach users who aren't on the social media train.
Plus, you'll even be able to prioritize apps on the backend with a simple drag-and-drop list to start conversations on your favorite channels.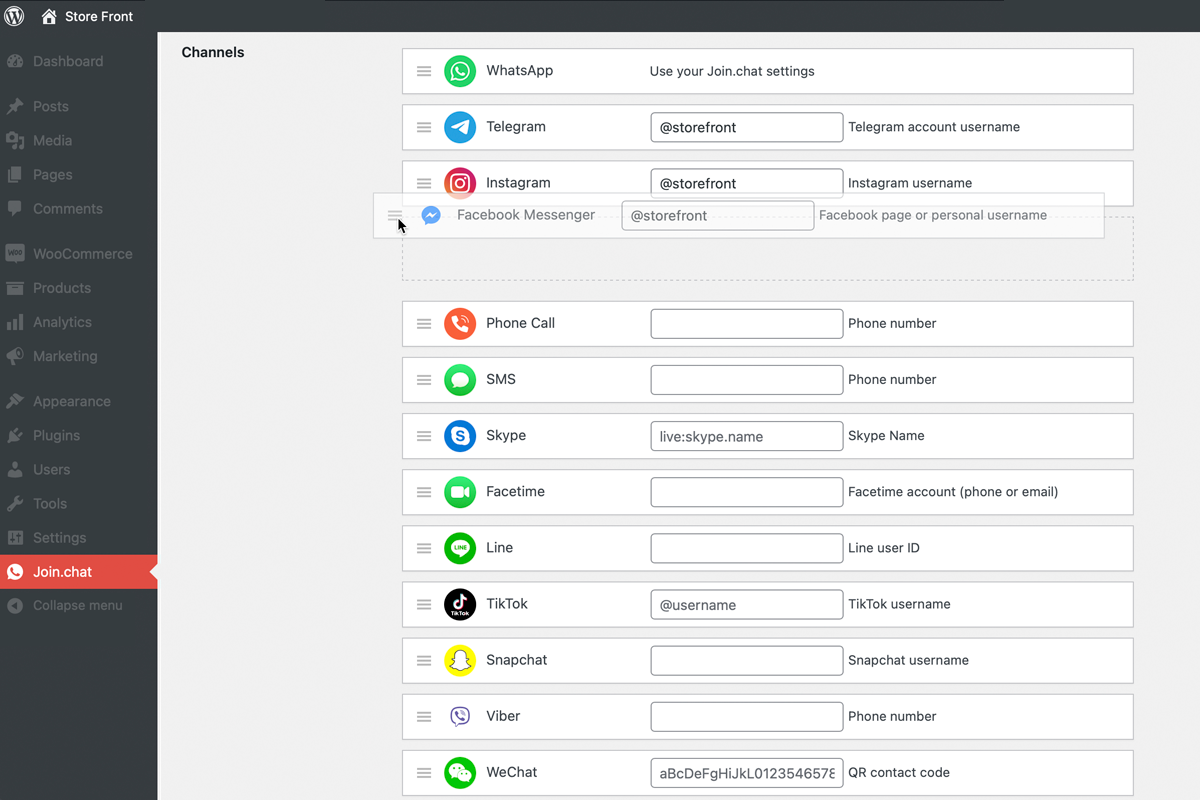 Connect to more than a dozen messaging channels and reach customers on their favorite apps.
Joinchat also lets you put a button on your WooCommerce checkout pages, so you close more deals by addressing any last-minute inquiries.
Using dynamic variables, you can create messages that automatically populate fields with customer and product info like sale prices, product names, and discount percentages.
You'll even be able to send targeted calls to action at the point of purchase to get more out of your sales.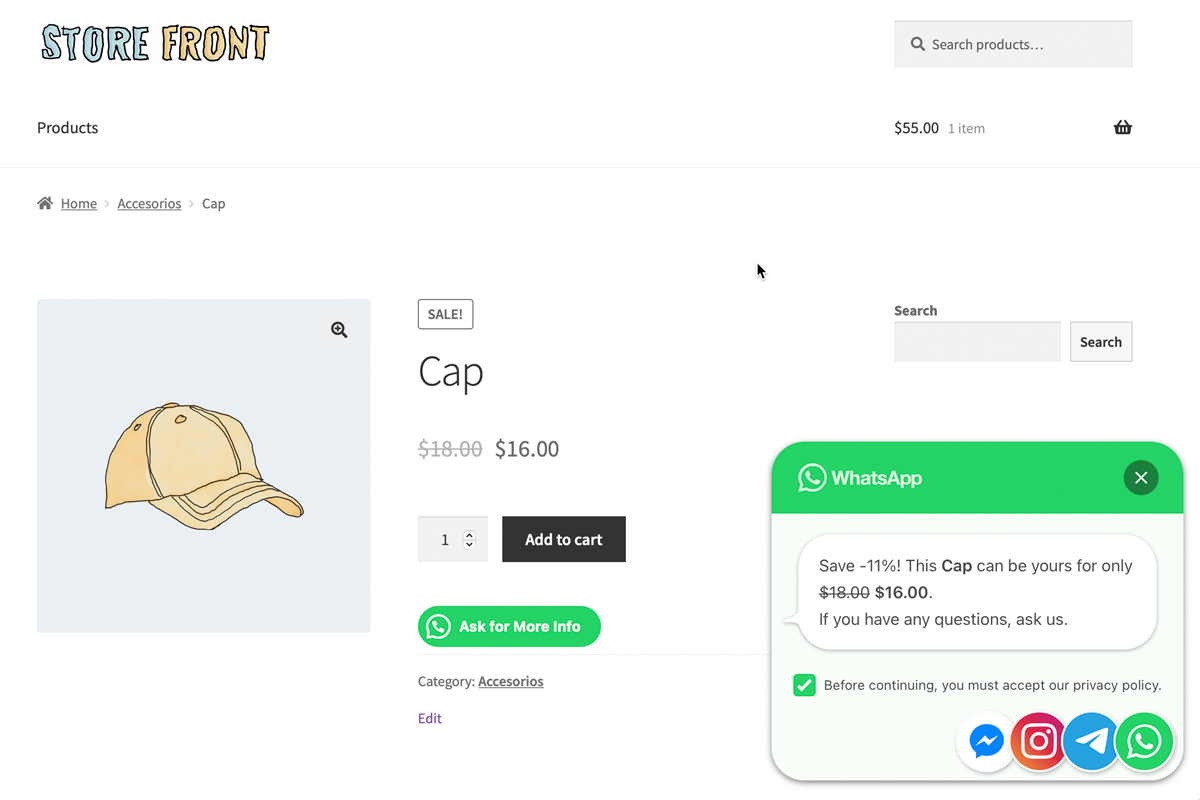 Engage customers with personalized messages at checkout with WooCommerce integration.
Communicating with prospects shouldn't feel like trying to reconnect with your best friend from summer camp. ("Either my letter got lost in the mail or she moved.")
With Joinchat, you can connect with site visitors via popular messaging apps, keep in touch with leads, and convert them to buyers.
Engage customers on their terms.
Get lifetime access to Joinchat today!
Deal terms & conditions
Lifetime access to Joinchat

All future Freelance (Tier 1) or Agency (Tier 2) Plan updates

No codes, no stacking—just choose the plan that's right for you

You must activate your license within 60 days of purchase

Ability to upgrade or downgrade between 2 license tiers

GDPR compliant
60 day money-back guarantee. Try it out for 2 months to make sure it's right for you!
Features included in all plans
Floating button

WhatsApp channel

Customization at publication level

Call-to-action messages

Custom conversation start messages

WooCommerce integration

Multi-language and right-to-left language support

Custom theme colors and dark mode

Opt-in text for user consent

Google Analytics 4 and Google Tag Manager integrations

Facebook Pixel integration

CSS triggers

WhatsApp group links

Unlimited current and future channels— WhatsApp, Telegram, Facebook Messenger, SMS, phone call, Skype, FaceTime and more

Support agents

Define work schedules for support agents

Rich content chat (video, GIFs, iframes)

Add unlimited phone numbers

Show red notification bubbles on chat icons