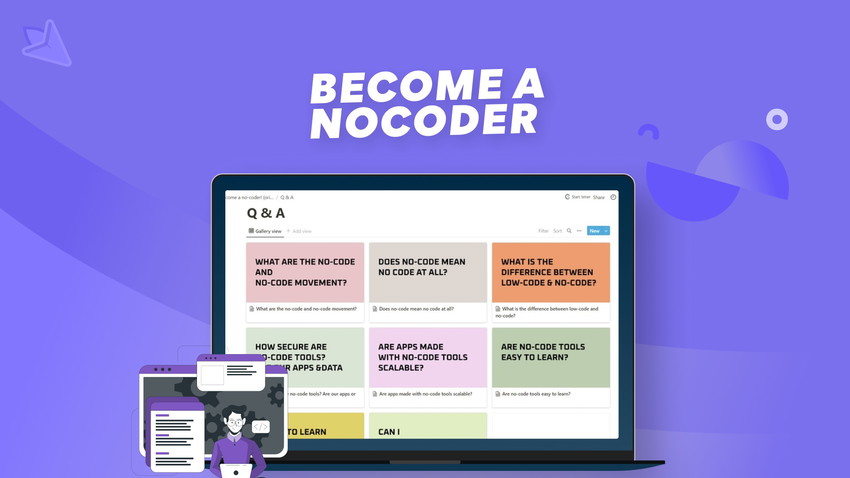 A complete guide that will make you a no-coder! Learn everything without spending months.
We tried to prepare a complete guide for introducing the world of no-code. Although all the tools and platforms try to make things easier, there are hundreds of things to learn. We've been in the no-code world for over 6+ years, and we've compiled what we've learned over this long period for beginners, people who want to create something without tech or code experience, students, entrepreneurs, and developers that want to improve their skillset. 𝗧𝗵𝗲𝗿𝗲 𝗮𝗿𝗲 𝟏𝟓 𝐜𝐡𝐚𝐩𝐭𝐞𝐫𝐬: 🔥 𝐀𝐛𝐨𝐮𝐭 𝐧𝐨-𝐜𝐨𝐝𝐞 🔥 𝐒𝐭𝐚𝐫𝐭 𝐁𝐮𝐢𝐥𝐝𝐢𝐧𝐠 🔥 𝐖𝐡𝐚𝐭 𝐜𝐚𝐧 𝐛𝐞 𝐛𝐮𝐢𝐥𝐭 𝐰𝐢𝐭𝐡 𝐧𝐨-𝐜𝐨𝐝𝐞? 🔥 𝐀𝐮𝐭𝐨𝐦𝐚𝐭𝐞 𝐲𝐨𝐮𝐫 "𝐭𝐡𝐢𝐧𝐠𝐬" 𝐰𝐢𝐭𝐡 𝐧𝐨-𝐜𝐨𝐝𝐞! 🔥 𝐓𝐞𝐫𝐦𝐢𝐧𝐨𝐥𝐨𝐠𝐲 🔥 𝐖𝐡𝐚𝐭 𝐚𝐫𝐞 𝐀𝐏𝐈𝐬, 𝐚𝐧𝐝 𝐰𝐡𝐲 𝐚𝐫𝐞 𝐭𝐡𝐞𝐲 𝐢𝐦𝐩𝐨𝐫𝐭𝐚𝐧𝐭? 🔥 𝐓𝐨𝐨𝐥𝐬 & 𝐏𝐥𝐚𝐭𝐟𝐨𝐫𝐦𝐬 🔥 𝐓𝐮𝐭𝐨𝐫𝐢𝐚𝐥𝐬 & 𝐂𝐨𝐮𝐫𝐬𝐞𝐬 🔥 𝐁𝐨𝐨𝐤𝐬 🔥 𝐏𝐨𝐝𝐜𝐚𝐬𝐭𝐬 🔥 𝐍𝐞𝐰𝐬𝐥𝐞𝐭𝐭𝐞𝐫𝐬 🔥 𝐌𝐲 𝐉𝐨𝐮𝐫𝐧𝐞𝐲 🔥 𝐎𝐮𝐫 𝐭𝐞𝐦𝐩𝐥𝐚𝐭𝐞𝐬 🔥 𝐑𝐞𝐬𝐨𝐮𝐫𝐜𝐞𝐬 🔥 𝐅𝐀𝐐 Whether you want to learn no-code to improve your business or improve yourself, we have prepared this book for those who want to dive deep into the no-code world. Enjoy 🎉 21% 𝗢𝗙𝗙 on AppSumo. –
Find out more
Get access now!
Digital download of Become a Nocoder
This deal is non-refundable
Get lifetime access. Just download and save within 60 days of purchase.