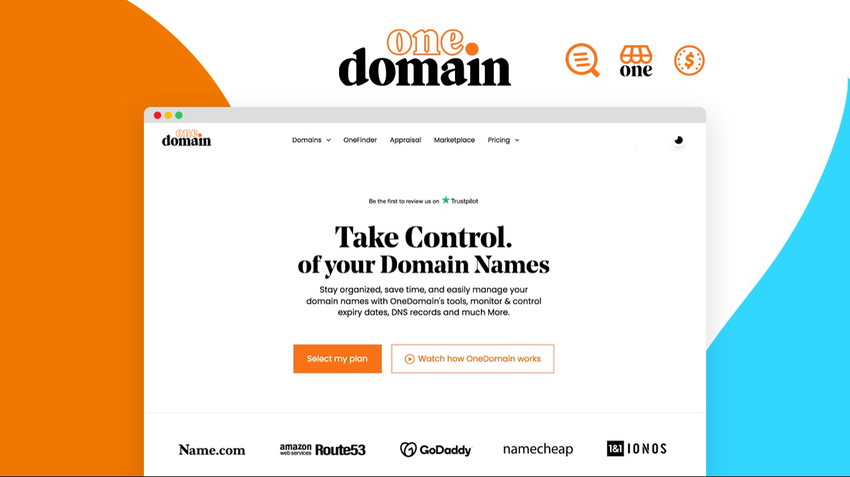 Mange your domains in one place – No more missed renewals or remembering passwords
OneDomain is an all-in-one domain management tool. OneDomain works with the largest domain registrars available today. Manage all your domains in one user-friendly dashboard. DNS settings, domain transfers and auto-renewal settings. Stop remembering which domain belongs to which registrar, logins for each one, or worry a domain might renew. OneDomain also comes with CloudFlare sync to clear your cache settings in a second. OneFinder and OneValue provide you with both the ability to search for your next domain and get a rough value for your current domains. OneDomain Marketplace (coming soon) will allow you to list your website, SaaS, app completely free! More information can be seen here: https://onedomain.io/tools/marketplace Alternatives: Domain Book App, Join OneDomain today! FAQ: Q) Which Registrars can I use with OneDomain A) IONOS, Route53, GoDaddy, Name and NameCheap, Epik and Namesilo Q) How do I sync my Registrars A) You will need to locate your API keys for each registrar. We provide links to where these can be found and only needs to be done once. Q) Are you going to add more Registars A) We are reviewing this and will only add a registrar that provides use API access to offer you the ability fully manage each domain
Overview
Gini instantly generates investor-ready financial models, reports, and scenario plans, so you can manage cash flow like a pro.
With gini, you can create cash flow forecasts, real-time company valuations, and financial models that auto-sync with your accounting software.
Access pre-built templates, like the cash flow forecast model, profit and loss report, and balance sheet to take control of your business finances.
Plus, the QuickBooks, Xero, and Google Sheets integrations lets you build custom models with raw data.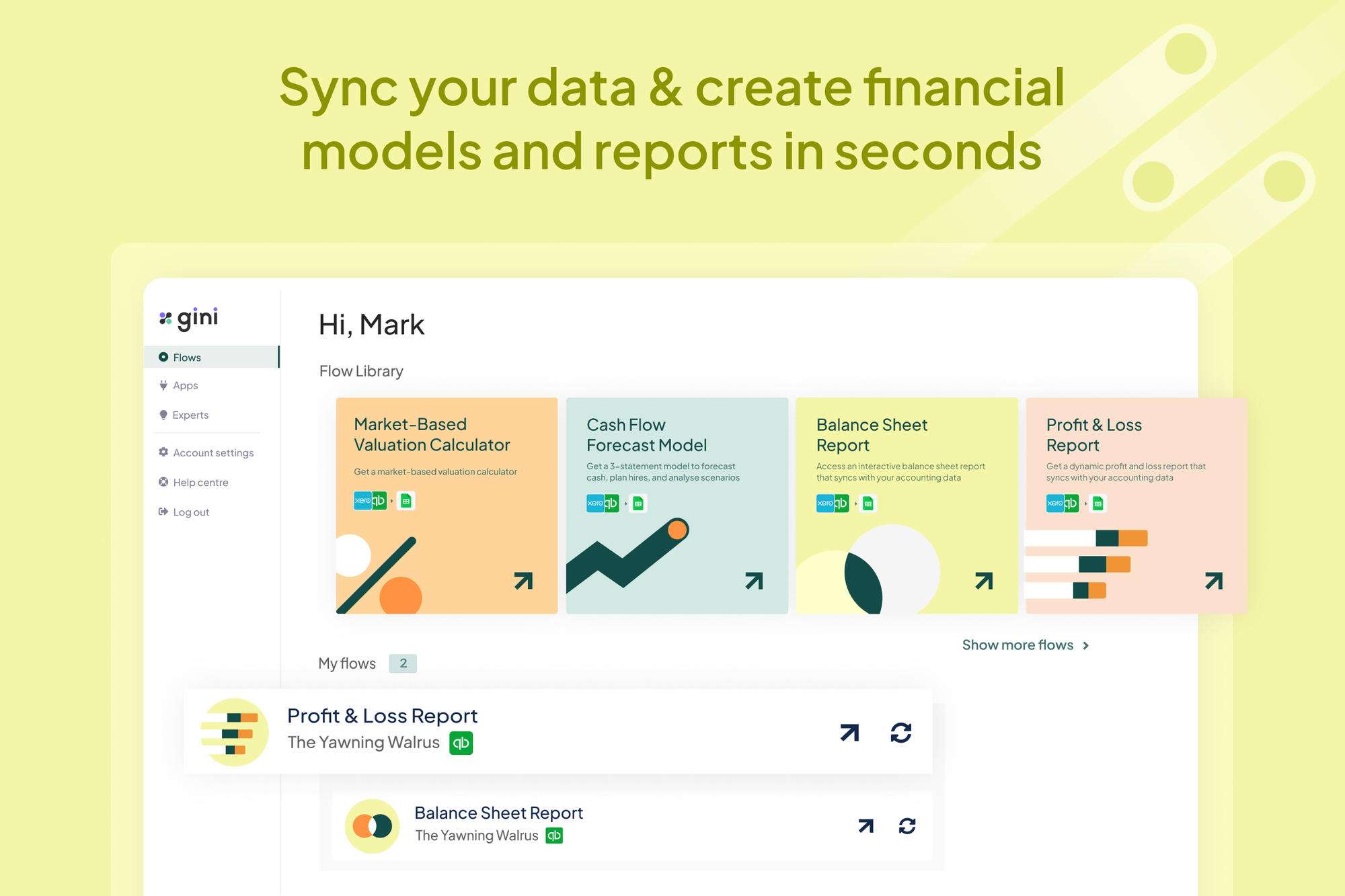 Sync gini's data with your accounting software to manage cash flow like a pro!
You'll be able to assess your company's financial health, predict scenarios, and formulate growth plans to keep your business in the green.
Visualize your financial future with AI-powered forecasts on income and expenses, cash flows, balance sheets, and year-over-year comparisons.
Gini's machine learning algorithms use accounting data to detect growth trends, while factoring in seasonality and holiday schedules.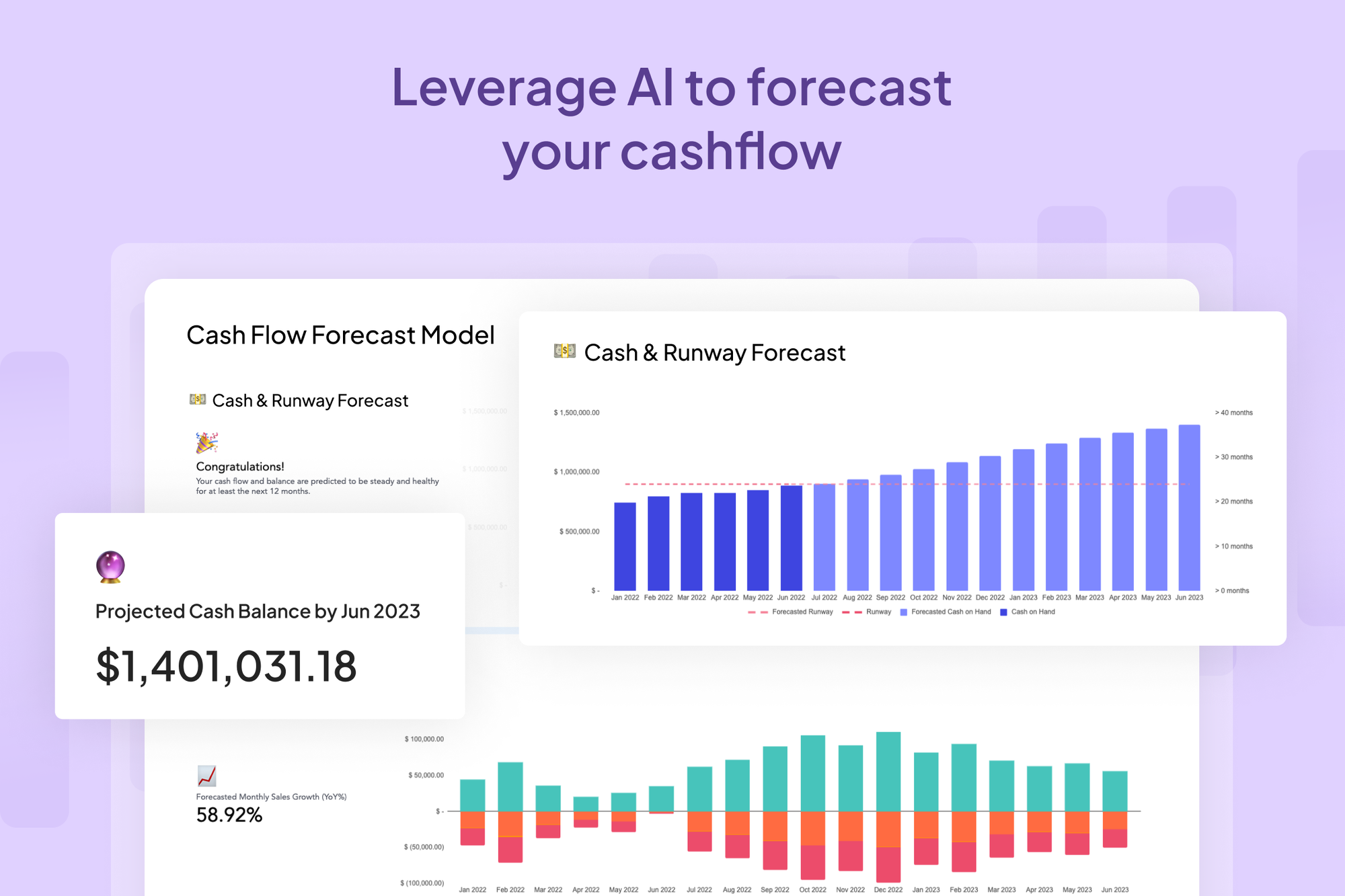 Forecast your company's cash flow with AI to make data-backed financial decisions.
Keep tabs on metrics like revenue, expenses, and profits using a real-time performance tracking dashboard.
You'll be able to toggle between daily, monthly, quarterly, and annual views to get a sense of your company's progress over time.
And with professional pie charts and transaction-tracking at the ready, you can engage key stakeholders with absolute confidence.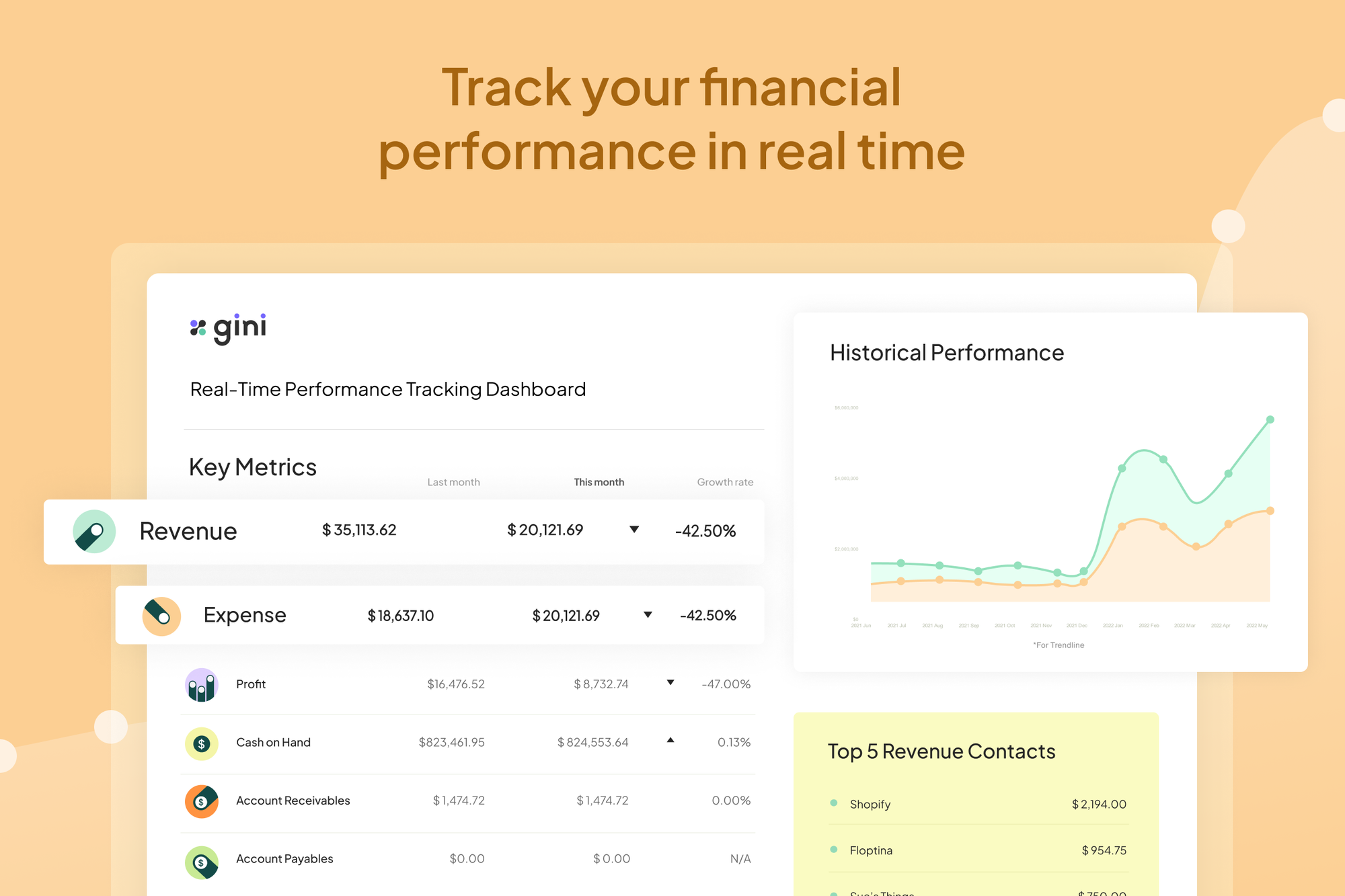 Track your financial performance in real time and get an overview of key metrics.
The market-based valuation calculator determines company valuation using real-time stock listing and valuation weight of similar companies.
Just choose up to five comparable public companies and use financial metrics like growth or profitability to act as a benchmark for your business.
You can even let the built-in wizard choose the type of valuation method to use based on your company's stage in profile.
Plus, you'll be able to monitor changes to your company's valuation using the most up-to-date metrics and market conditions.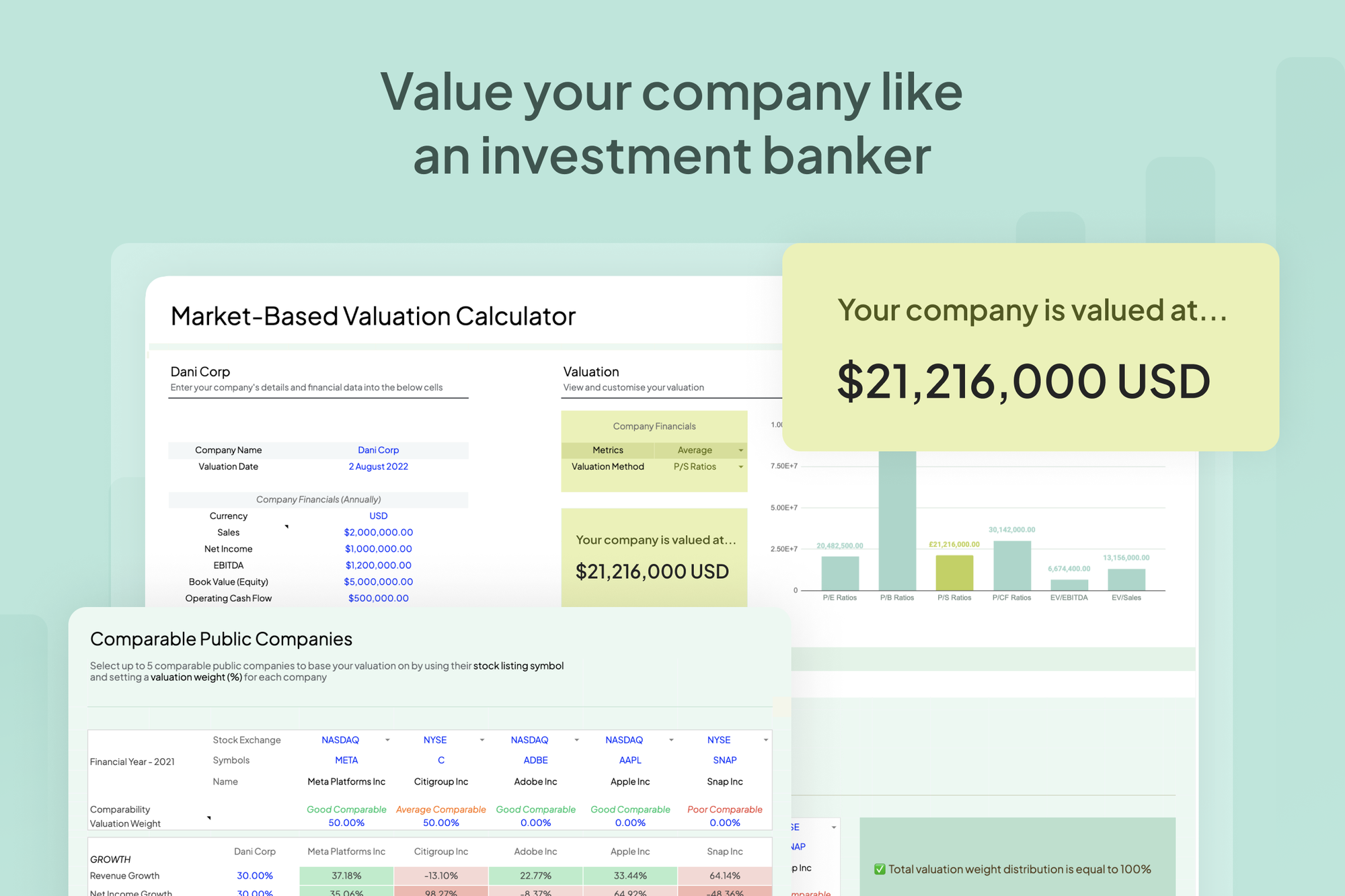 Use the market-based valuation calculator to value your company in current market conditions.
Managing your company's cash flow would be easier if you could afford to hire someone from Goldman Sachs. ("Do you only work on retainer, or can we pay by the minute?")
Better yet, let gini handle all the financial forecasting and cash flow management, so you can grow your business with confidence.
Get a grip on your finances.
Get lifetime access to gini today!
Deal terms & conditions
Lifetime access to gini

All future Self-Serve Plan updates

No codes, no stacking—just choose the plan that's right for you

You must activate your license within 60 days of purchase

This deal cannot be upgraded or downgraded between license tiers

GDPR compliant

Only for new gini users who do not have existing accounts
60 day money-back guarantee. Try it out for 2 months to make sure it's right for you!