Best Pinterest marketing and automation tool
Pinterest is
one of the best platforms to promote products on
because of its visual impact and the deep focus on lifestyle and products.
Pinflux
makes it easy for you to manage and grow your Pinterest profiles. It lets you
find interesting content and then schedule it
, as well as grow your Pinterest account by
connecting to other members
. This is a Windows-based Desktop app that can run on your PC in the background, automating your Pinterest marketing tasks. Pinflux is being used
by over 2,000 marketers already
and has helped them successfully scale up their marketing on Pinterest. You get the Pro version of Pinflux, which will cost $104 per year ($37 + $67 upgrade) if you buy from its website Pinflux.in. You also get access to extensive training on using Pinflux, as well as high-quality training that will teach you how to market on Pinterest. We have a 24/6 live chat support process. If you have any issues with the software or access, you can go to our website and talk to a real person.
TL;DR
Successfully scale up their marketing on Pinterest
Overview
Live2.Social is a multi-camera streaming app that lets you turn several smart devices into cameras and stream live to social media.
With Live2Social, you can connect up to eight cameras for a seamless multi-camera streaming experience.
Don't have an actual camera? You can connect multiple smartphones and tablets as cameras wirelessly, whether they're iOS or Android.
All you have to do is download the Live2.Social app on Google Play or the App Store to unlock wireless switching between smart devices.
Once you're all set up, you're just a click away from going live on YouTube, Facebook, Twitch, or broadcasting via custom RTMP or OTT.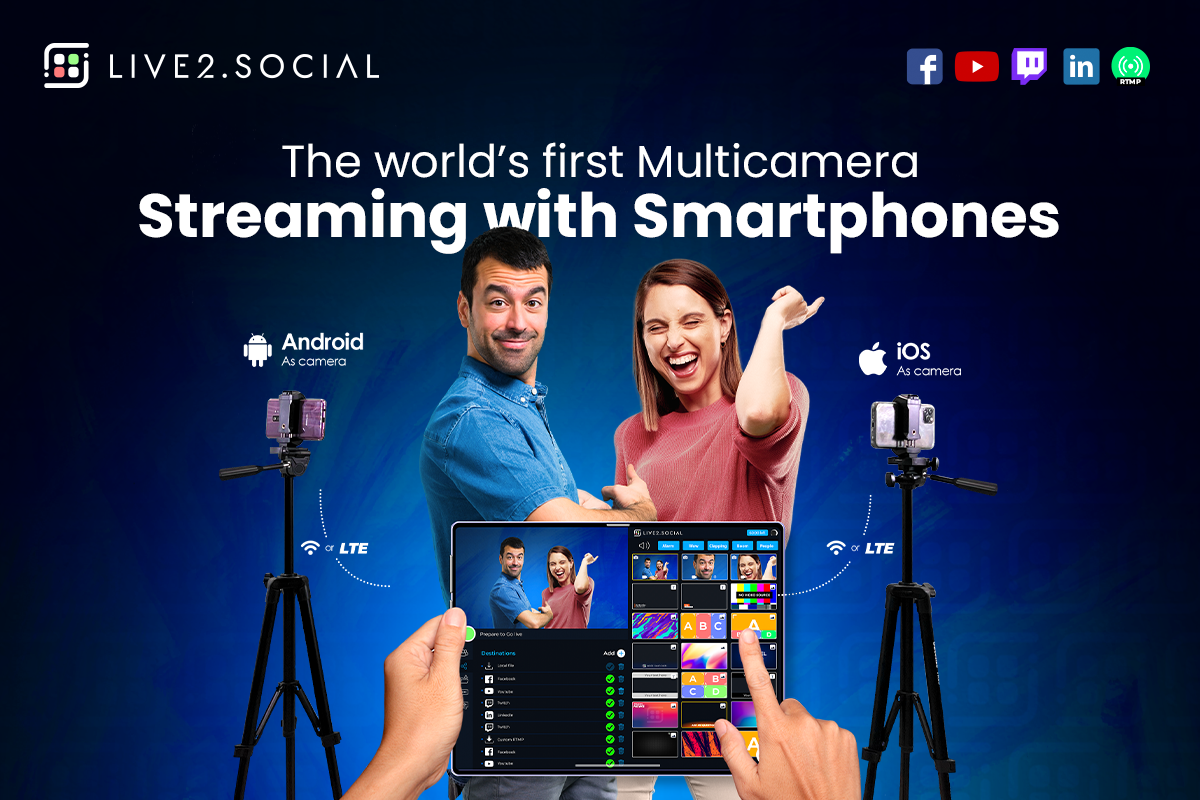 Connect up to eight Android or iOS smart devices as cameras via the app for easy multi-camera streaming.
Live2.Social puts you in the director's chair of your live broadcast, so you're delivering fresh, quality content on your terms.
You can work in Director or Camera mode, connect your remote cameras, and lock in perfect shots.
Plus, you can easily craft a unique, captivating broadcast using Live2.Social's multi-view combination templates.
You'll be able to create high-quality content like interviews, event coverage, and podcasts without breaking a sweat.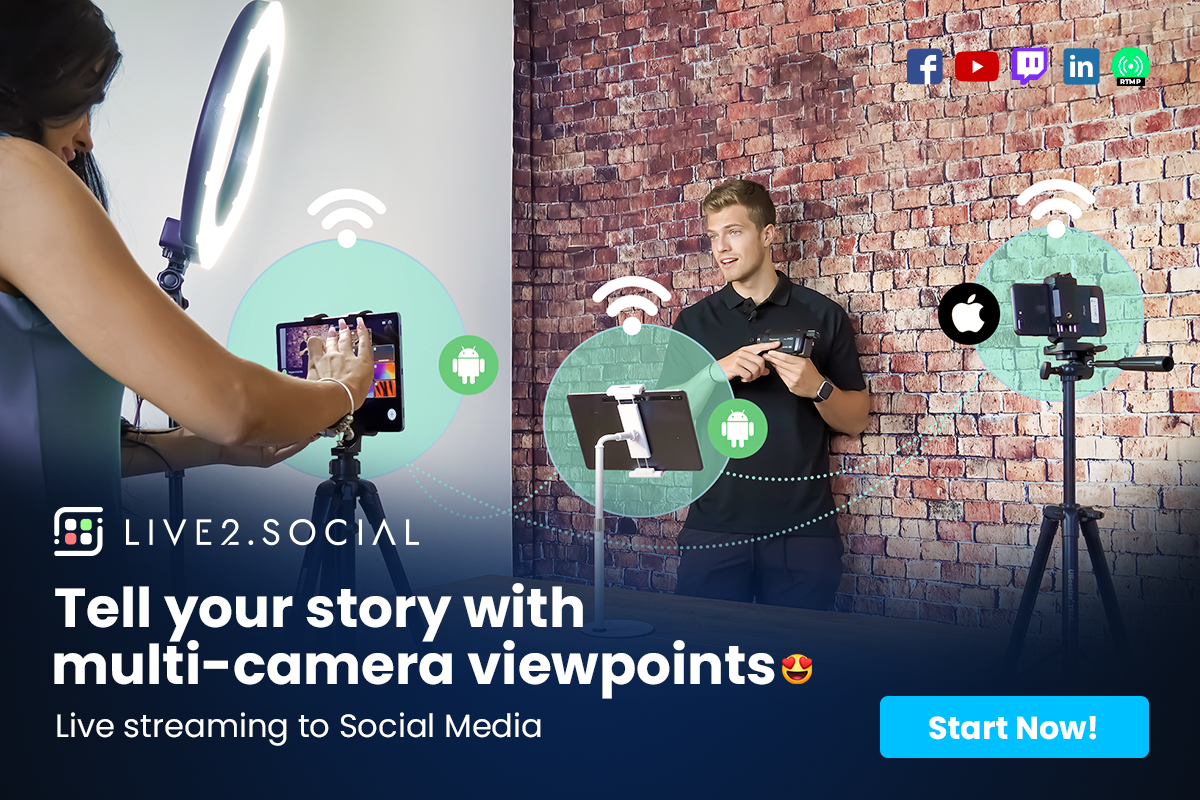 Craft unique broadcasts with high-quality, multi-camera combination templates.
You know an engaging broadcast isn't just about camera angles. That's why Live2.Social makes it easy to add a personal touch to your streams.
Add custom graphics, text, and on-screen notifications to your broadcast to make your brand shine.
You can also interact with your viewers live via social media comments to boost engagement.
Best of all, you'll reach a global audience since Live2.Social supports multiple languages, including English, Spanish, Portuguese, and Italian.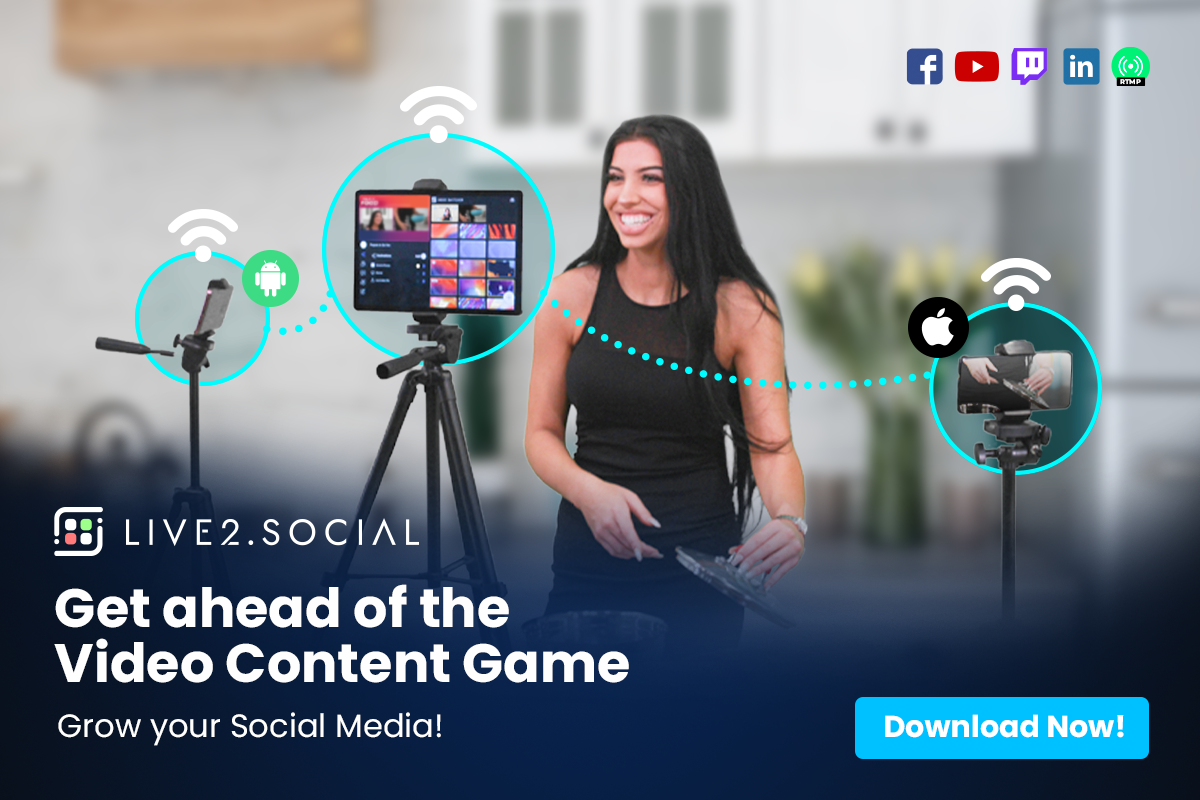 Build and engage with a global audience by showing off your brand on social media.
Live2.Social also lets you include remote guests in your streams, so you can keep your content engaging and interactive.
All your guests have to do to join the broadcast is download the app and connect their camera from anywhere with one click.
Not only can you broadcast live on social media, but you'll also be able to record your content locally to post later.
Speaking of social media, did we mention you can share to TikTok in vertical mode?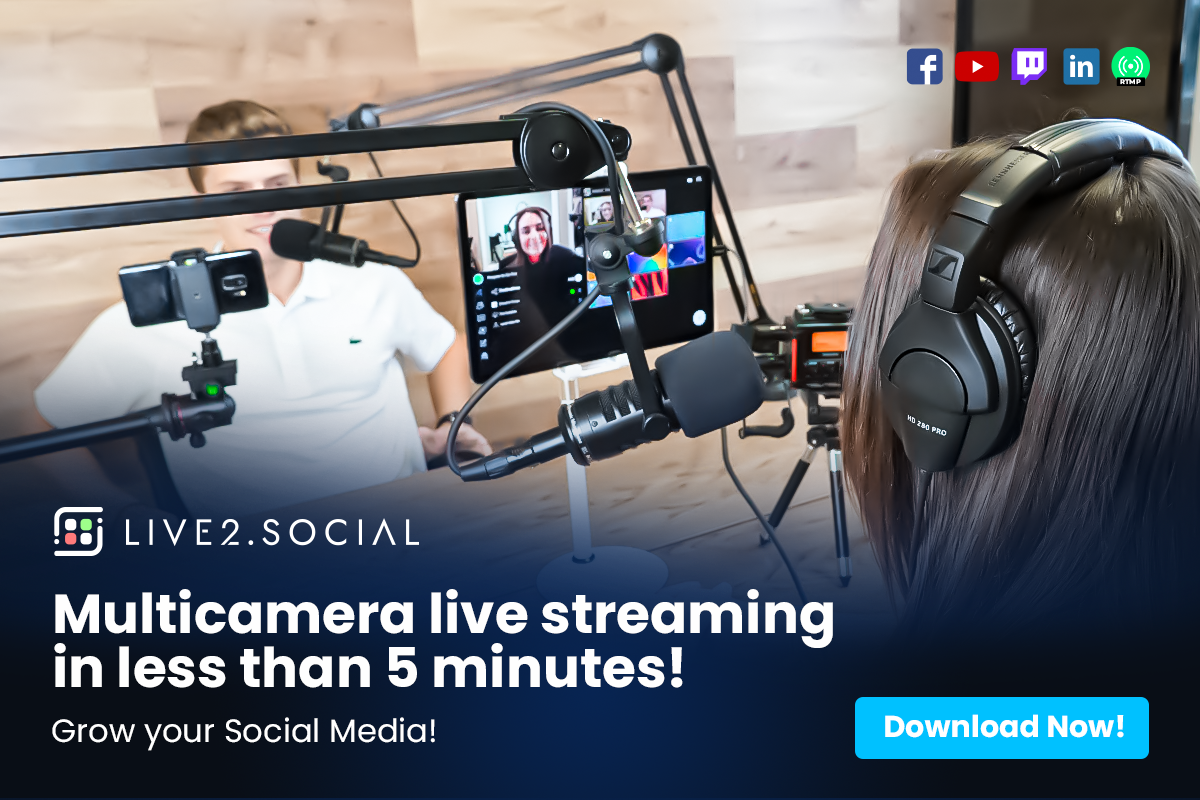 Keep your content fresh by inviting guests onto your stream, either remotely or in-person, with multiple camera views.
You've got Steven Spielberg ideas, but you can't bring them to life when your budget is strapped for cash. ("Does TikTok let you take feature-length videos or what?")
With Live2.Social, you can launch high-quality, multi-camera broadcasts without splurging on fancy equipment or a camera crew.
Take your best shots.
Get lifetime access to Live2Social today!
Deal terms & conditions
Lifetime access to Live2.Social

All future Live2.Social updates

You must redeem your code(s) within 60 days of purchase

Please note: this deal is not stackable

Only for new Live2.Social users who do not have existing accounts

Live2.Social requires the use of an Android or iOS mobile device to use this product
60 day money-back guarantee. Try it out for 2 months to make sure it's right for you!