Project planning meets mind mapping
Project planning meets mind mapping
.
Poda
makes creating beautiful visual roadmaps easy. Our intuitive interface allows you to
map your ideas big or small, quickly and beautifully
. From project planning, to brainstorming, to managing course notes, to marketing plans, to keeping your thoughts organised and staying focused on what matters most, to creating epic visual roadmaps…
Poda is where it's at
. Originally built to support modern product development workflows like Opportunity Solutions Trees, OKRs, and GIST planning, Poda's visual roadmaps help
keep you on the path towards your product's north star
. But Poda is not only great for product management —
it's also great for any type of planning
and helps put the "why" before the "what" when it comes to visualising dependancies and highlighting the shortest path forward to meet each of your goals. Don't wait try if for yourself at
poda.io
or check out our
roadmap
if you want to see what's upcoming.
Get access to this Poda – Plus exclusive deal now!
Overview
Stackby is an organizational tool that allows you to create your own company-specific work management platform with customizable spreadsheet-style databases and business APIs.
Stackby is taking a page out of Burger King's playbook and letting you have it your way.
You can build your custom database from scratch, import data from pre-existing sources like spreadsheets or Google Sheets, or choose from over 150+ pre-built templates across multiple categories to start sorting the right way, right away.
Configure basic column types like text, number, date/time, collaborators, dropdowns, and ratings while first getting your feet wet with the platform.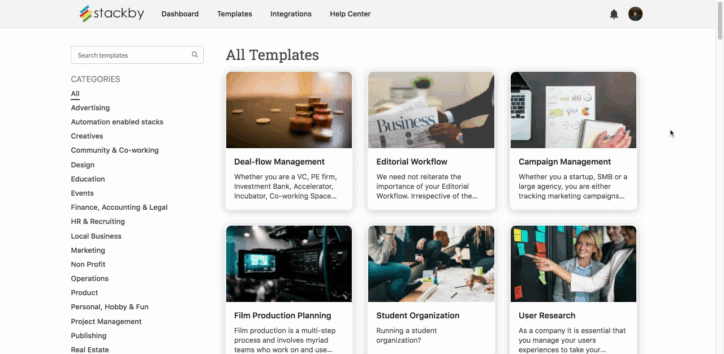 Get started quickly and easily by selecting from 75+ pre-built templates.
When you're ready to dive headfirst into the deep end, try more advanced column types that grow with your team.
Add formulas for automated computation, bring in attachments from your computer or cloud storage, or reference data from a different table altogether via lookup.
Link records between tables to define relationships, count and aggregate data from your columns, or try any combination of more than 25+ unique column types available on Stackby.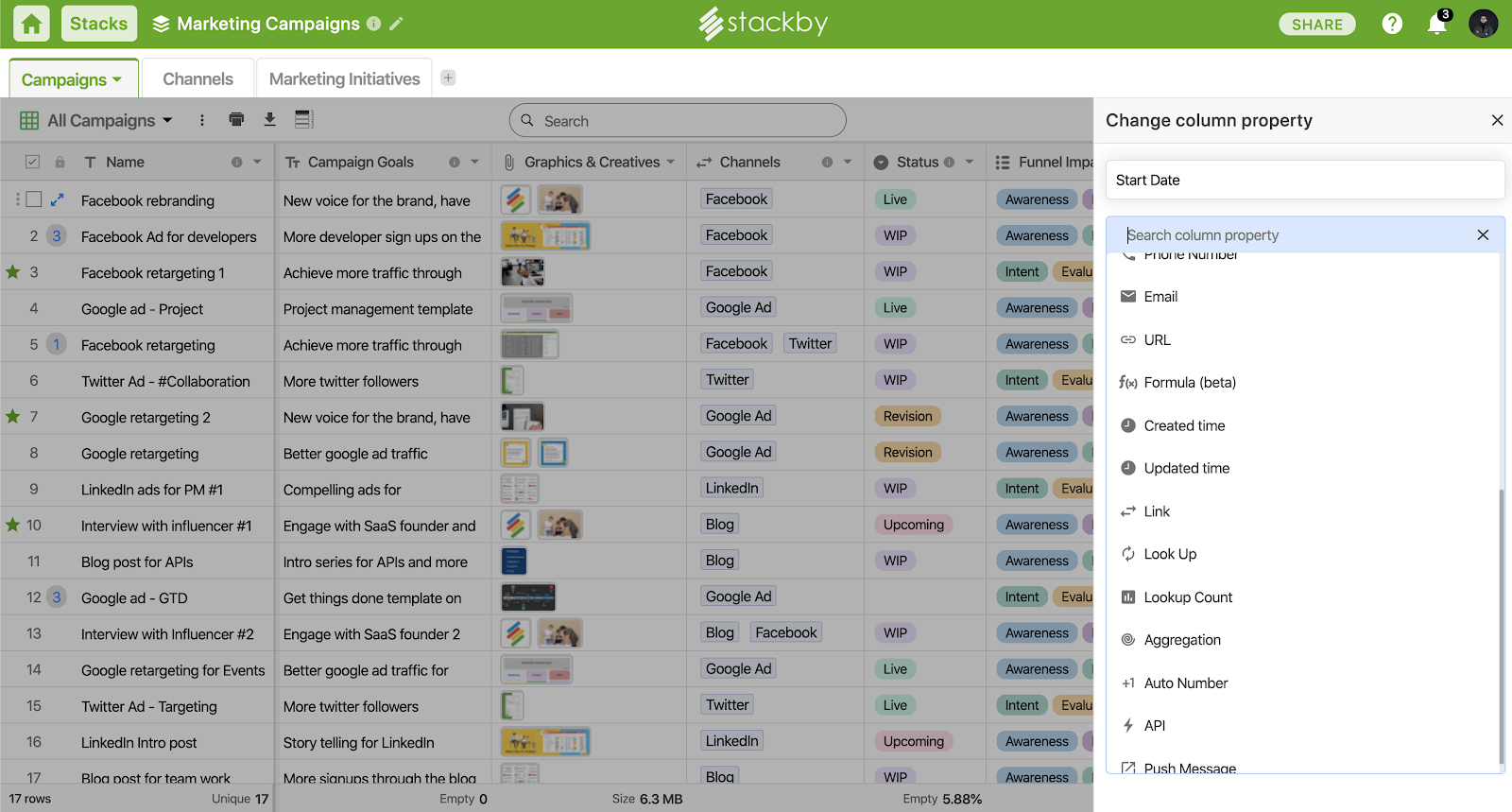 Create your own spreadsheet-style database by choosing from over 25+ column types.
You can connect your columns to popular third-party APIs like YouTube, Google Analytics, Facebook Ads, Ahrefs, Moz, Search Console, Hunter.io, Clearbit, and Mailchimp.
From there, just let Stackby pull the desired information automatically via over 100 pre-built API functions across 40 no-code connectors.
Tell Stackby what specific data you want using a built-in JSON explorer, configure the columns, and Stackby will do the rest.
Once set, you can refresh to get data in real-time or even set automated schedules to run on the column. So no coding for you, no manual data entry for you, no soup for you!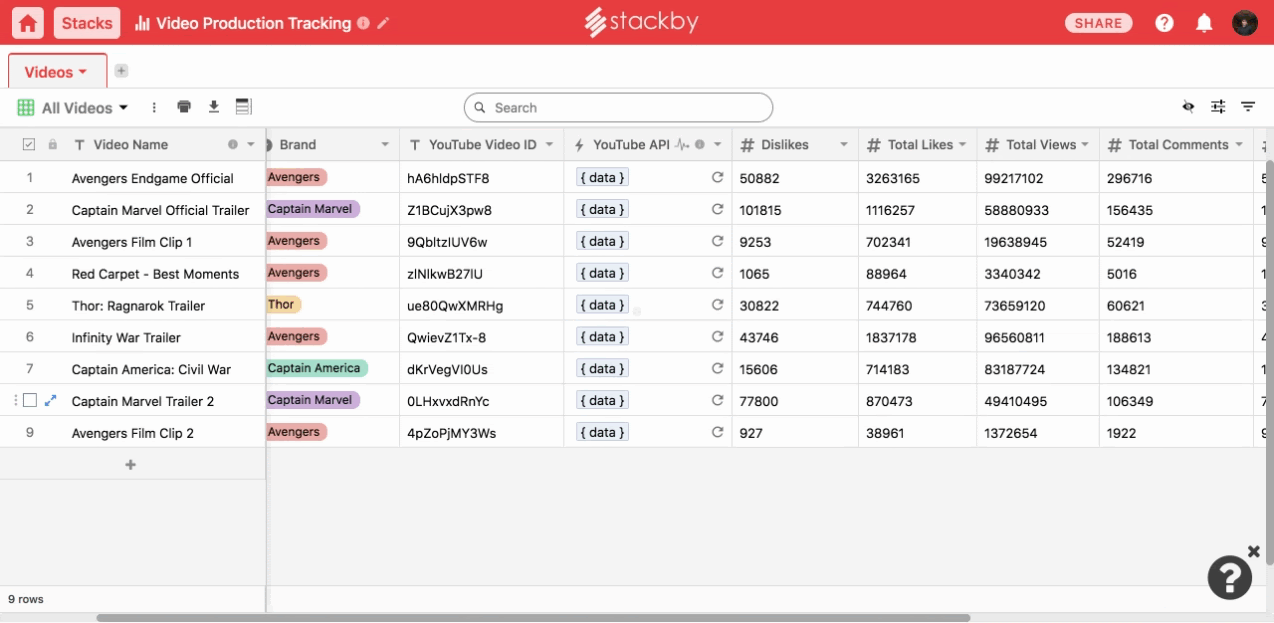 Connect your columns to popular third-party APIs like YouTube to pull data automatically, analyze it, and push out updates in real-time.
You can even configure a column to a button that lets you send an SMS or WhatsApp message via the Twilio API.
Want more customization? You got it.
Convert your table into a Kanban view to enable board style workflows, switch to Calendar mode for chronological viewing, or create Custom Forms to share with anyone or embed onto your website to collect responses.
Plus, you can share your individual views with your team members, embed them into any webpage or blog, and publish your own template on Stackby One, where anyone can become a maker.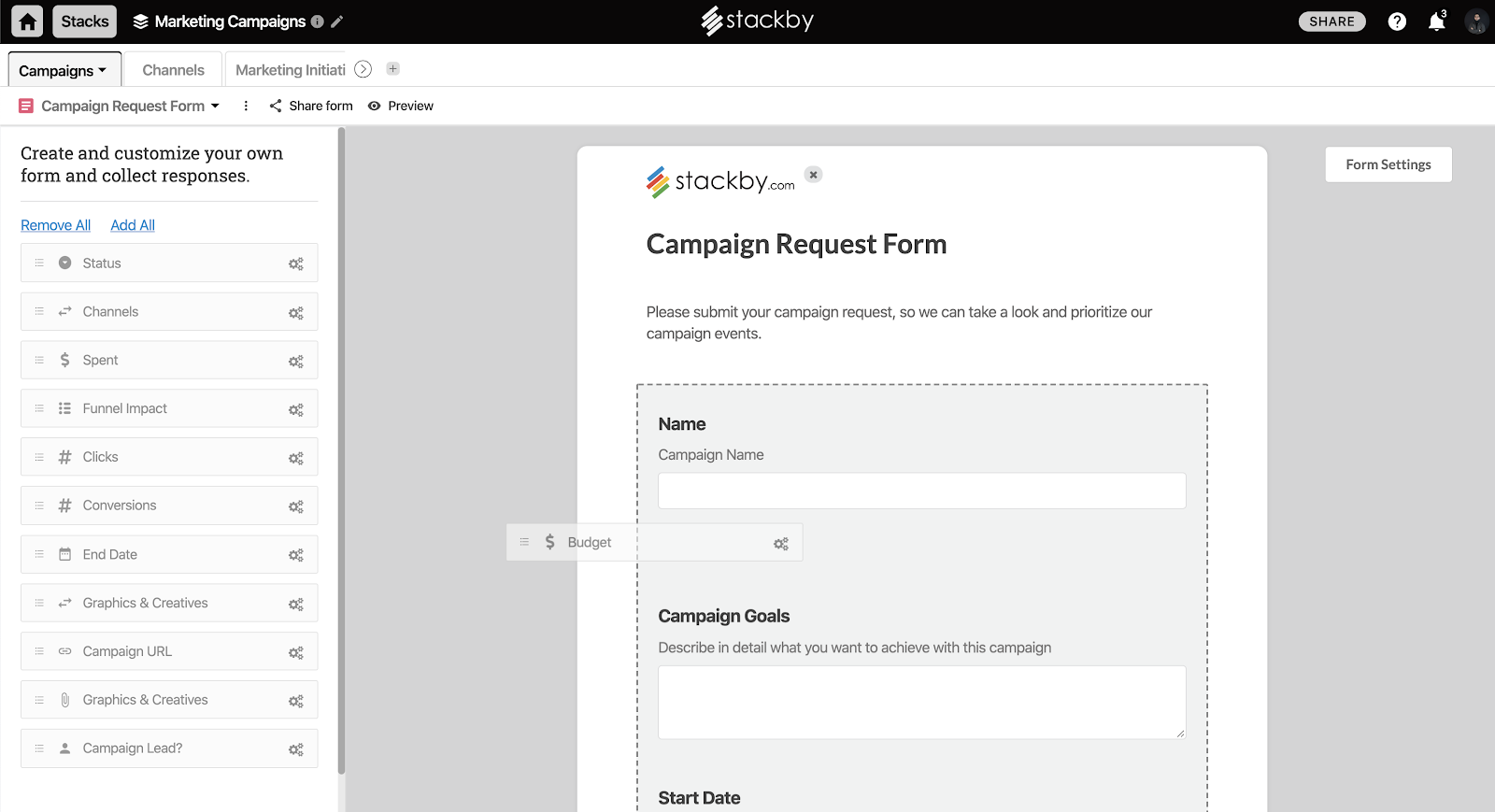 Create Custom Forms to share online on any webpage or blog, or collect responses from users through customizable campaigns.
No matter how you choose to see your data, know that everyone else on your team is seeing the same thing you are.
All updates are synced automatically so you can collaborate real-time by adding checklists, setting reminders, even sending Slack notifications for individual rows.
You'll be able to access Stackby on web browsers, mobile (iOS and Android), and even on Desktop, so you can build and automate workflows from wherever you are.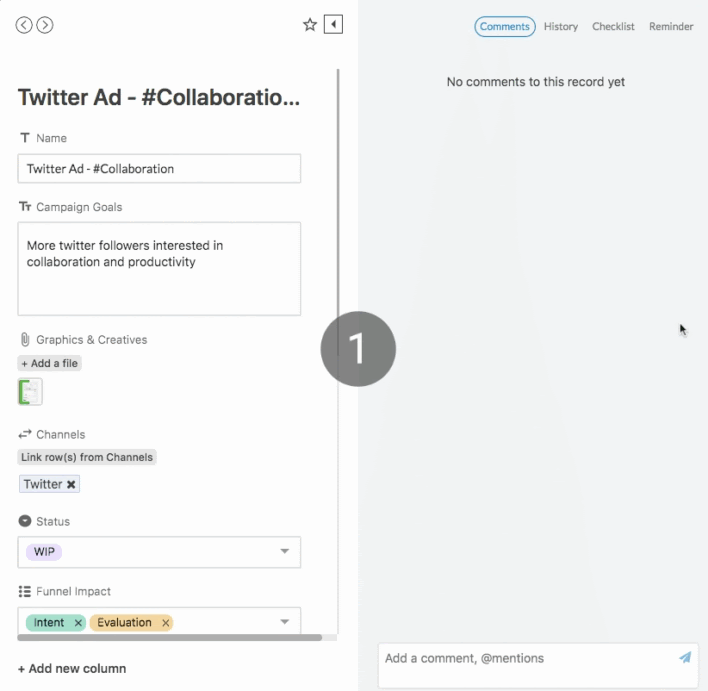 Collaborate instantly with checklists, reminders, Slack notifications, and more!
The struggle to keep your important data sorted, categorized, accurate, and shareable used to be real.
But now there's finally a cure for "multiple tool overload."
Get lifetime access to Stackby now!
Deal terms & conditions
Lifetime access to Stackby Personal Plan

You must redeem your code(s) within 60 days of purchase

All future Personal Plan updates

Please note: this deal is not stackable

GDPR Compliant

Exclusive add-on: $79 to enable Stackby Powerups in your workspace
60 day money-back guarantee. Try it out for 2 months to make sure it's right for you!