Grow your customers with incentivized viral referral and rewards programs
Create viral referral programs that offer rewards for sharing to boost your product launch and brand awareness
Alternative to: KickoffLabs and Growsurf
Customize your programs and send behavior-triggered emails to drive results
Overview
Convert Visitors into Subscribers and Increase Your Traffic with Gravitec.net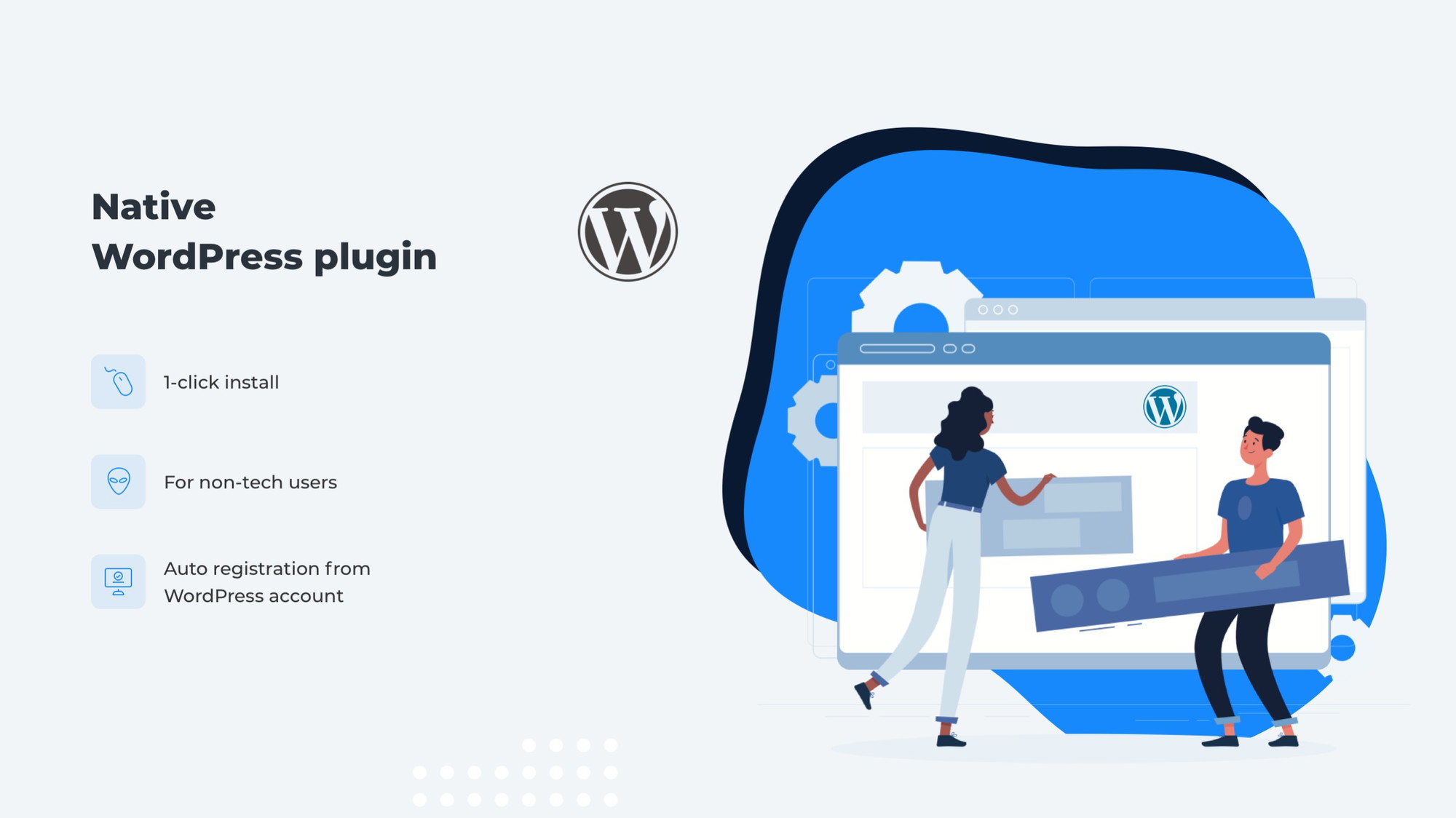 Our WordPress plugin makes integration super easy 🙌
If your website runs on WordPress, look no more and check out our plugin. It's the easiest way to integrate Gravitec.net.
Our plugin also connects with WooCommerce and provides a dropped cart support feature. Enable the feature, and your customers will get an automated push notification after leaving the cart.
You can set up and send automated campaigns without even leaving the plugin.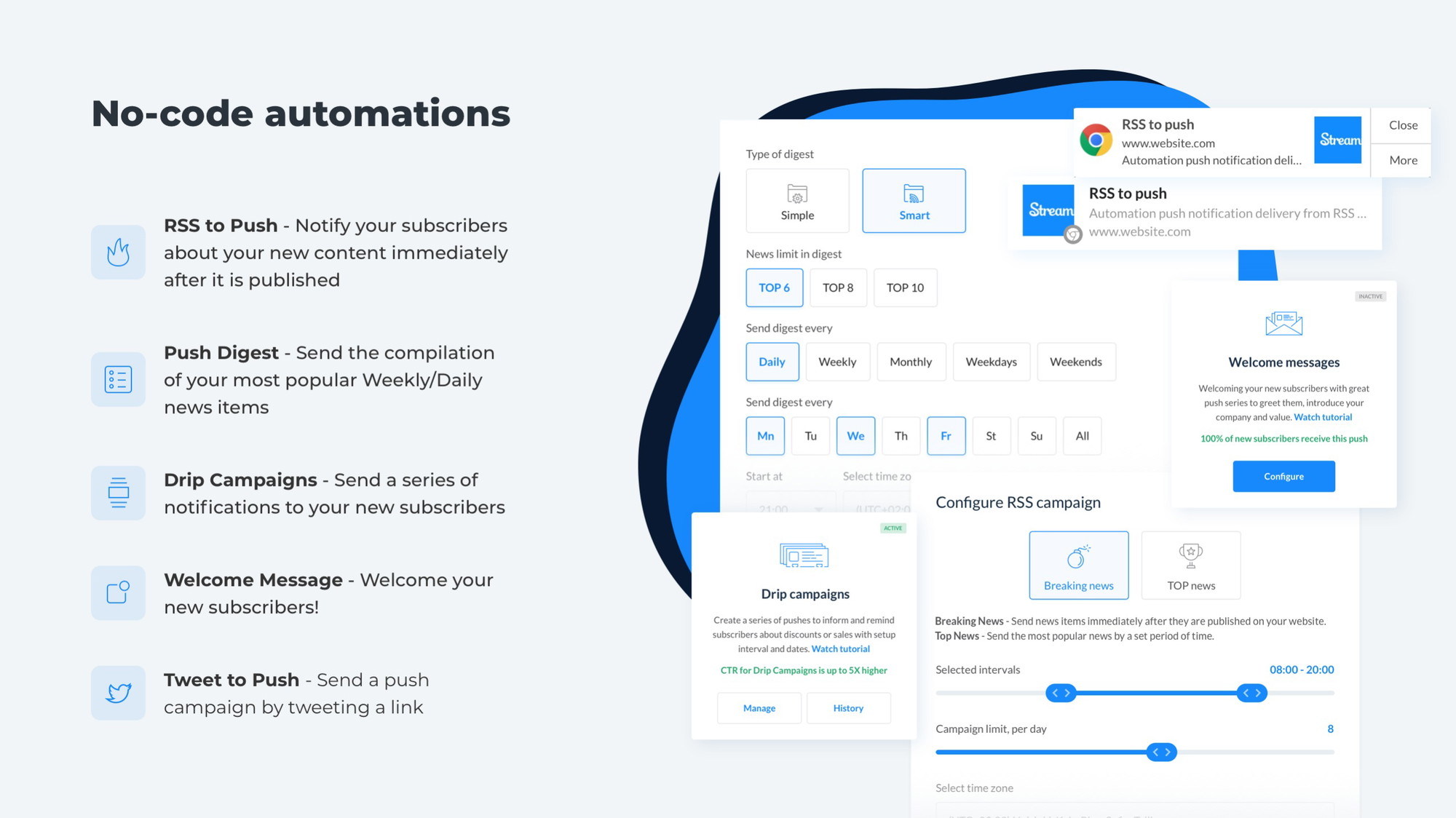 We designed our Automations to save your time on routine tasks 🦾
Let our built-in automation features handle the routine. No need to code — they're all easy to set up in Dashboard.
For example, our Autofill feature grabs content from the destination URL and uses it to fill the notification. It allows you to create campaigns in seconds.
RSS to Push feature creates and sends an automated campaign every time a new item appears in RSS feed of your site.
Drip Campaigns sends pre-designed push campaigns to a subscriber segment of your choice.
Welcome Message sends a pre-designed push to every new subscriber. New subscribers are your hottest incoming leads 😉
Push Digest creates web page with your best articles the subscriber hasn't seen yet. It means a personal page for each viewer.
Tweet any valid URL. Tweet to Push will generate and send a push notification using content from the URL destination page.
Add UTMs with a single click, schedule your campaigns and make the time work for you.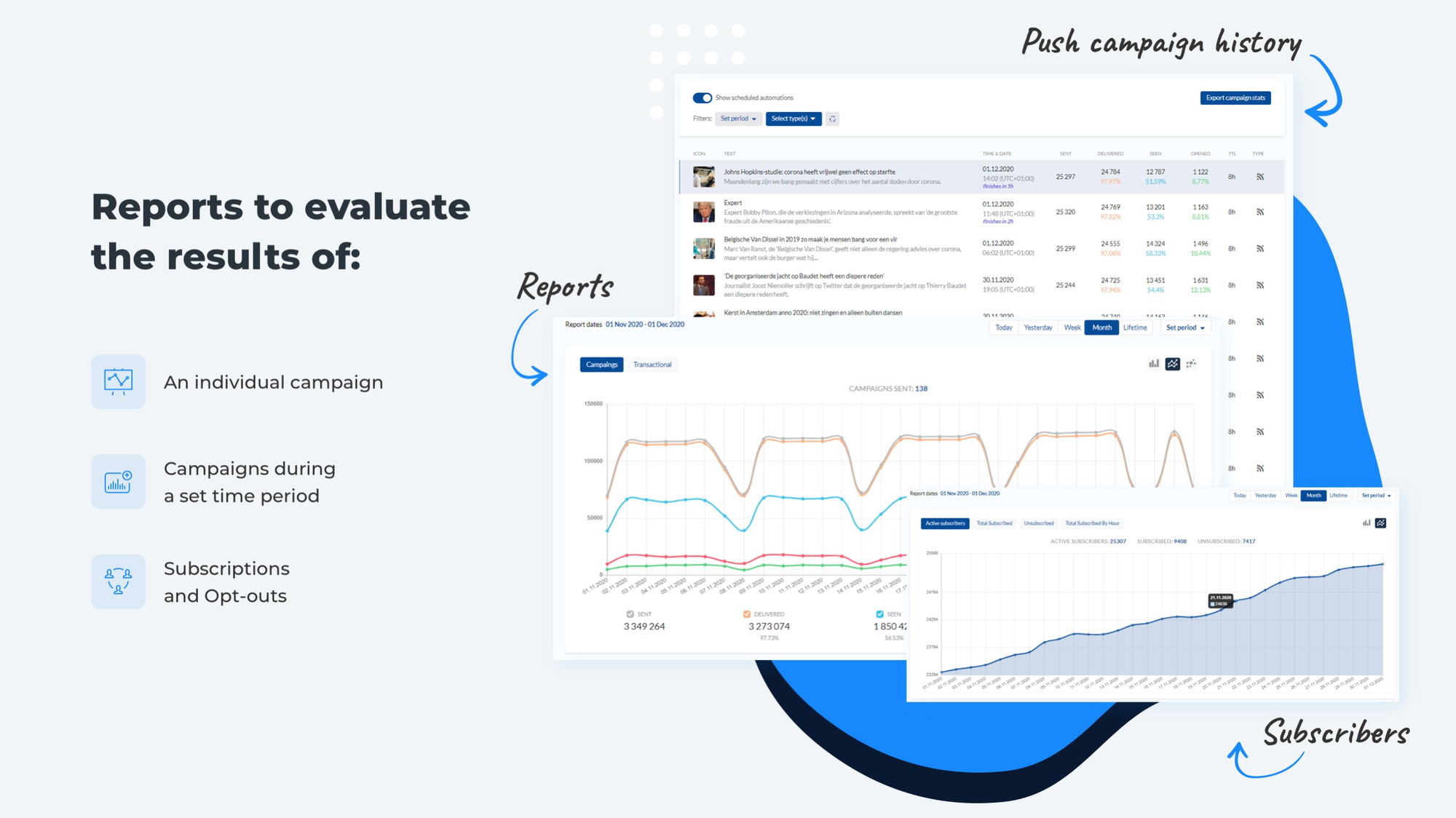 Comprehensive stats for your campaigns with our Reports 😎
See the detailed statistics for each of your campaigns — or for all of them.
Select a time period to review, choose a different data layout and browse through Sent, Delivered, Seen, Opened and Closed rates for each campaign.
Zoom in to hours and zoom out to months to see the trends behind the numbers.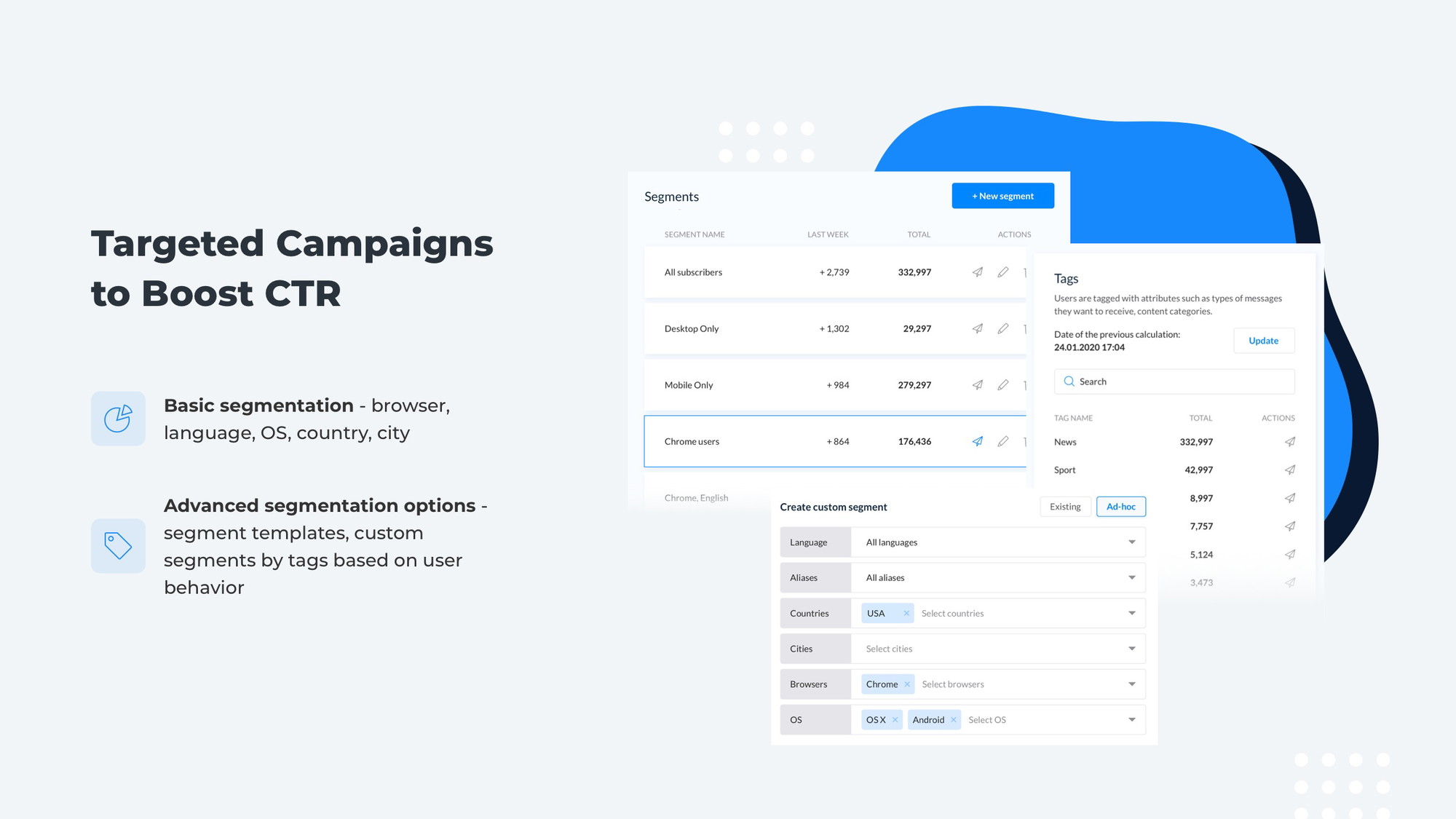 Target subscribers by their behavior 🪄
This is where Gravitec.net really shines. You can target subscribers based on their behavior, for example:
a page they visited,
an interest they chosen while subscribing,
a campaign they opened or closed.
Gravitec.net allows you to assign each subscriber a tag. Use the tags for segmenting and grouping your subscribers. You can use as many tags as you want. See Question 6 in our FAQ
Of course, you can also target subscribers by country, city, device, OS, browser app and even browser language.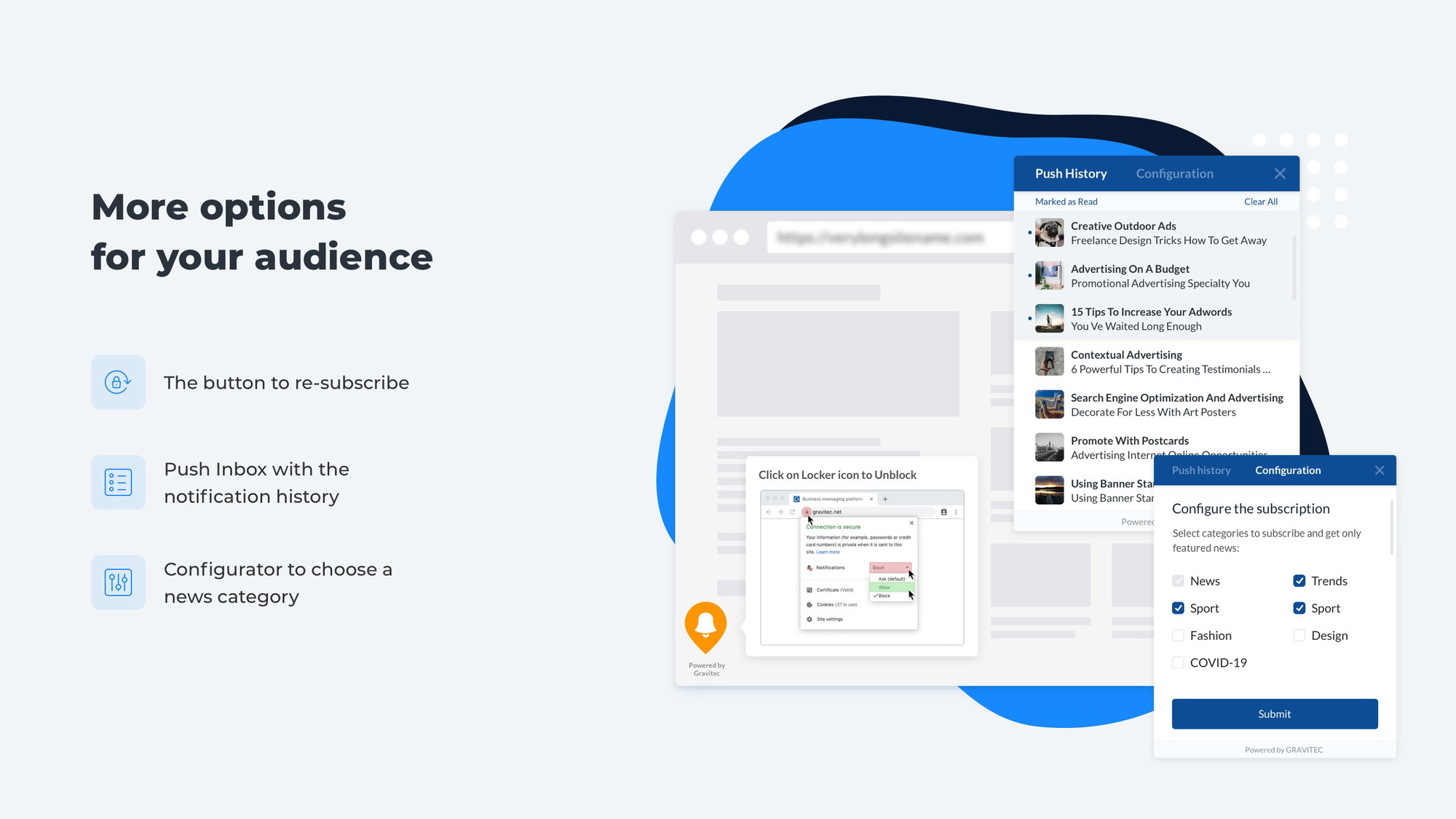 Allow your visitors to re-subscribe, pick interests, and see the notifications inbox with our Bell widget 🔔
Our Bell widget helps visitors to resubscribe by helping to navigate through browser interface. It also creates an inbox containing all push notifications sent to the subscriber.
Push Inbox allows a subscriber to open and click a notification that would otherwise be missed. This means better Open and Click rates.
The Bell widget also allows subscribers to manage their interests, so you would know for sure, what topics they're interested in.
Plans & features
Deal terms & conditions
1 Year of access to Gravitec.net Plan

You must redeem your code(s) within 60 days of purchase

1 Year of Gravitec.net Plan updates
60 day money-back guarantee. Try it out for 2 months to make sure it's right for you!