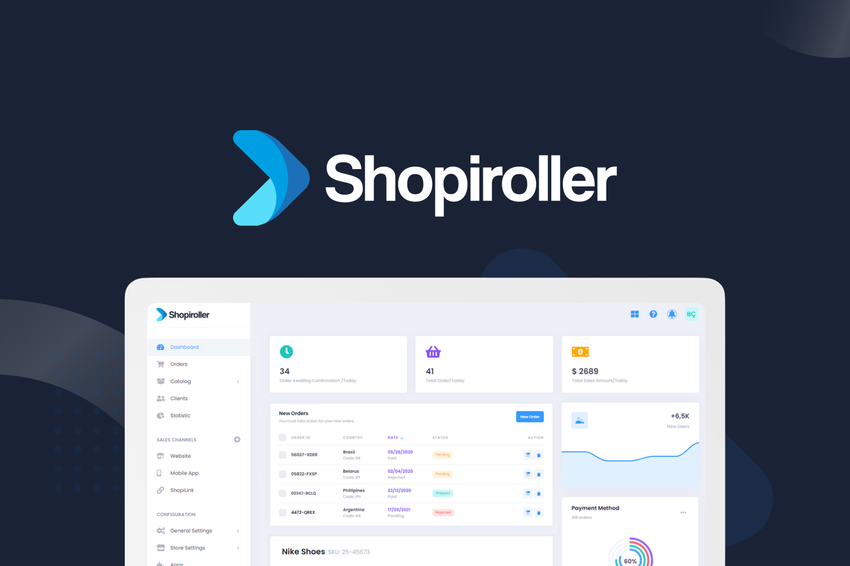 Launch your own ecommerce store and create strong sales channels
Build an ecommerce store without code and sell products via web, mobile, and other popular sales channels
Accept payments with platforms like PayPal or Stripe, and maximize revenue thanks to zero transaction fees
Overview
Shopiroller is a no-code platform that lets you manage ecommerce stores via web, mobile, and other popular sales channels.
Shopiroller has everything you need to get your ecommerce store up and running in minutes for web and mobile.
Getting started is simple! Just upload your company logo, add your products, brands, and categories, then highlight featured products.
You can even host your store on an existing domain to make sure the entire shopping experience feels on brand.
And because this is a no-code platform, you'll be able to set up shop without having to hire an expensive developer.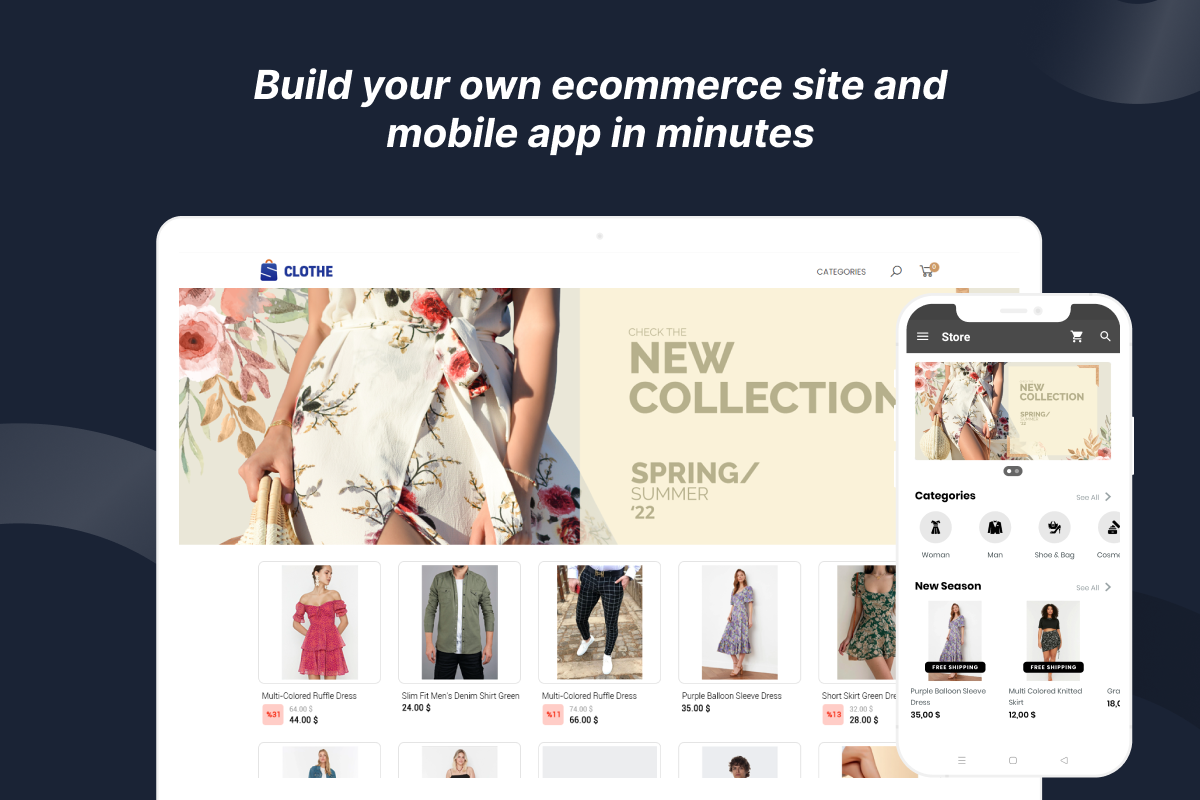 Boost sales with stunning ecommerce sites and mobile apps without writing any code.
Shopiroller sites are built to be user-friendly, so your customers can fill up their carts and checkout online without a hitch.
And with the ability to launch a white-label app that's compatible with iOS and Android devices, you can also connect with customers on the go.
It's easy to upload your app to the Google Play Store, Apple App Store, and Huawei AppGallery, thanks to the Mobiroller integration.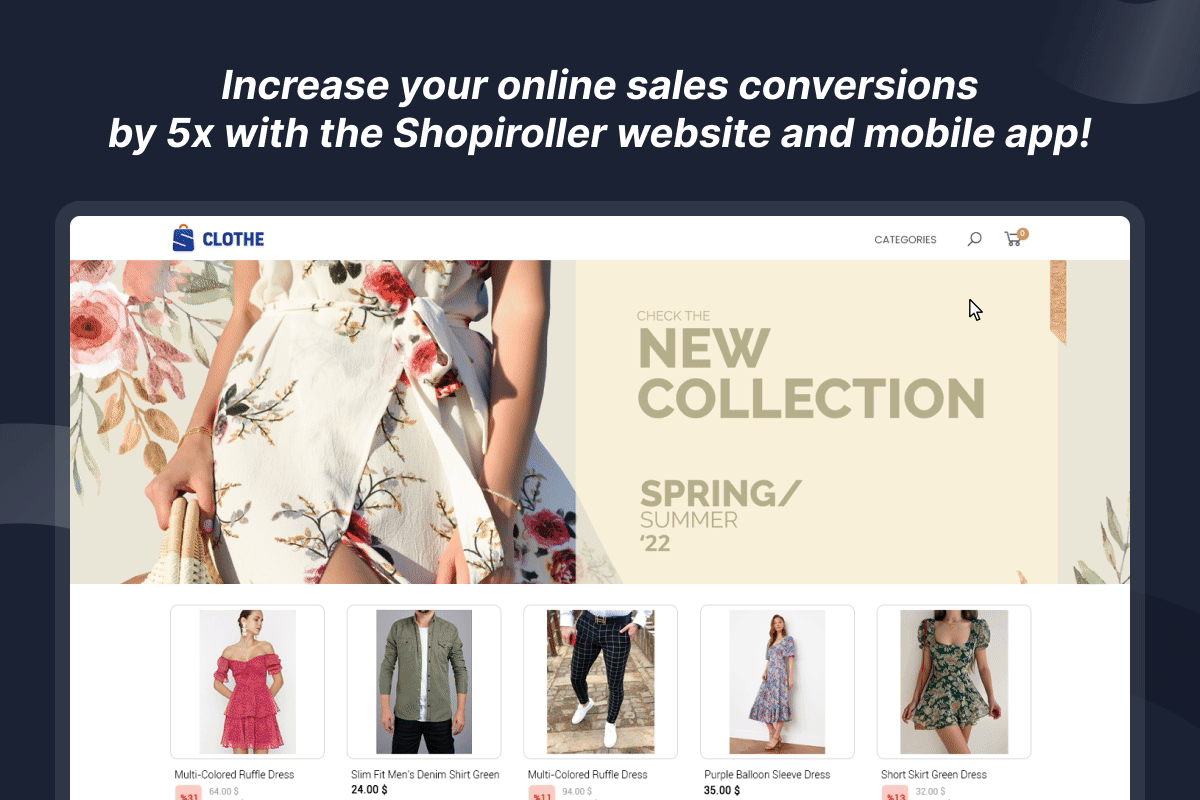 Shopiroller streamlines the customer experience across web, iOS, and Android.
Best of all, Shopiroller doesn't stop with online and mobile stores. You can also set up sales channels across dozens of marketplaces and social networks!
Attract customers on Instagram and Facebook with a shareable link to your store or specific products and services.
You'll also be able to integrate with Amazon, Etsy, and Google to put your store in front of an even bigger audience.
And you can manage orders and inventory from the backend, no matter what channel you're using to sell products.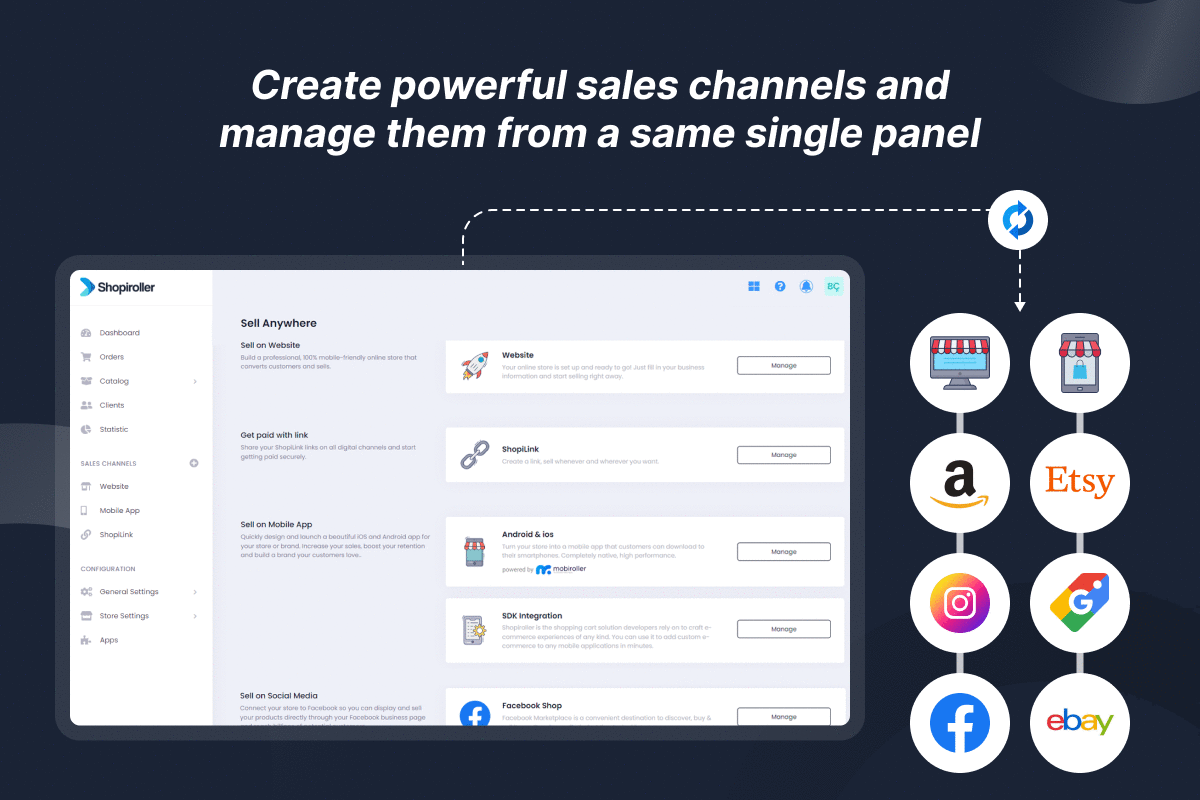 Harness the power of multiple sales channels and manage them from a single dashboard.
Shopiroller's payment solutions are super flexible, which means you can accept payment methods that make sense for your business and customers.
You can accept payment through major providers like PayPal and Stripe, as well as iyzico, PayTR, and United Payment. Plus, you can offer a "pay at the door" option for brick-and-mortar stores.
You'll even be able to create coupon codes for promotional campaigns and use payment links to make it easier for customers to checkout.
And Shopiroller never charges transaction fees, letting you maximize revenue with each sale!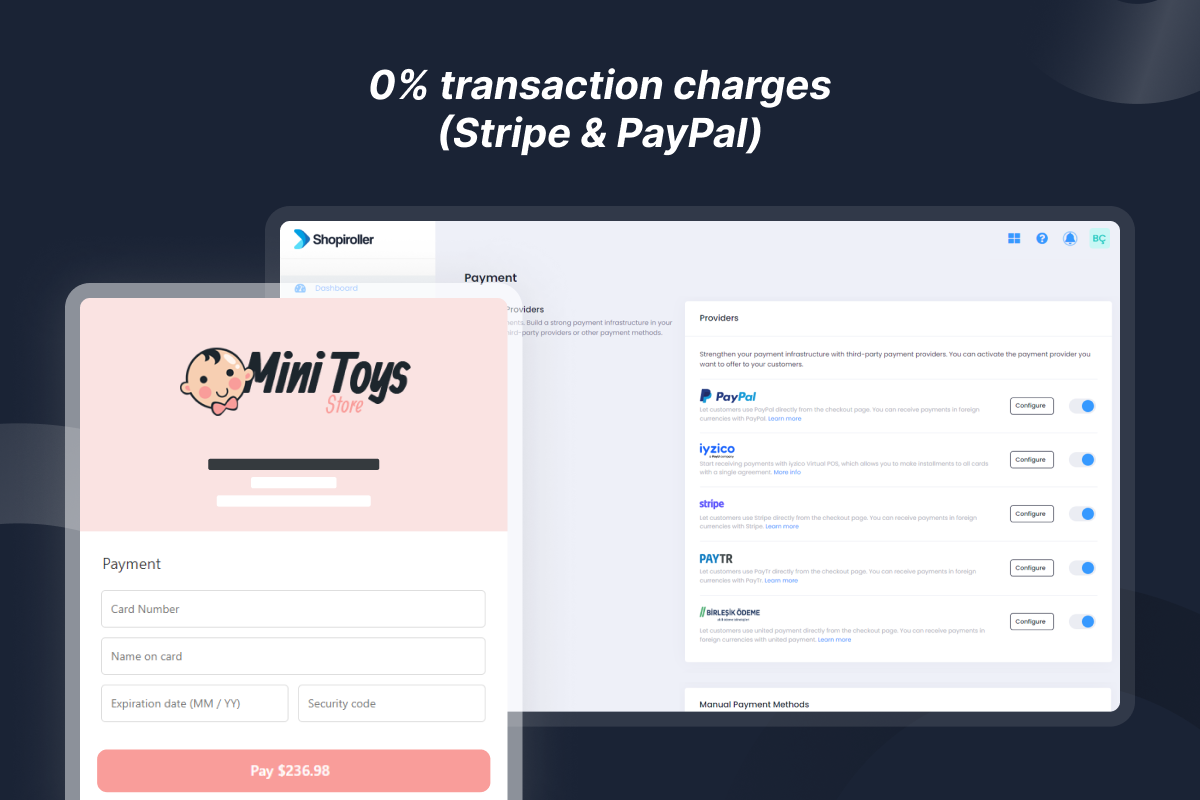 Use major providers like Stripe and PayPal without worrying about any transaction fees!
Your team doesn't have the resources to drop everything and build an ecommerce site from scratch. ("New priority for Q4: We're all learning JavaScript!!")
That's why Shopiroller lets you build an online store that customers can access via web, mobile, and other channels—without touching any code.
Set up shop the easy way.
Get lifetime access to Shopiroller today!
Deal terms & conditions
Lifetime access to Shopiroller

All future Reseller Plan updates

No codes, no stacking—just choose the plan that's right for you

You must activate your license within 60 days of purchase

Ability to upgrade or downgrade between 3 license tiers

GDPR compliant

Only for new Shopiroller users who do not have existing accounts
60 day money-back guarantee. Try it out for 2 months to make sure it's right for you!
Features included in all plans
Unlimited product photos

Unlimited categories

Unlimited brands

Unlimited showcases

3 product variants

No Shopiroller branding