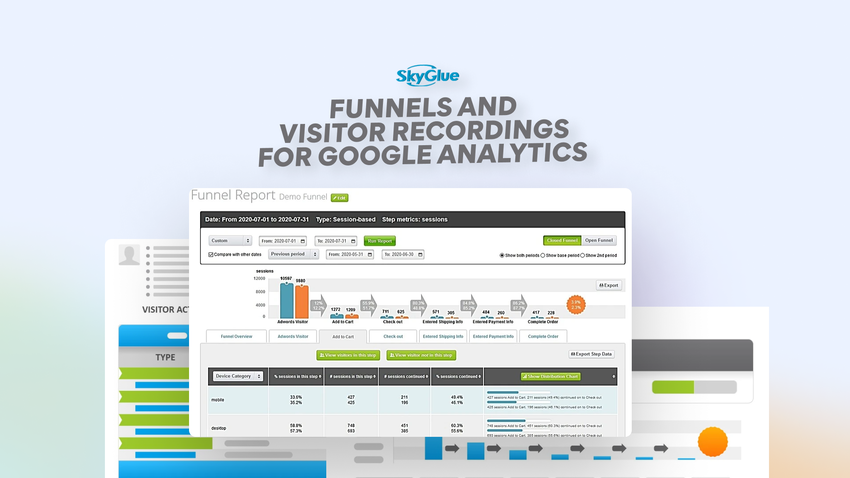 Are you a digital analyst who is eager to improve website conversions using Google Analytics?
SkyGlue funnels and visitor recordings put your Google Analytics on Steroid!
SkyGlueis a Google Analytics add-onthat offers individual visitor click journey reports, retroactive funnels and visitor recordingsusing your Google Analytics data. SkyGlue brings you to the truths behind visitor dropout fast!
With SkyGlue, you can build conversion funnelsinstantly to identify visitors who did NOT convert and review their click path behavior to understand why they left.
Sit back and watch the recordingsof users who drop from each step of your funnel and learn what's preventing them from converting. SkyGlue fully integrates with Microsoft Clarityto provide you with visitor session recordings. Seeing is believing. Visitor recordings tell you exactly what to fix.
With SkyGlue, you are able to analyze website user behaviors with Google Analytics data in ways never possible before and get the true customer intelligence you can act on.
AccessSkyGluetoday!
1 Year of access to SkyGlue – Funnels and Visitor Recordings for Google Analytics Plan
You must redeem your code(s) within 60 days of purchase

1 Year of SkyGlue – Funnels and Visitor Recordings for Google Analytics Plan updates

Please note: This deal is not stackable
60 day money-back guarantee. Try it out for 2 months to make sure it's right for you!