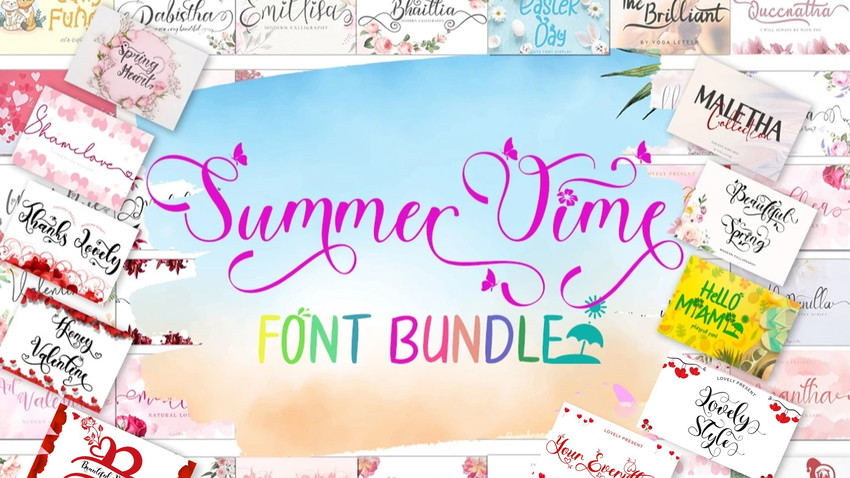 A collection of beautiful fonts and suitable for summer moments, holiday, christmas, and others.
Bring a summer vibe to your designs! This bundle is filled with 93 beautiful fonts at an amazing price. Here are the fonts included: Christmas Delight Merry Deer, Santa Story Sweet Christmas Fantastic Christmas Christmas Glitter Christmas Shepherd Christmas Smile Halloween Party Witch Pumpkin Scary Light Death Party Devil Scream Goblin Monster Smile Rabbit Yellow Easter Warmth Easter Park Hola Easter Cute Easter Catty Dino Park Sunrose Maletha Linford Mahartha Airlove Betharia Vienetta Selvia Agatha Brilliant With Danilla Sanantha Maretha Pretty Willie Queenatha Mikella Bialletha Adellia Madelline Khalitha Shalitta Meillea Alletha Sherllia Rossaline Rillilove Beathria Astherlia Berthessa Billetha Monalissa Dabistha Balissha Roshalia Bhaillia Dhefentha Qanethya Emillisa Cherllona Hello Valentine Amantha Bethlove Shamilove Art Valentine Valentine Moon With Rose Green Love Spring Heart High Moon Melathi Hello Miami Royal Signature Sunny Love Leonisa Amelline Mella Sweet Summer View Tropical Diary Sunday Thanks Lovely Everything Honey Valentine Beautiful Monogram Young Couple Lovely With Love Lovely Style Beautiful Spring Get instant access now!
Digital download of Summer Time Font Bundle
This deal is non-refundable
Get lifetime access. Just download and save within 60 days of purchase.