SumPlayer
— A simple, easy-to-use multimedia custom player, enjoy 15+ pre-built beautiful video player themes that support modern browsers with unlimited color options to create millions of different players with your Business style easily and quickly.
Your videos stay hosted on YouTube or third-partyvideo data storage services. SumPlayer only modifies the theme of the video player. That's all!
By using SumPlayer, you can easily create multiple subtitle languagesto reach your potential customers all over the world.
You can embed videos using the built-in themes, or you can design a new themewith your style — it's all in your hands.
Get access today!
Create, customize the player and manage videos quickly
Alternative to: Vimeo, Wistia, Brightcove, Vidyard and Cloudinary
Unlimited player customization can be used on any website, device and is compatible with all the latest web browsers
Overview
Classtra has all the tools you need to effortlessly build and sell online live courses under your brand, all from one place.
Classtra is ready to integrate with your custom domain in a matter of minutes, or you can get started with a Classtra subdomain for a quick start.
You'll be able to engage your online audience with built-in conferencing software, HD live streaming, multi-user screencasting, and more—all with advanced security options.
Create recordings, presentations, chats, external video playing synchronized to live participants, and more.
Plus, you can customize your domain with your own logos and colors to match your branding.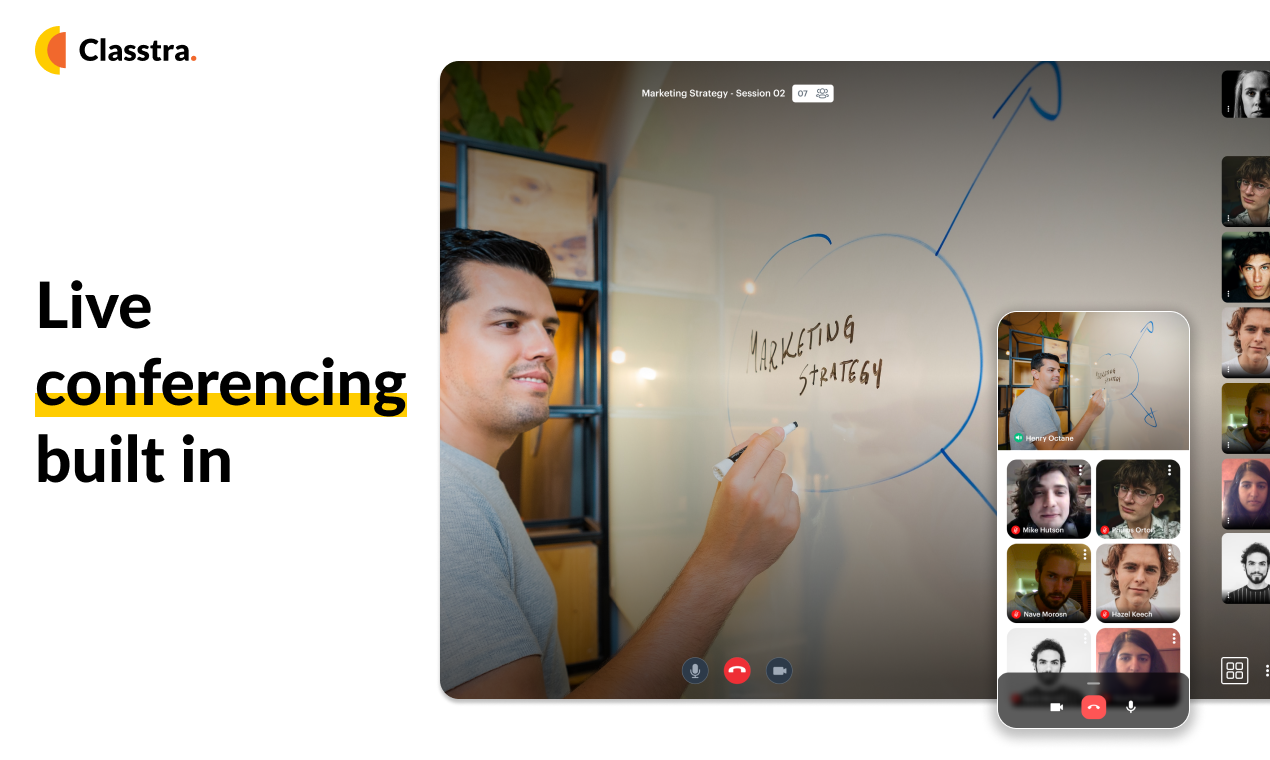 Set up video conferences, live chats, and presentations with ease!
Getting paid is easy thanks to Classtra's versatility.
With different payment options, you can create memberships, installments, sibling discounts, bundles or packages, and refunds (no more awkward Venmo comments).
Plus, native iOS and Android apps help your students easily connect and take their classes wherever they want to go.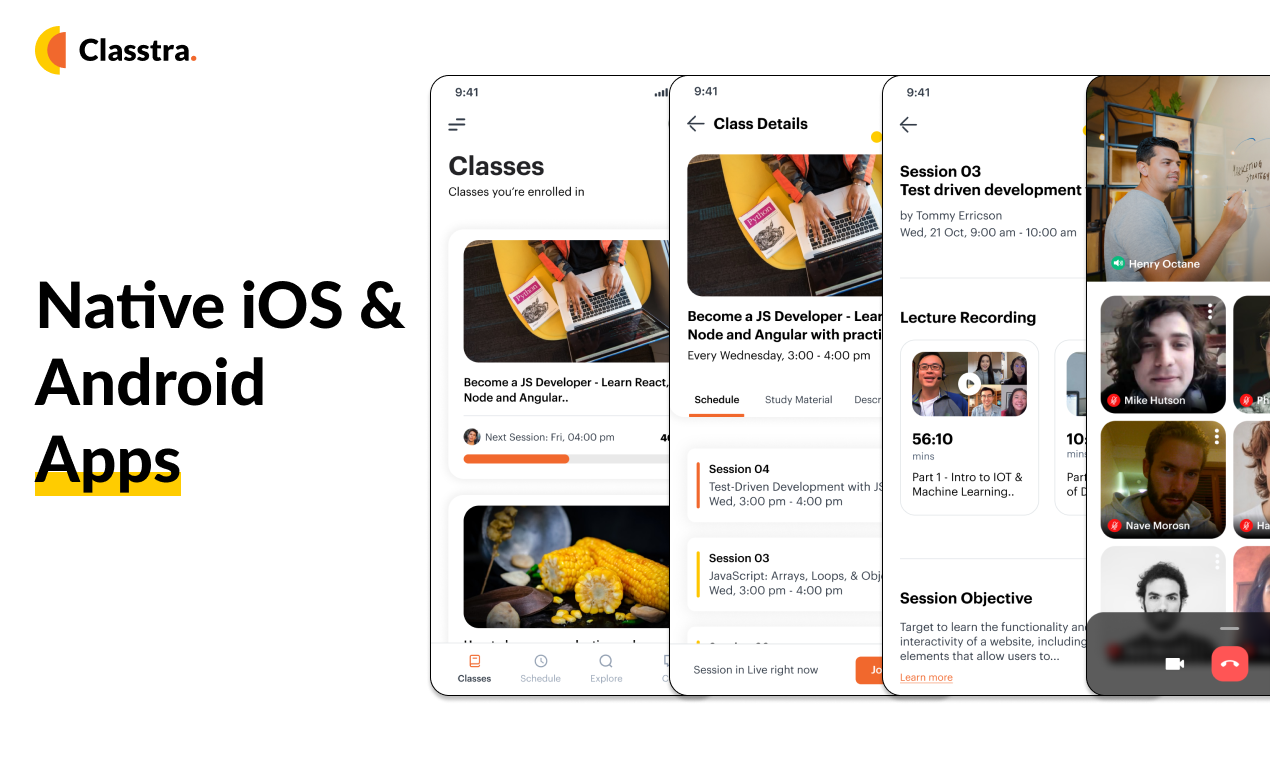 Enjoy a responsive mobile design for easy registration and on-the-go learning.
Got a gaggle of instructors? Easily manage each instructor, and their courses through Classtra's dashboard.
You can add instructors and team members to the management dashboard and assign different permissions for each member.
During or after the course, instructors can collect feedback to improve the interactive learning experience.
Classtra offers a fully featured chat with replies, notifications, typing indicators, and threads, so education and community always go hand in hand.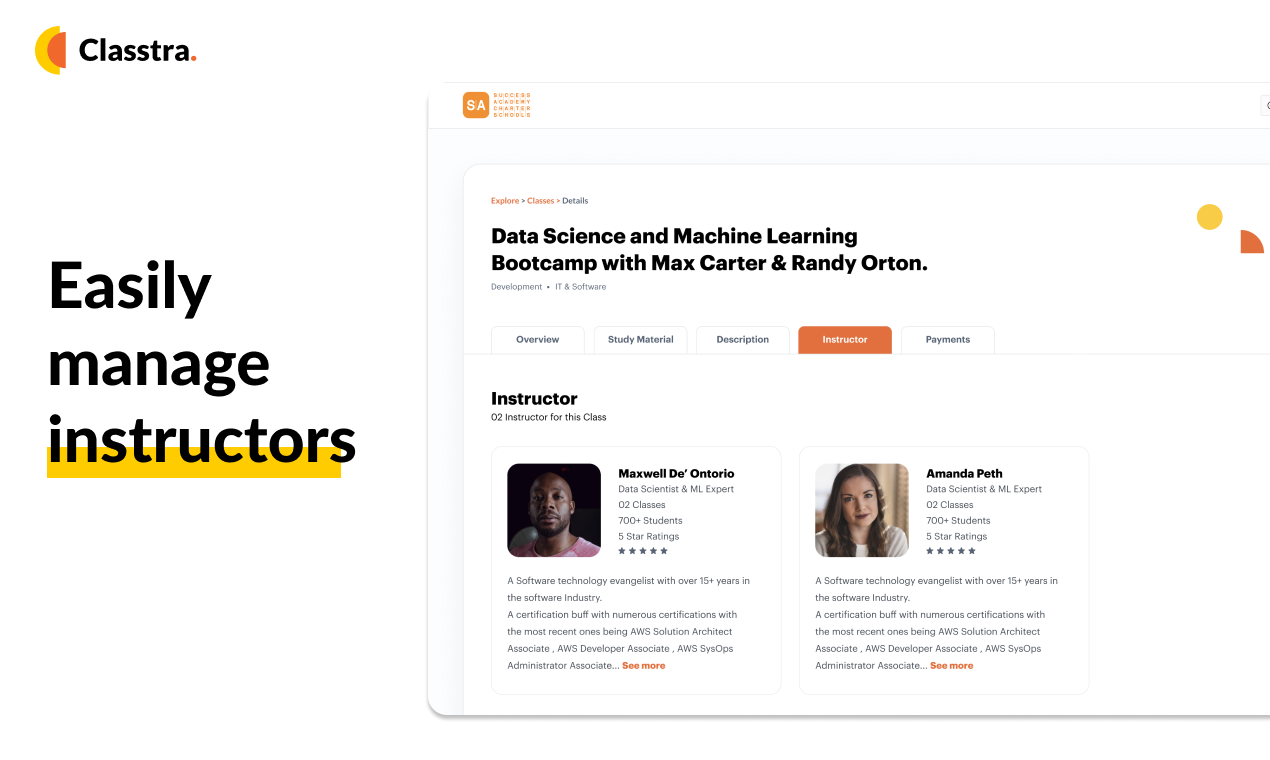 Manage instructors and their courses through the clean and organized Classtra dashboard.
Not all registration forms are made the same.
That's why Classtra lets you create custom registration forms and add your own questions.
You can also build out your own criteria when designing a class. (Are you a Portuguese-speaking hula-hooper? Perfect.)
Classtra also makes it easy to track the progress of registration forms and follow up on students when they don't complete their registration.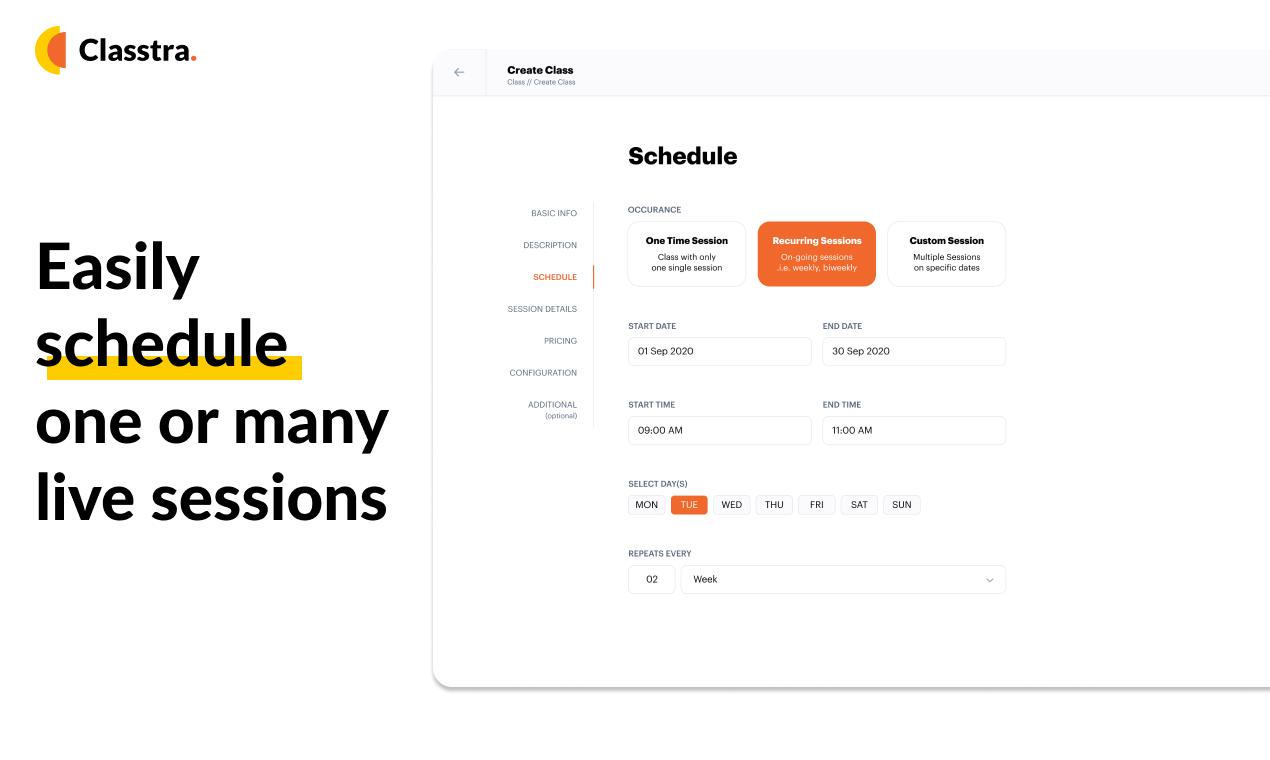 Create recurring schedules for your classes in minutes —students have the option to sync them with their calendars and get helpful reminders!
When your virtual class is about to start, notify students by SMS text and email with a link to join.
The state-of-the-art video player allows you to stream the class or send a pre-recorded class later on.
Classtra automatically creates recipient lists through SMS and email, so everyone stays on the same page.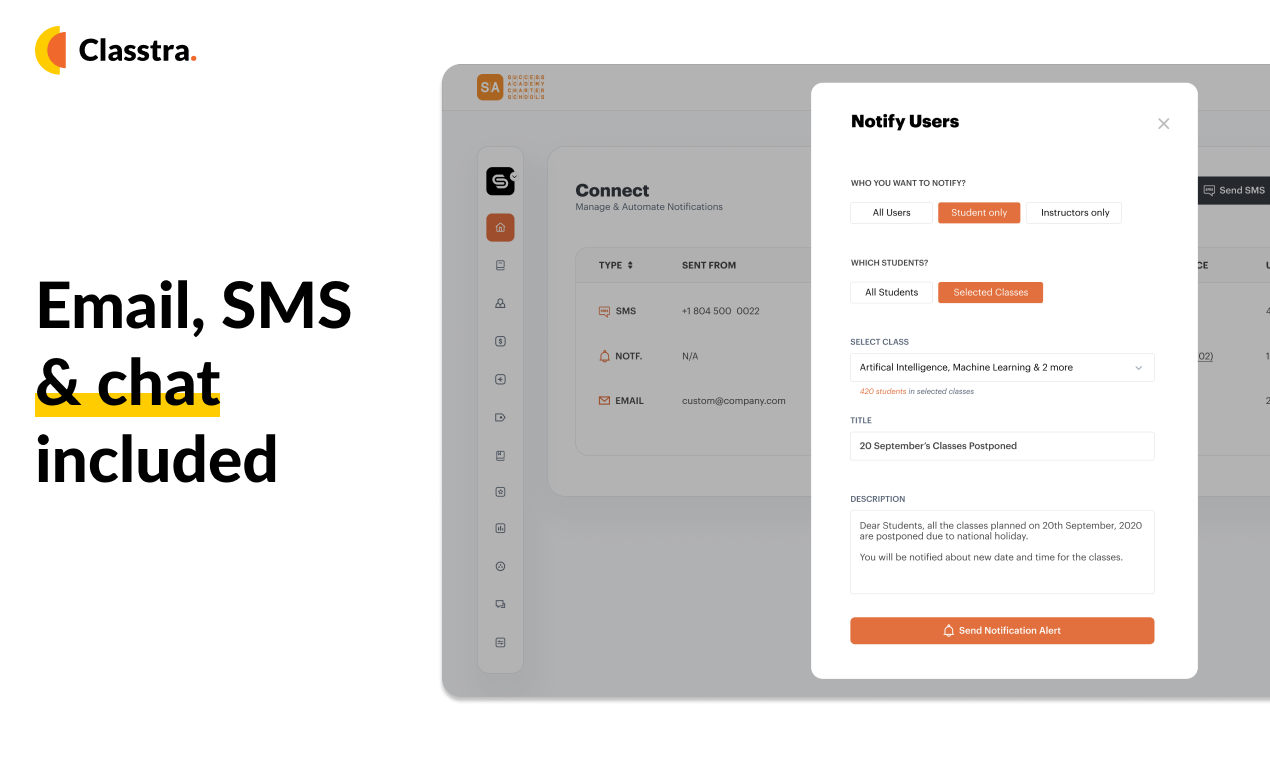 Message specific classes, students, instructors, or all of the above at the same time!
Send messages, alerts, or video recordings via email to the recipients in a given list.
With lesson planning and grading, managing a course is enough work as it is.
Why add more stress by managing multiple platforms on top of it? (Ain't nobody got time for that.)
Classtra gives you everything you need to build your live learning platform from A to Z.
Get one year of access to Classtra today!
P.S. Learn how to use Classtra like a pro by catching our training webinar replay here: Webinar Replay!
Deal terms & conditions
1 Year of access to Classtra Annual Premium Plan

You must redeem your code(s) within 60 days of purchase

1 Year of Premium Plan updates

Please note: this deal is not stackable

Only for new Classtra users who do not have existing accounts
60 day money-back guarantee. Try it out for 2 months to make sure it's right for you!