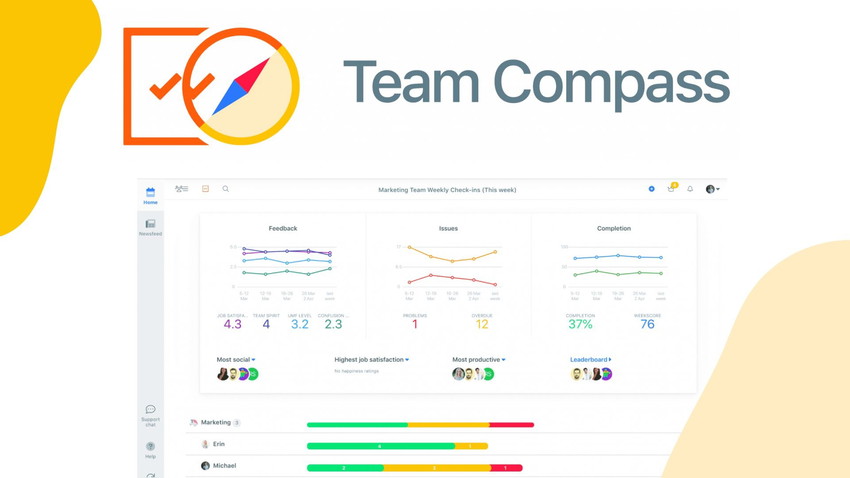 A team management software and productivity tool-kit to track goals, activities, and satisfaction
Team Compass
provides the
team management software and productivity tool-kit
you as a leader need to: 🎯 Set and track goals to lead your team in the right direction 📊 Agree and monitor employee plans, projects, tasks and initatives 📈 Review insightful weekly team reports to enhance your team meetings 👍 Measure employee happiness and team satisfaction 🔗 One-on-ones and pulse surveys to connect and guide your team
Goal-setting and tracking
Create goals to set the direction teams need to go towards for the quarter.
Weekly tracking
Track weekly activities for a more visible & interconnected team.
One-on-one preparation
Come to meetings prepared with a clear agenda.
As a leader, use Team Compass to:
-Quickly know what's happening -Make informed decisions -Focus on what matters -Measure satisfaction -Align and organize your team -Have more meaningful meetings
Bring out the best in your team
and
start guiding them in the right direction
today.
Get access to Team Compass by Weekdone today!
TL;DR
Come to one-on-one meetings prepared & with a clear agenda
Overview
5-minute walkthrough of the features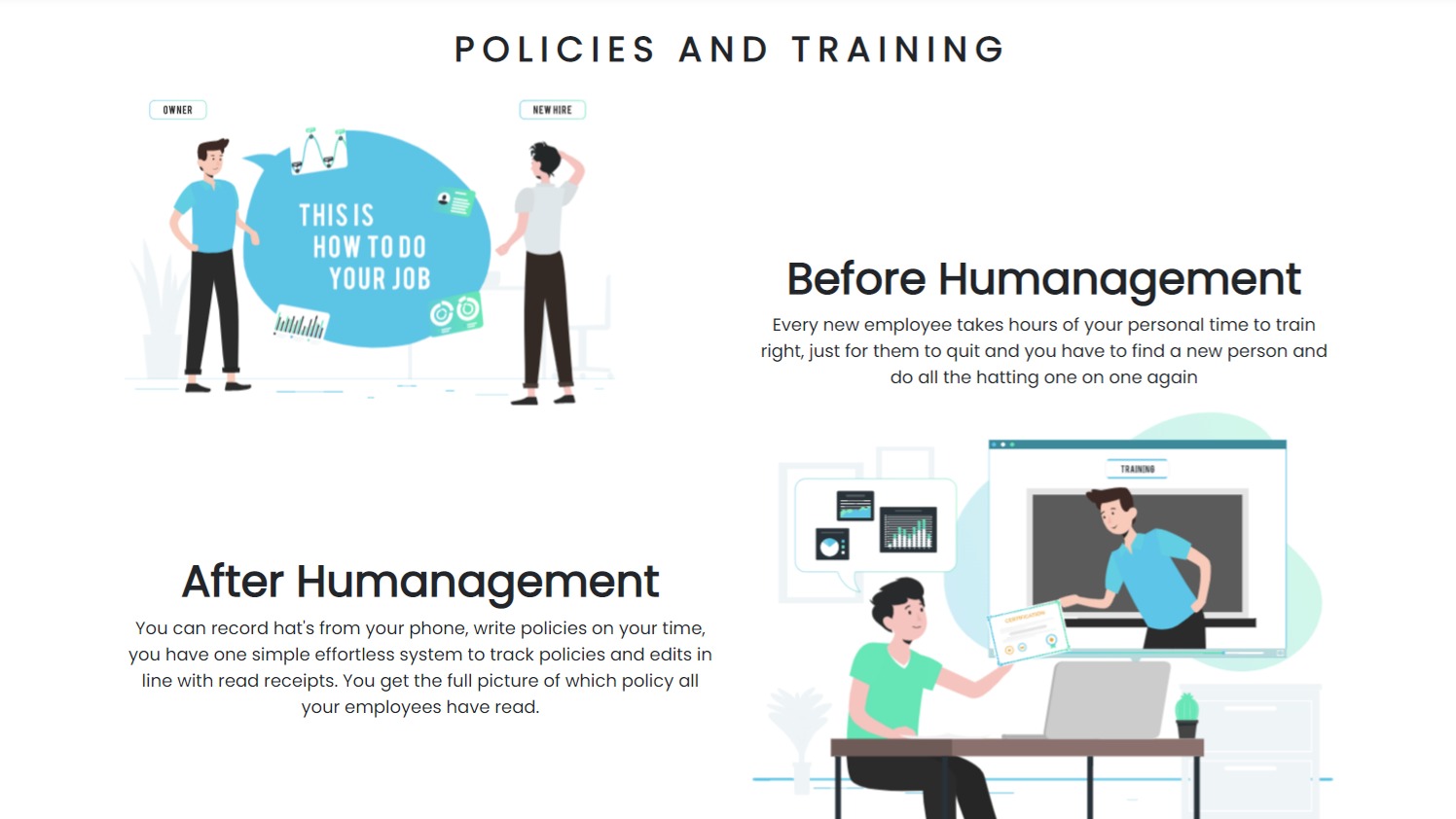 Keep track of Policy Management, Compliance, and Staff Training—All On Auto Pilot
If you're a CEO or Manager with more than a handful of staff, you'd know how time-consuming these three things are.
With new employees, you have, (non-negotiable) hours of walk-throughs, writing policies—which takes a hellishly long amount of time and every policy change demands an update.
—and creating audit trails for compliance (takes forever).
Humanagement saves you time and stress with fully automated functions:
Create and Store Video Polices
rich text and change log for written policies.
New employees are automatically assigned Policies/Hats for their Department.
Updated policies are automatically sent to employees who read them.
Employees mark policies as read, with optional signatures or multi-choice questions.
Compliance Audit logs are automatically created.
Record everyone's responsibilities on their profile.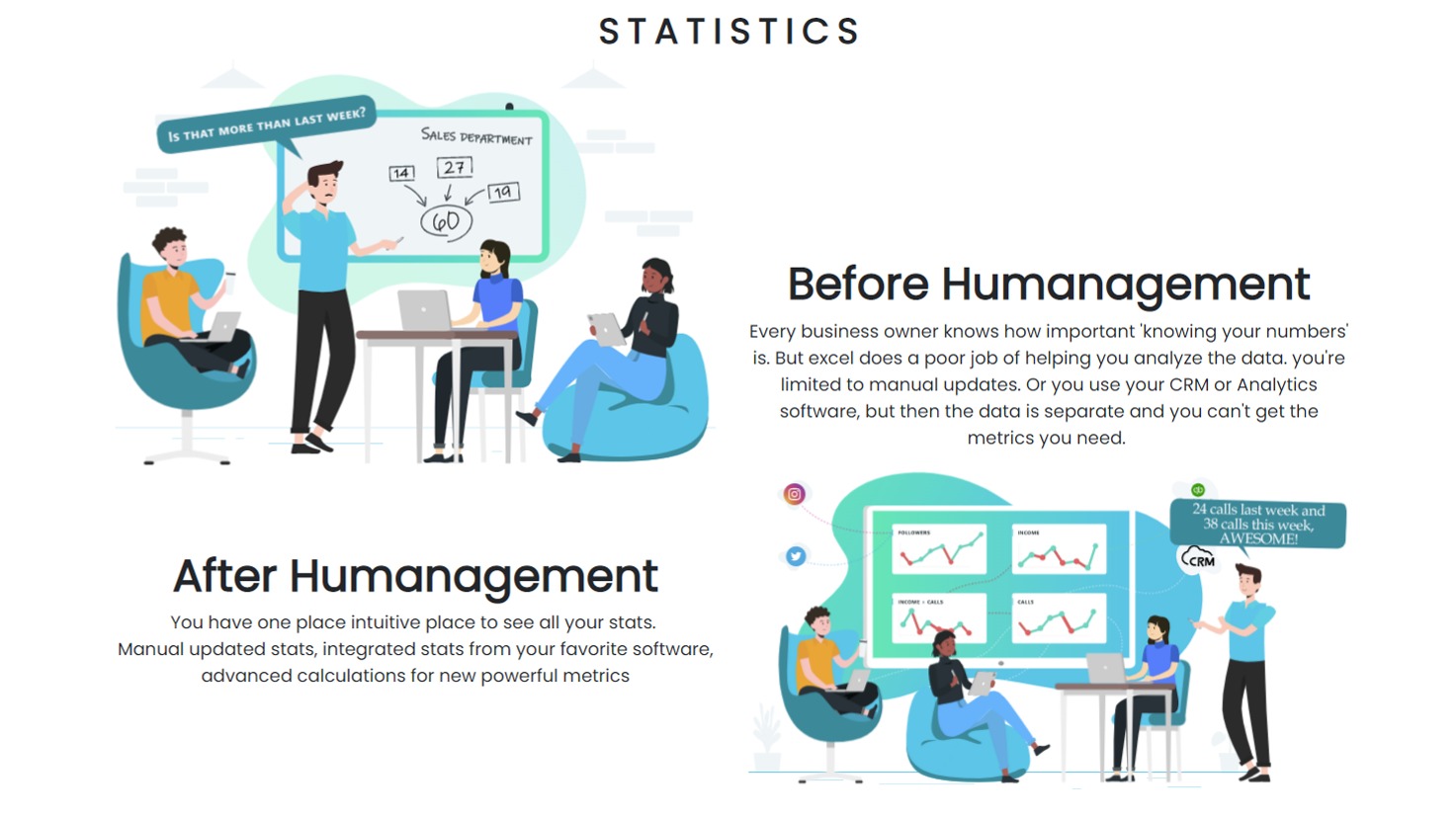 Track productivity and business analytics
Know your numbers, and build confidence in employee productivity. Excel isn't optimized for this.
You know graph setup eats up valuable time. It's difficult to extract data from other softwares. And business analysis vs employee production can sometimes be a complex herculean task.
Track business analytics and employee productivity easily and effectively with Humanagement:
Set up is done in seconds.
Integrates with other software via Zapier.
Allows manual stats (like # of products made today)
Calculated stats (gross income divided by # of staff)
Analysis tools (last 12 weeks compared to last year, accumulating for a period, etc.)
Time Sheets and Paid time offs
It's time and budget consuming to run different softwares to manage time sheets and another to manage PTO.
Humanagement offers an integrated PTO and Timesheet Solution:
Clock in & out
Export includes PTO data
Assign PTO allocations and Employees can request from their total
Records Geolocation Data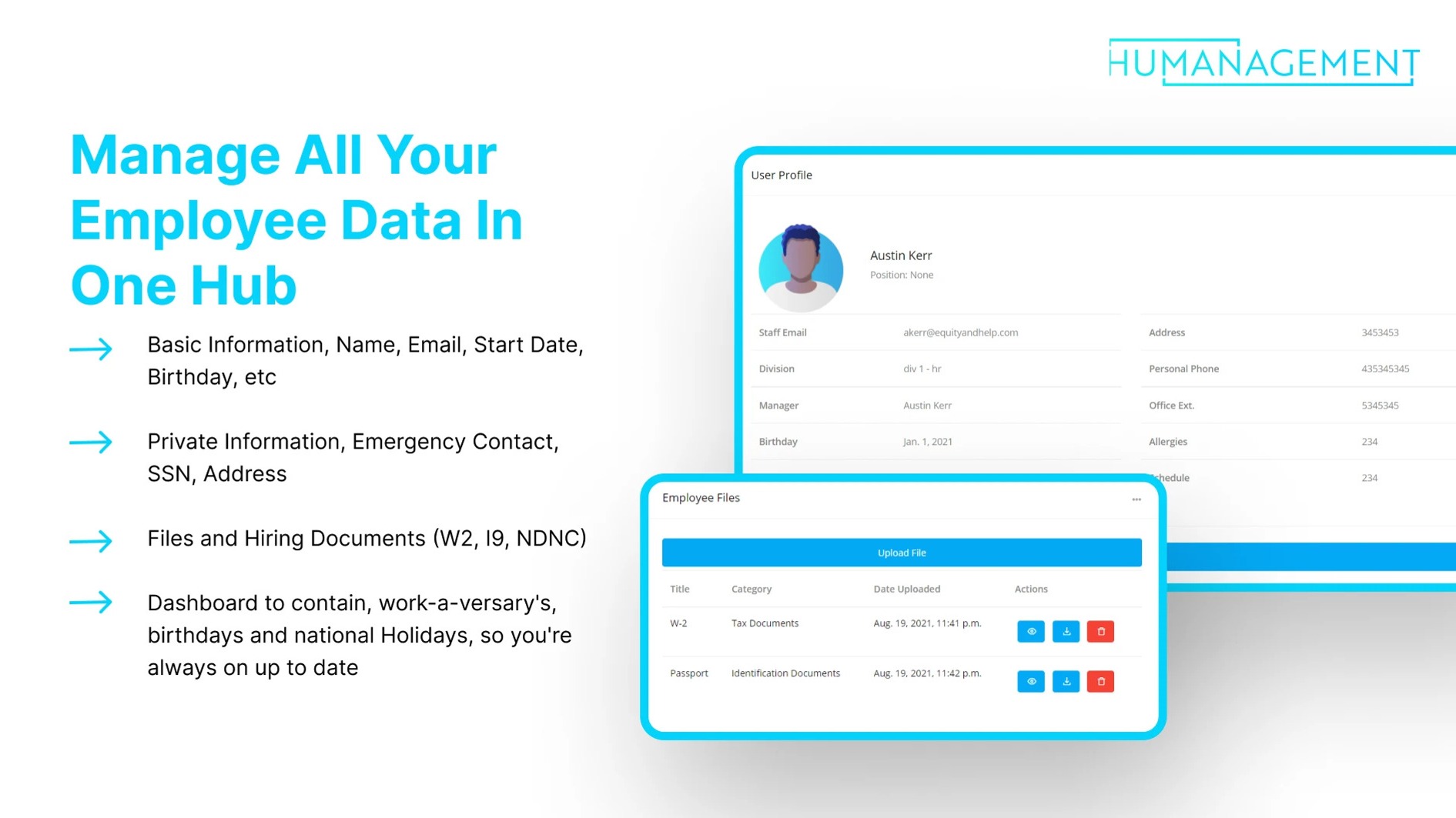 Deal terms & conditions
Lifetime access to Humanagement Premium Plan

You must redeem your code(s) within 60 days of purchase

All future Humanagement Premium Plan updates
60 day money-back guarantee. Try it out for 2 months to make sure it's right for you!