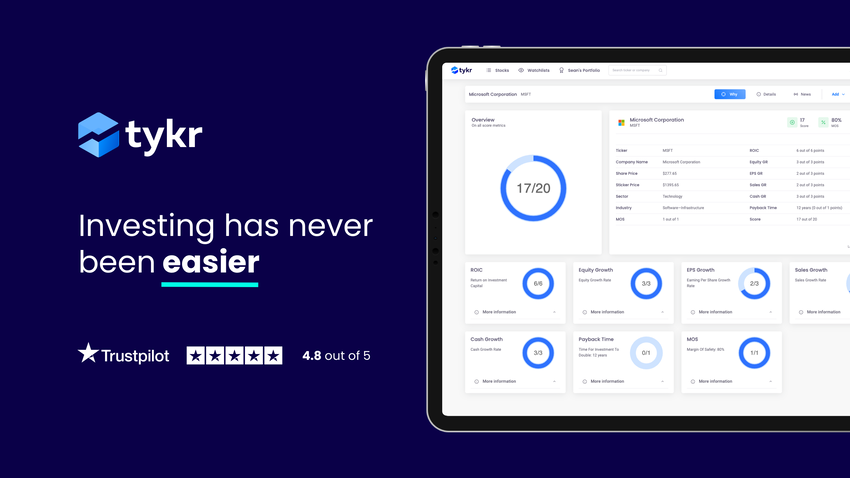 TYKR helps you manage your own investments and beat the market so you can retire early
Reduce risk, save money, and invest confidently with TYKR.
Do you feel like stock investing is too confusing, too time consuming, or too risky?It doesn't have to be! TYKRgives you the power to manage your own investments, reduce risk, and beat the market along the way.All it takes is 15 minutes per week — TYKR does all the hard work for you.If you ever considered investing on your own but you don't know where to start, TYKR is your solution.TYKR safely guides you through your investment journey by finding on-sale stocks and showing youwhythose stocks are on sale, giving you the confidence that you're making a wise investment.As you continue to use TYKR, your investment skills and confidence will increase, and you'll save money while doing it on your own. Get lifetime access to the TYKR PRO plan now!
*As an AppSumo customer, TYKR will be grandfathering you into all plans and features as they are released. TYKR truly values your feedback and support as Lifetime Members and wants to make sure you get first-time access to enhancements without additional charges. Thank you for being such an awesome community!*
TL;DR
TYKR finds great investments before they become mainstream popular stocks
Lifetime access to Blakify Text-To-Speech
You must redeem your code within 60 days of purchase
All future plan updates
Please note: this deal is not stackable
60 day money-back guarantee. Try it out for 2 months to make sure it's right for you!