Stop scheduling tasks and schedule your goals and priorities in your life and work. It is easy to get caught up in the whirlwind of daily chores and repetitive tasks. Week Plan helps you to design, plan and live the life that you want. Define your vision & objectives, set up your roles in life, and create an ideal schedule that helps you achieve your objectives for any role in your life. Break mighty goals into high-impact tasks and with measurable key results (OKR). Keep your sacred time protected with Inbox, which buffers your incoming tasks before they make it to your schedule. Do an automated Weekly Review to get a quick overview of your week. Prioritize tasks using the Eisenhower Priority Matrix. Document your progress towards your goal in the Journal. Connect Week Plan to the Calendars and Apps you use daily and gain control over every aspect of your life. Claim back your time and life with and focus on what's important for you! Get access now!
Overview
Win your lost customers back with WhatsApp messages sent automatically by our Abandoned Cart Recovery Plugin.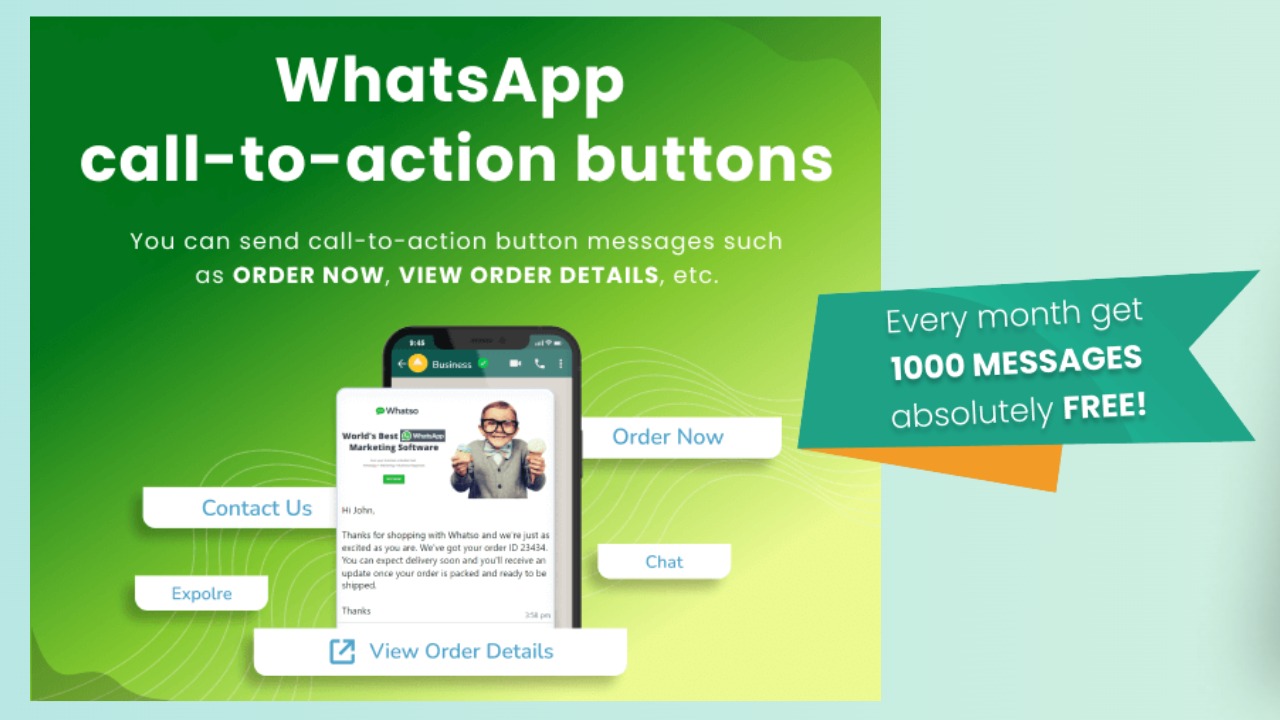 WhatsApp CTA button
An eye-catchy message goes a long way. Use our CTA buttons to send a power-packed WhatsApp message that customers can't resist. It's time to add some flavor to your marketing efforts with Cartbox's Abandoned Cart Recovery plugin.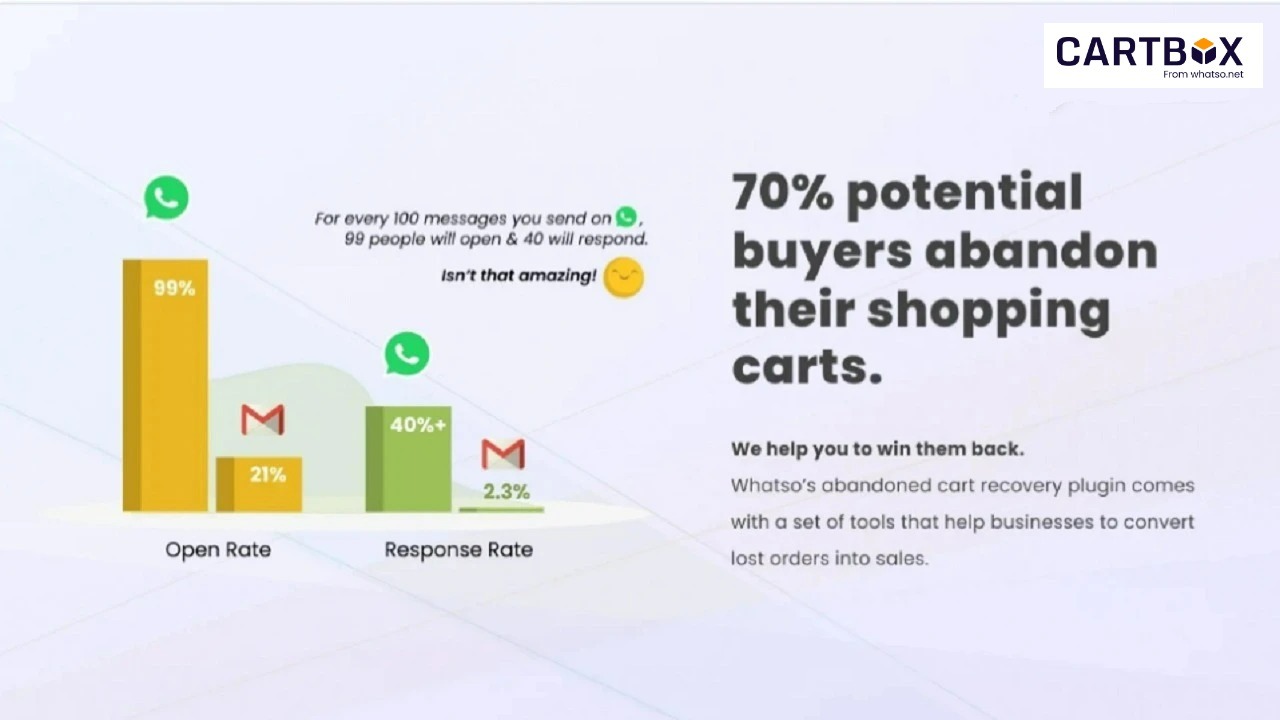 Improve your conversions by leveraging the power of WhatsApp
Help us help you win your customers back. It's time to bid farewell to cart abandonment forever.
WhatsApp as a communication channel is opened by users more than 10 times a day.
Compared to Emails, the probability of watching your message on WhatsApp is almost 20x times more.
It is a channel you cannot ignore as a business and you should try it out once to see the benefits yourself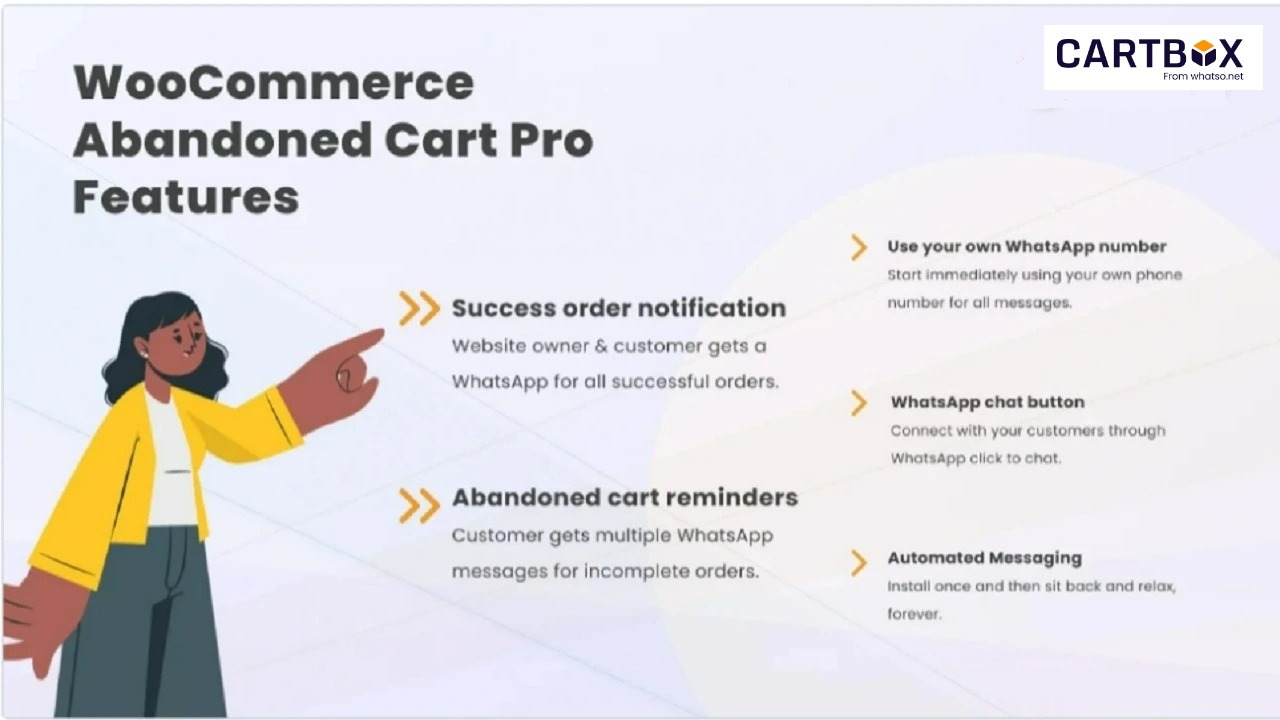 Enjoy Multiple features in a single plugin
If you want an all-in-one Whatsapp marketing plugin, you must get it Cartbox.
Cartbox is the most comprehensive WhatsApp marketing plugin on WooCommerce. It provides Order Success Notifications to customers and admin and abandoned cart functionality.
What's more? We are building many more functionalities such as Click-to-Chat, SMS messaging, etc soon. So stay tuned. You don't wanna miss this.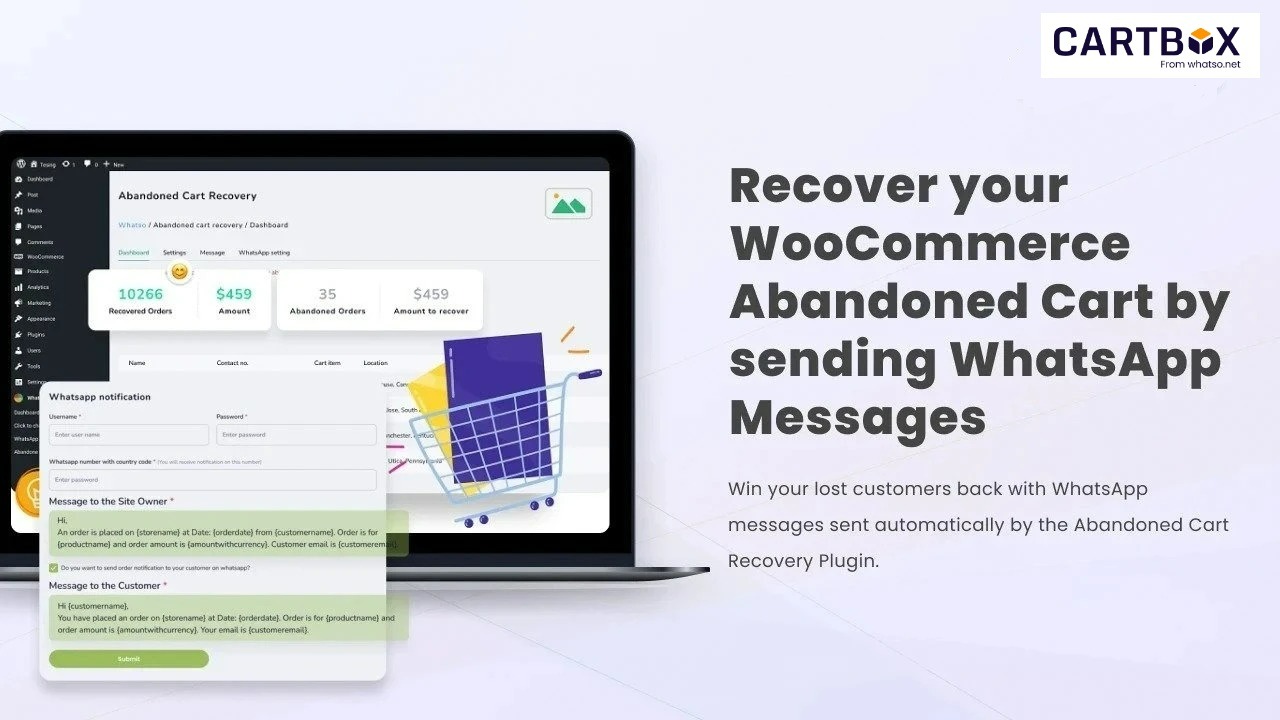 See the number of abandoned carts in your store and work on reversing them.
The plugin creates abandoned cart messages automatically and sends them for approval to WhatsApp with just a click of a button.
These messages are automatically sent at regular intervals to abandoned users.
So everything is set up in 5 simple steps. And guess what, you need not open the plugin ever and it will work on auto-mode.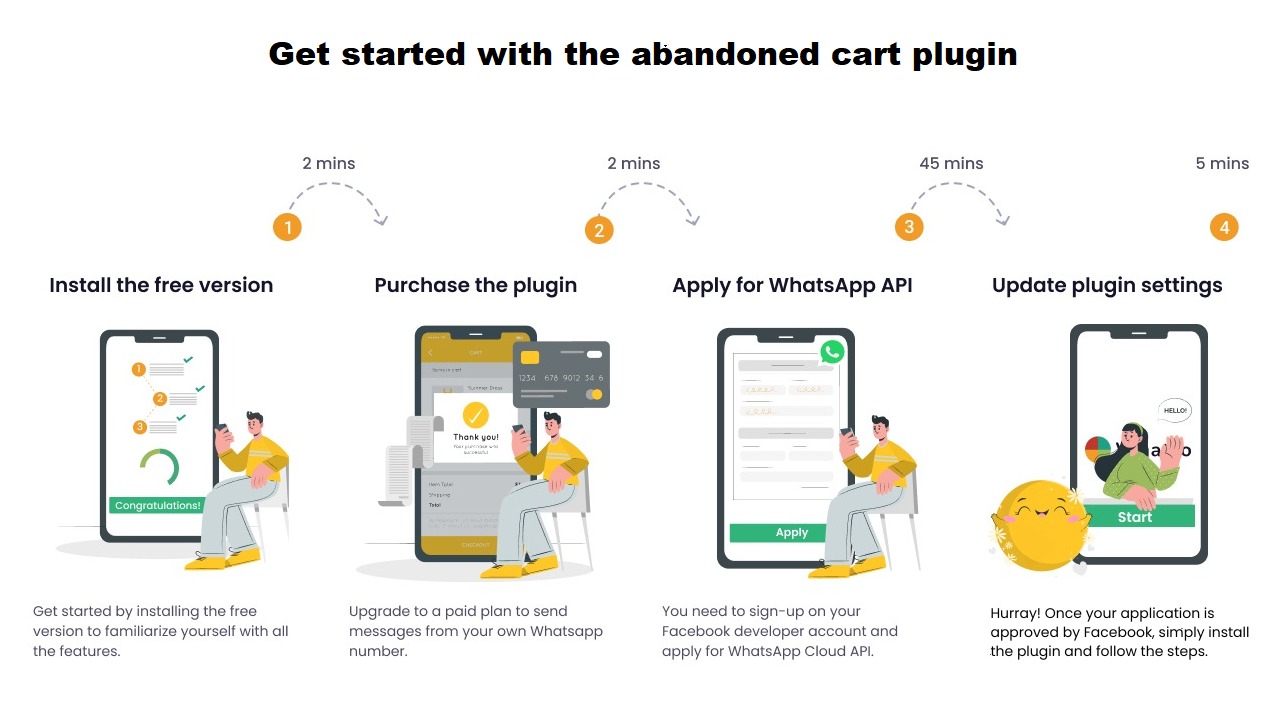 It's time to win your customers back! Get started with the abandoned cart recovery plugin
Purchase the plugin from Appsumo right now.
Apply to Facebook to get a verified WhatsApp business account. This process takes around 30 mins.
Once you get the approval from WhatsApp, install the plugin & start cart recovery.
The unlimited plan allows you to install the plugin on unlimited websites with different mobile numbers.
Deal terms & conditions
Lifetime access to WooCommerce Abandoned Cart Plugin & Order Notification through WhatsApp Plan

You must redeem your code(s) within 60 days of purchase

All future WooCommerce Abandoned Cart Plugin & Order Notification through WhatsApp Plan updates
60 day money-back guarantee. Try it out for 2 months to make sure it's right for you!