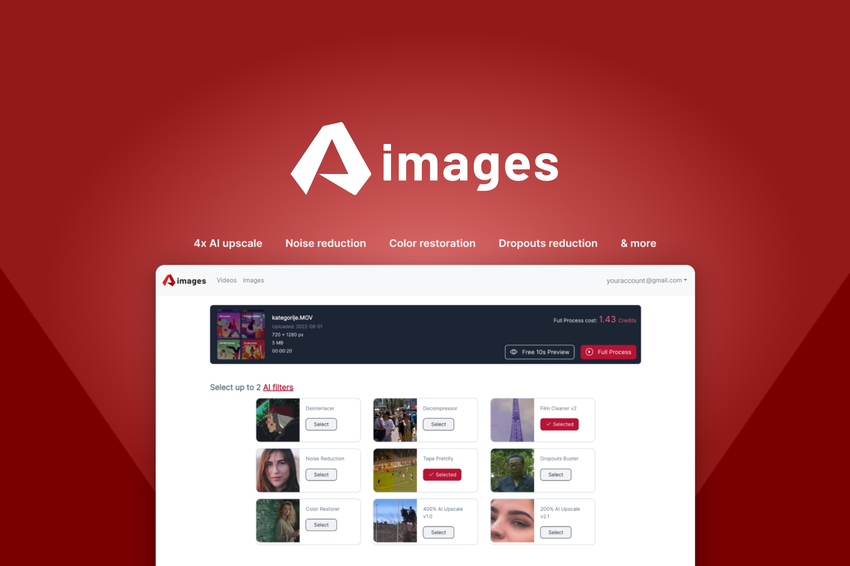 Enhance videos and images from your web browser using AI
Enhance the quality of videos and images using an AI-powered tool that runs in your web browser
Keep your files secure in the cloud and use GPU-accelerated servers to process hundreds of media files at once
Overview
Aimages is an AI-powered video and image enhancer that runs completely from your web browser, so you can edit from anywhere.
With AI-powered tools, Aimages enhances your videos and images so they look high quality, even if they were created with dated technology.
Convert SD media to HD, 2K, and even 4K resolution, and apply AI filters to deblur, sharpen, and upscale your media.
You can prepare prints, enhance underwater photos, reduce ISO noise, and create professional ecommerce product images with only a few clicks.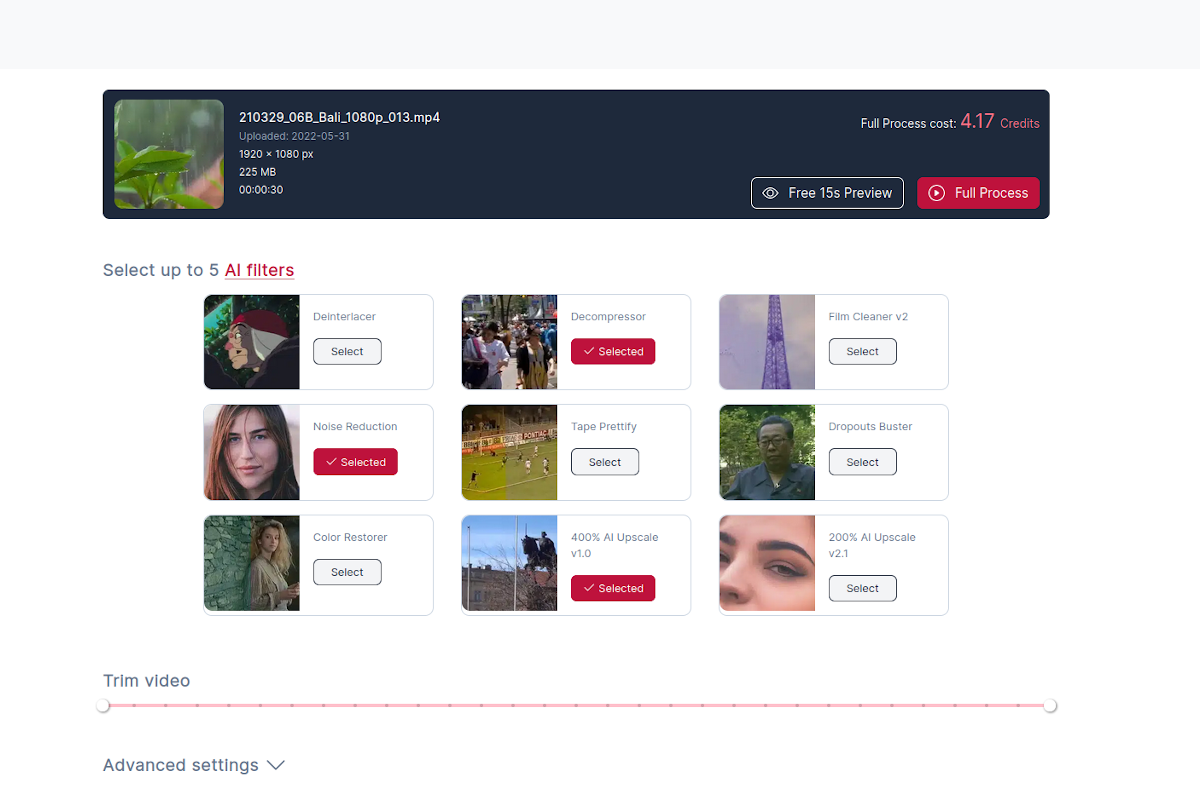 Use AI-powered filters to deblur, sharpen, and upscale your videos or images.
Aimages runs completely in your web browser, so you can access it from your computer, smartphone, or tablet without installing anything.
It just takes a few minutes! All you have to do is open your favorite web app, upload your media, and start enhancing content.
You can also use this AI-powered tool to view your file's metadata, trim videos, and tweak advanced settings.
Plus, it's easy to monitor projects still in progress and download enhanced files right from the Aimages dashboard.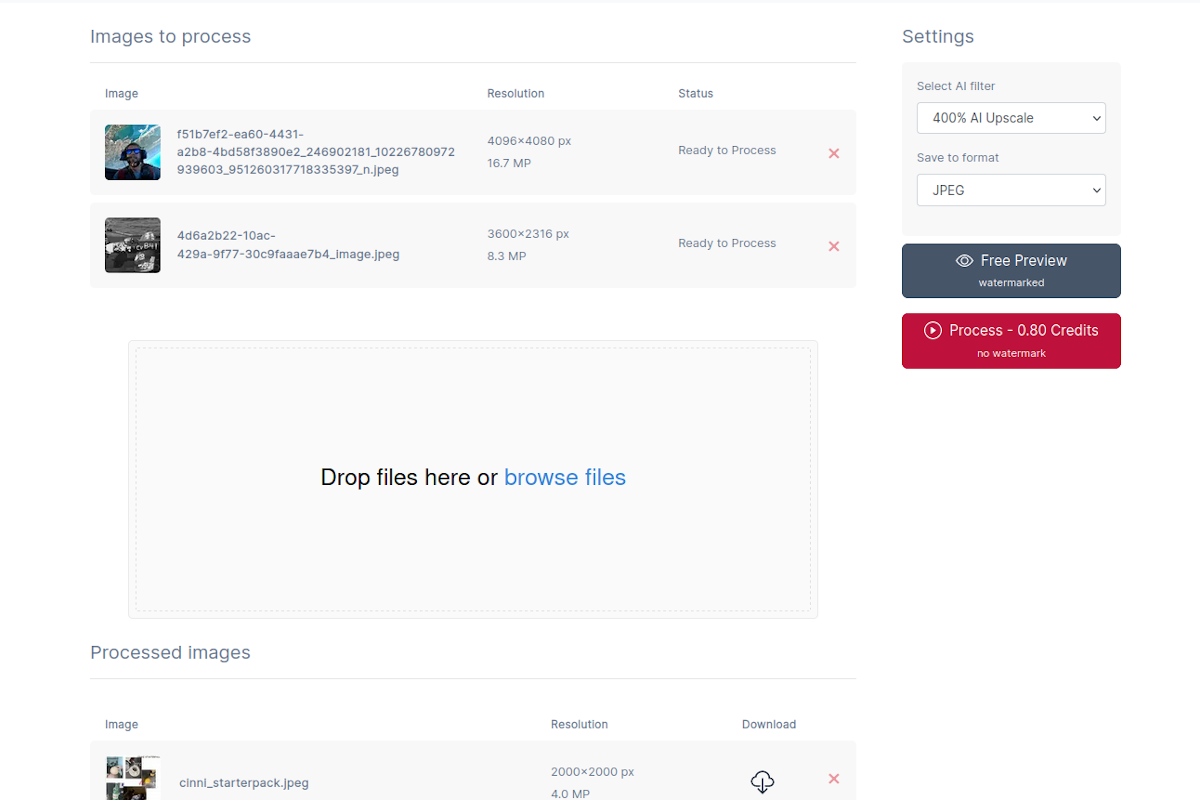 Aimages runs completely in your web browser so you can use it from any device.
Whether there are just a few videos in your archive, or you're sitting on thousands of hours of footage—Aimages can handle it.
Use GPU-accelerated cloud servers to process hundreds of videos at once. That's way faster than your personal desktop.
You'll also be able to securely transfer data on an encrypted hard disk, which Aimages can process and mail back to you.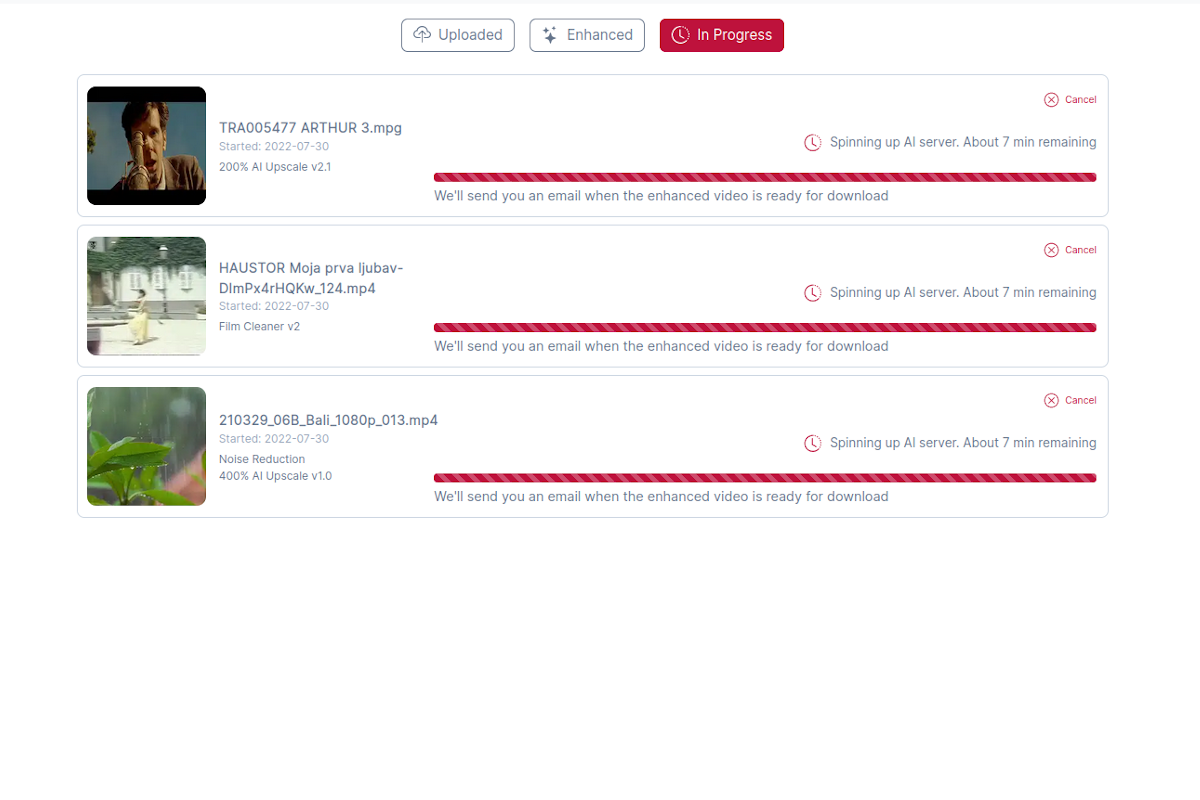 Aimages offers GPU-accelerated cloud servers that can process tons of media at once.
Make Aimages your go-to solution for image and video quality enhancement, whether it's for personal or professional use.
If you don't see an AI filter for your use case, you can contact Aimages and request a custom AI filter that fits your needs.
Best of all, Aimages doesn't claim copyrights on your enhanced media, so you can keep your files secure and delete them any time.
You can even contact Aimages to request a custom AI filter!
Whether you're going digital or analog, not every image can be picture perfect. (I've been waiting ages for this film to develop… aaand my thumb's in every photo.)
Aimages uses the power of AI to make any video or photo look like it was captured in the highest possible quality—no installs or technical expertise required.
Achieve pixel perfection.
Get lifetime access to Aimages today!
Deal terms & conditions
Lifetime access to Aimages

All future Standard Plan updates

No codes, no stacking—just choose the plan that's right for you

You must activate your license within 60 days of purchase

Ability to upgrade or downgrade between 3 license tiers

Only for new Aimages users who do not have existing accounts

Unused Aimages Credits roll over to next month. Credits are valid for 1 year after issuing
60 day money-back guarantee. Try it out for 2 months to make sure it's right for you!
Features included in all plans
100 GB video upload size

Upload videos up to QHD in resolution, and upscale up to 4K

10 uploaded and enhanced video slots

15-second free previews

3 AI filters at once

Enhance up to 3 videos simultaneously

Free Previews for uploaded videos up to 2K in resolution