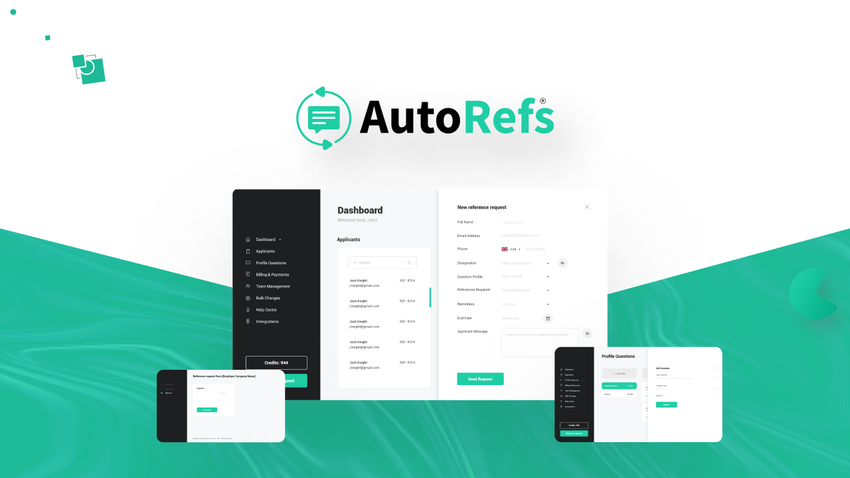 Automate your reference checking process with AutoRefs
Automate your reference-checking process with
AutoRefs
! Reference-checking is notorious for being a frustrating process that gets broken by communication problems, time zones, and inaccurate information. AutoRefs
solves the reference collection process
by
automating the communication
. AutoRefs is
the fastest way to collect references for applications
! ✔ Streamline reference-checking by automating reference requests for applicants. ✔ Save HR time by automating email & SMS reminders to chase applicants and referees.  ✔ Customize question profiles and fields. ✔ Use IP address validation to identify fraudulent references.  ✔ Get eSignature function by Referees. ✔ Obtain PDF reports of references and centralize cloud storage. ✔ Access a live dashboard of reference request analytics. ✔ Bulk add references via CSV. ✔ Integrate into over 4,000 apps via Zapier.  ✔ Custom feature requests can also be developed if feasible.
Get access to AutoRefs today!
TL;DR
Best for: Businesses and entrepreneurs who want a better way to handle HR and hiring
1 Year of access to AutoRefs Plan
You must redeem your code(s) within 60 days of purchase
1 Year of AutoRefs Plan updates
60 day money-back guarantee. Try it out for 2 months to make sure it's right for you!