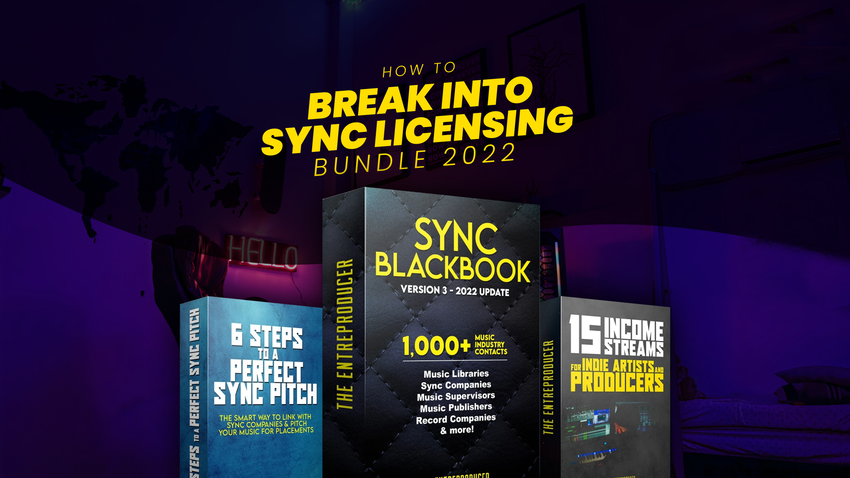 Break Into Sync Licensing
Music Creators…Break Into Sync Licensing! The updated 2022 Sync Blackbook Directory is here. Now with over ONE THOUSAND music industry contacts – music libraries, music supervisors, sync agents, music publishers, record lables and more – all at your fingertips! Use the included PDF guides to make the most of this training bundle: -15 Income Streams for Indie Artists and Producers will help you discover new avenues and opportunities to increase your music income. -6 Steps to a Perfect Pitch will help you optimize your music for sync and teach you how to properly pitch your music to the contacts in the Sync Blackbook Directory. -The 2022 Sync Blackbook will help you quickly find relevant contacts to pitch music to! As an indie artist or producer, establishing multiple income streams is crucial. If you have quality, original (finished) music, sync licensing is hands down the best way to make a living through music on your terms. A huge social media following, hit song or big promo budget is not needed! If I can travel the world as a nomadic music producer and live off of sync royalites, you can too! Let me help you skip 10+ years of trial and error in this industry, and make 2022 the year you BREAK INTO SYNC.
Digital download of Break Into Sync Licensing – Music Directory & Pitching Guide for Music Creators
This deal is non-refundable
Get lifetime access. Just download and save within 60 days of purchase.