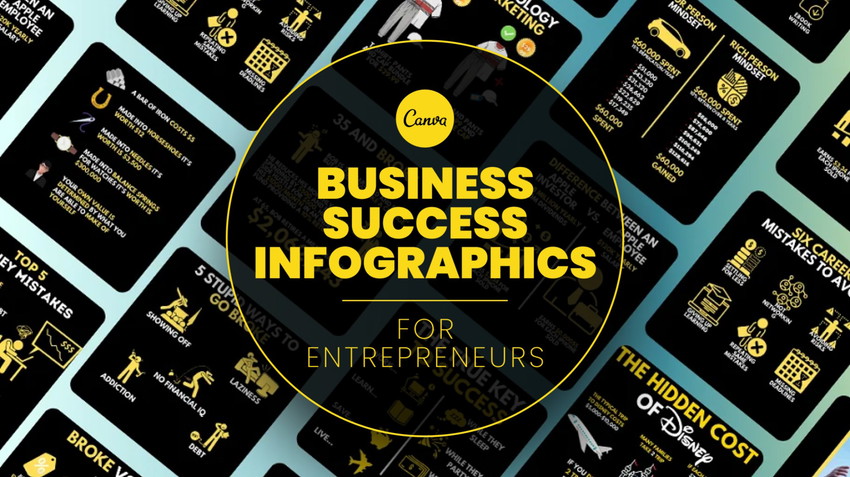 We have prepared 1000 Ready-Made Canva Infographics Templates for Business & Success.
🤔 Have you thought about how much time you spend designing Social Media posts for your page? ❓️What about luck with design skills? ❓️What about content research and finding nearly impossible to know what to post next? We have been working full-time to make this easy for you. Now you can have READY-MADE Social Media Templates for your page with beautiful design and high-quality content ready to post. 💥Focus on growing your page. 💥Focus on finding new customers. 💥Focus on creating new services/products. SOCIAL MEDIA TEMPLATE 💾 Save Time, Money & Effort 🎨 Fully Editable on Canva 🚀Grow your audience 🖼️ Viral Proven Design WHY SHOULD YOU BUY THIS PACK? ✅ Unique Infographic style templates for any business style and size. ✅ Editable using your own brand colors, fonts, elements, and everything in between. ✅ No need to start from scratch. WHAT'S INCLUDED IN THE ENTREPRENEUR BUNDLE? ✅1,000 Business & Success Canva Template ✅200 Books & Movies Lessons ✅250 Quotes & Lessons from Celebrities 🎁BONUS ✅600 Motivation Quotes ✅10 Carousels Business Post ✅2 Ebooks *NOTE* You need CANVA PRO to edit almost all the templates. All the templates are also available to download as PNG files but If you need to change or edit them in Canva you may need Canva Pro.
Digital download of Business Success Infographics for Entrepreneurs – Canva Editable Templates
This deal is non-refundable
Get lifetime access. Just download and save within 60 days of purchase.