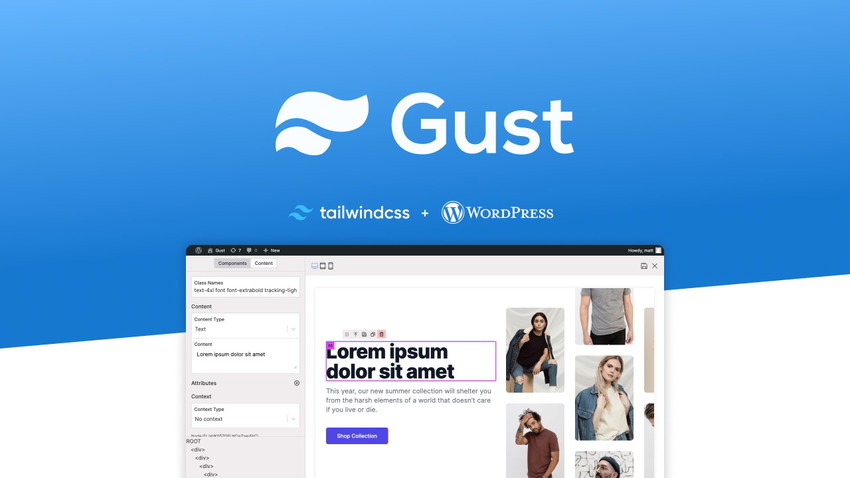 Build WordPress sites with Tailwind CSS. Gustis a WordPress theme that allows you to build your site using Tailwind CSS with a drag and drop page builder.It supports all the Tailwind essentials like JIT mode, removing unused styles, and the ability to customise your Tailwind config file. The drag and drop page builder allows you to either import HTML directly, drag elements onto the page, or use one of our pre-made components and templates to get yourself started. Want to bring your own components? No problem.You can save blocks of code as components for easy re-use throughout a project, or import them with JSON to easily re-use them across different projects. Gust also keeps track of the class names you've used throughout your pages and will automatically remove any unused styles. This results in teeny tiny production assets to keep your site snappy. Developers will find that Gust expects you'll want to change things. All the output goes through a filter so you can change it server-side, as well as having access to WP Query directly from the editor making it easy to loop through posts or any other custom data source.
Get access today!
TL;DR
Tiny assets equal quicker load times. Gust has performance baked in
Lifetime access to Loopple Plan
You must redeem your code(s) within 60 days of purchase
All future Loopple Plan updates
Please note: This deal is not stackable
60 day money-back guarantee. Try it out for 2 months to make sure it's right for you!