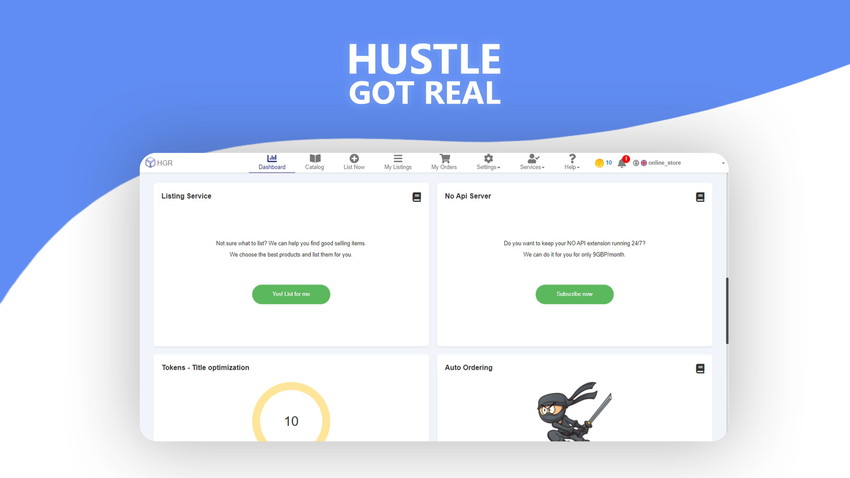 Hustle Got Real is a dropshipping automation software designed for listing, monitoring and repricing dropshipping products on popular selling platforms including eBay, Amazon and Shopify more Marketplaces will come upon we develop our software. It is also compatible with over 100 dropshipping suppliers from various locations in the UK, US, Europe and China. Users are equipped with everything they need to build a highly scalable and automated dropshipping business. It's jam packed full of features. BENEFITS: ✔️ Auto Ordering ✔️ User-friendly dashboard with simple settings and monitoring rules ✔️ Over 100 compatible dropshipping suppliers in the UK, US, China and Europe ✔️ Compatible with eBay, Amazon and Shopify ✔️ All-in-one dashboard for managing listings and customer orders ✔️ Innovative product catalogue for finding the most profitable items ✔️ Automatic calculation of shipping costs (VAT and other hidden costs) in order to ensure maximum profit on every sale ✔️ A range of low-cost listing services for dropshipping on eBay ✔️ Automatically end listings which have been out of stock for a significant period of time ✔️ Auto ordering software ✔️ No API Server ✔️ No API Extension ✔️ Listing services ✔️ Price warrior ✔️ Private suppliers ✔️ Title optimization
TL;DR
A must-have for dropshippers!
1 Year of access to Hustle Got Real Plan
You must redeem your code(s) within 60 days of purchase
1 Year of Hustle Got Real Plan updates
Please note: This deal is not stackable
60 day money-back guarantee. Try it out for 2 months to make sure it's right for you!