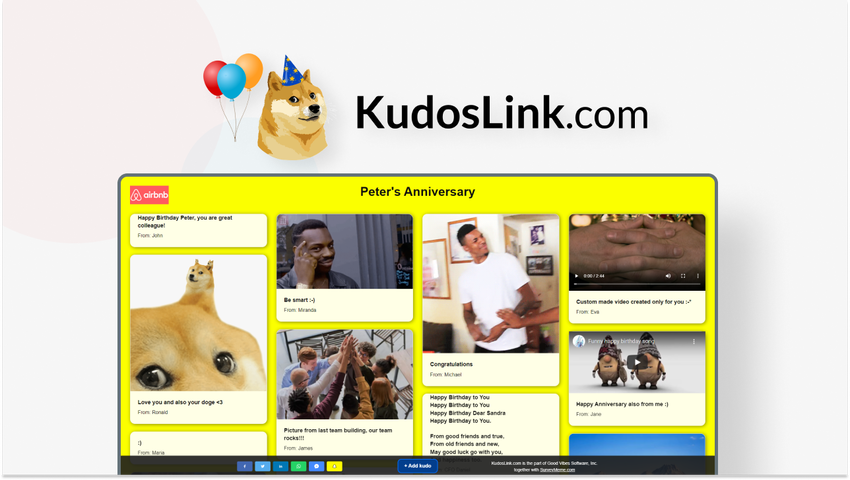 KudosLink is digital gift platform with kanban-style wall for gifs, memes, images, videos or messages
KudosLink is a recognition tool for celebrating special moments like birthday, birth of child, wedding, promotion, anniversary, farewell, #GetWellSoon or Hero of the Month. It is a simple link where you can pin personalized text, memes, gifs, videos
KudosLink is digital gift platformwith kanban-style wall for gifs, memes, images, videos or messages for these usecases.
It can be used as B2B product for HR managers for colleagues but also as B2C individual product for private and personal use cases.
A few benefits include:
It saves money of HR department which doesn't need to buy physical presents
When employees feel engaged, appreciated, and valued – they are more likely to stay
This personalized virtual present has much higher emotional value than receiving chocolate and wine
Culture of recognition improves happiness, belonging, engagement and productivity
Get access today!
TL;DR
Culture of recognition improves
QRClip.io premium account while credit lasts – Transfer Any File To Any Device Via QR Code or Link Plan
You must redeem your code(s) within 60 days of purchase
You will be premium while the credits last
Please note: This deal is not stackable
60 day money-back guarantee. Try it out for 2 months to make sure it's right for you!