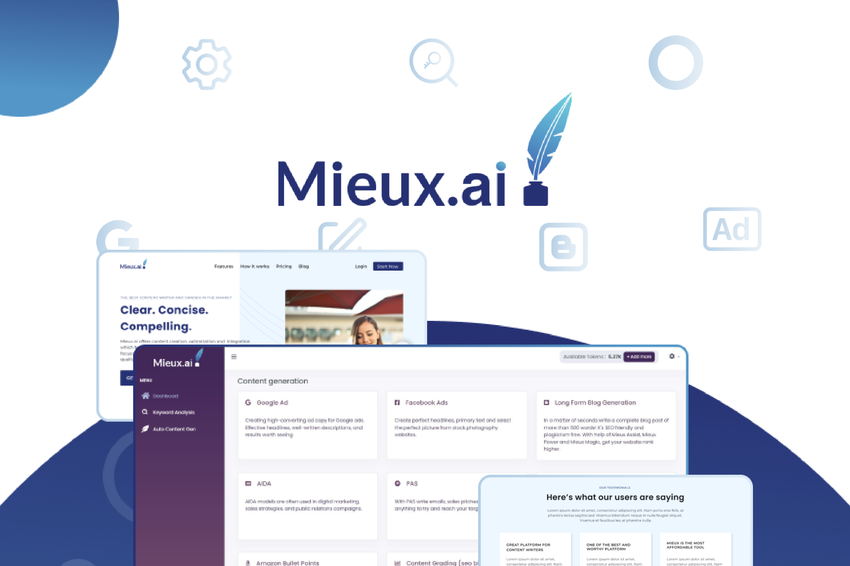 Churn out SEO-friendly, plagiarism-free content with powerful AI
Generate long-form blog posts, Google ads, and Facebook ads with the help of AI-powered tools
Grade content against your competitors, discover trending topics, and track competitors' keywords
Overview
Mieux.ai is a content generation and optimization tool that allows you to create SEO-friendly, plagiarism-free content in minutes.
Mieux.ai allows you to automatically generate high-quality, long-form blog posts with no word limits using the power of AI.
Because you can produce effective long-form content in a fraction of the time, you'll be able to better control your SERP rankings.
Plus, you can stop worrying about plagiarism or search engine optimization because all blog posts are SEO-friendly and completely unique!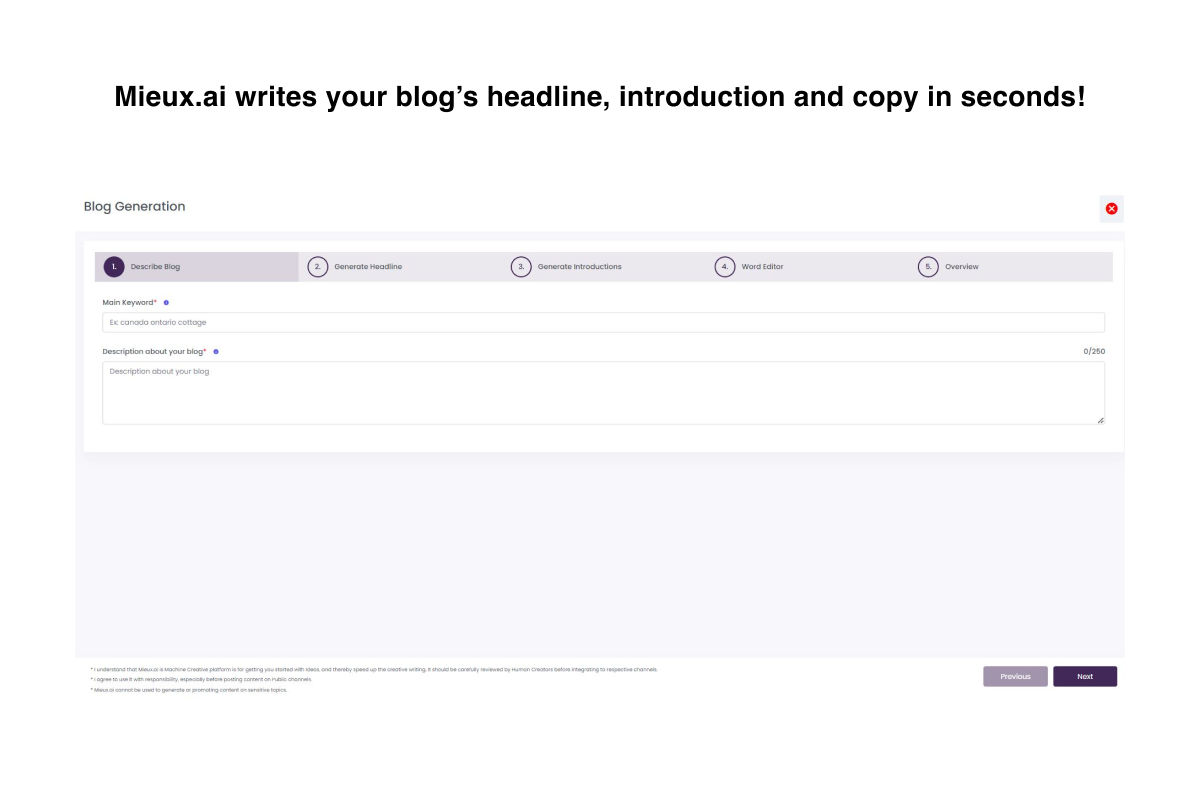 Use AI to help generate the headline, introduction, and copy for long-form blog content.
After generating your long-form blog posts, Mieux.ai also lets you grade your content, so you'll know how well it will perform in the SERPs.
Get a content grade ranging from A to F based on the keywords and topics most often used in similar content.
This tool even gives you topic and keyword suggestions for how to improve your content grade, allowing you to boost your search engine ranking with minimal effort.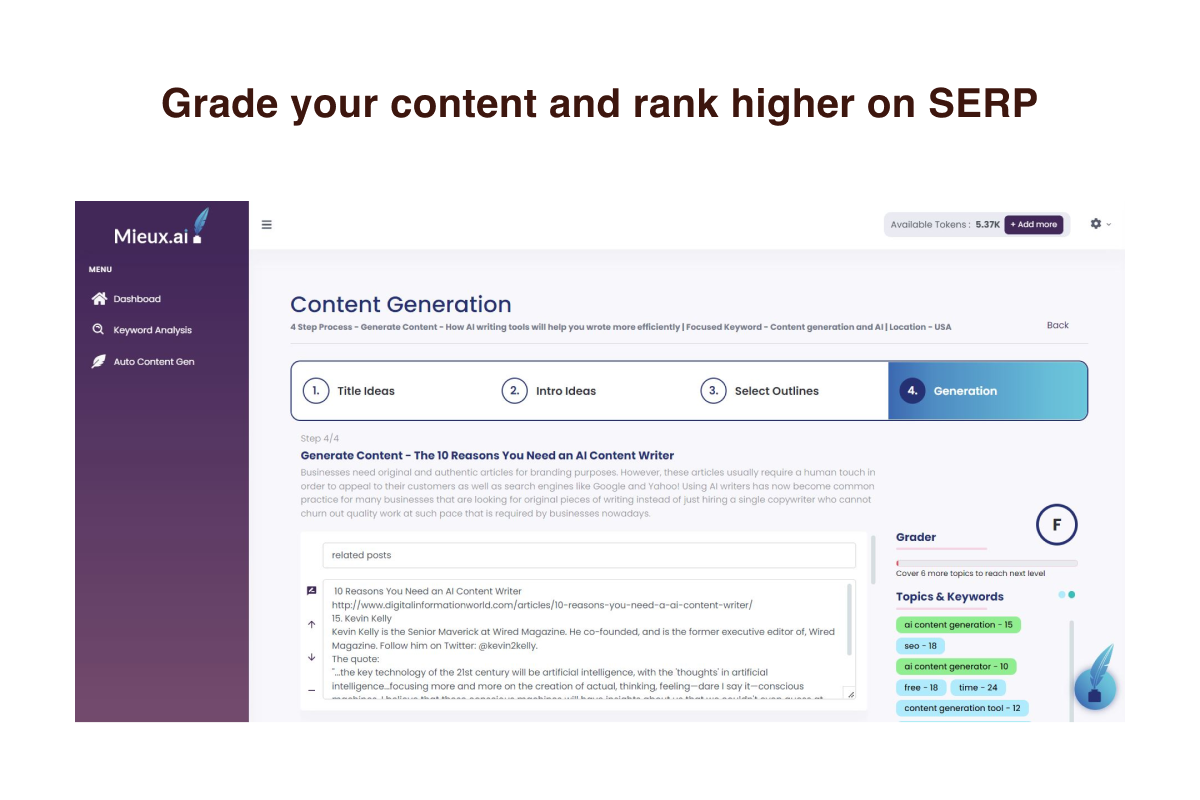 Grade your content as you generate it to improve your SEO ranking.
Best of all, Mieux.ai has a keyword research tool embedded in the platform, so you don't need to use other tools to keep tabs on your keywords!
You'll be able to research keywords to see competition, competition index, and search volume for keywords and phrases you'd like to rank for.
Discover trending topics and keywords that offer great opportunities for you to rank higher on the SERPs.
You can even compare multiple keywords at once to understand how their performance has changed over time, letting you make smarter decisions about which keywords to target.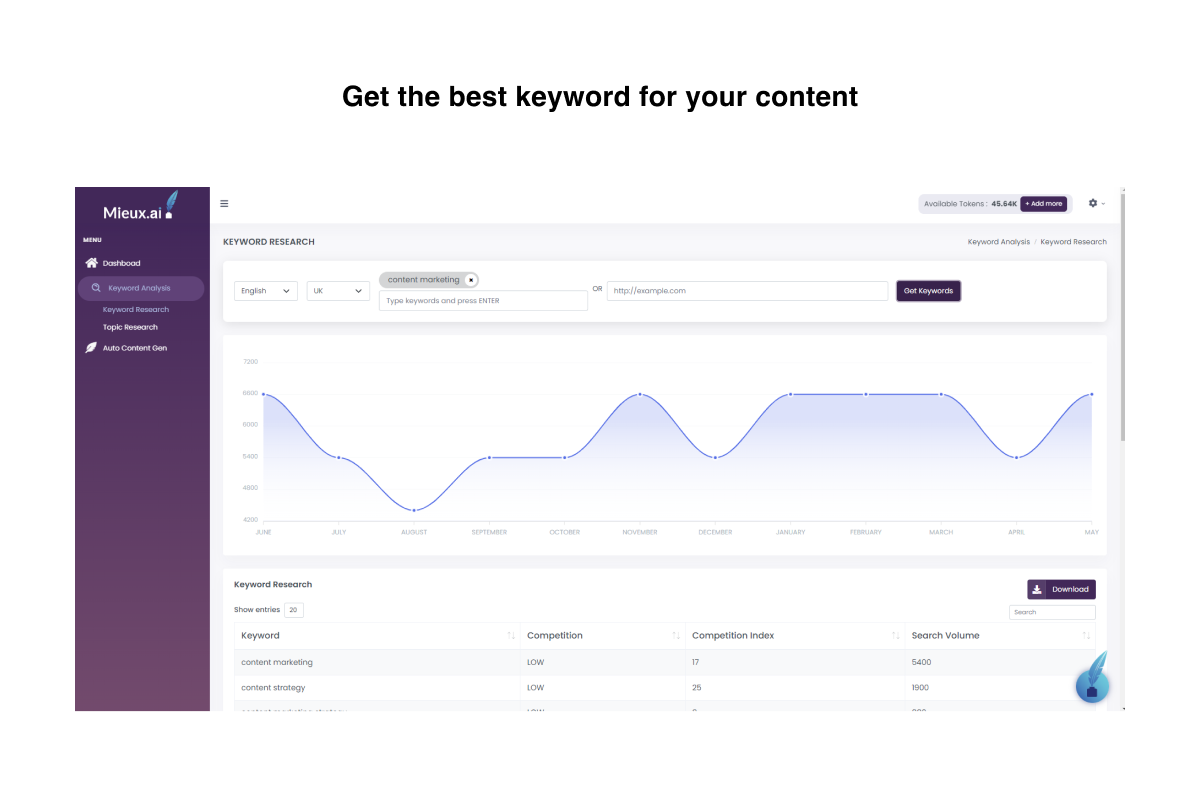 Do all your blog post keyword research with the same tool you use to generate content.
In addition to long-form blog posts, you can also create Facebook, Google, and Amazon ads that are optimized for conversions.
Use the AIDA model to generate different types of digital marketing content and public relations campaigns.
And with the PAS formula, you'll even be able to write emails, sales pitches, and product pitches in a way that's proven to appeal to your target audience.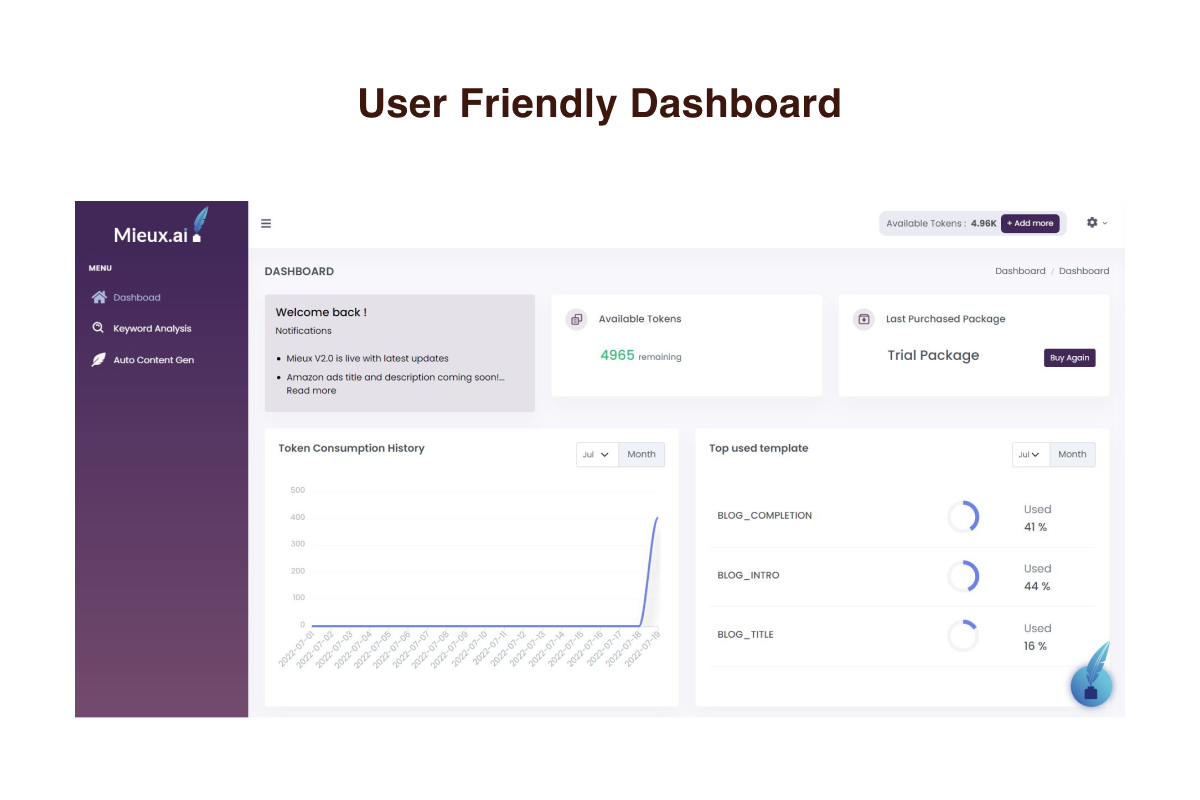 Generate conversion-focused Facebook, Google, and Amazon ads on the user-friendly dashboard!
All-nighters and caffeine may have fueled you in college, but you need a better solution to help you churn out content for your business.
Mieux.ai generates amazing long-form, blog, and ad content for you, so you can execute your content creation strategy on autopilot.
Scale up your content in a snap.
Get lifetime access to Mieux.ai today!
Deal terms & conditions
Lifetime access to Mieux.ai

All future Agency Plan updates

No codes, no stacking—just choose the plan that's right for you

You must activate your license within 60 days of purchase

Ability to upgrade or downgrade between 3 license tiers

GDPR compliant
60 day money-back guarantee. Try it out for 2 months to make sure it's right for you!
Features included in all plans
All templates

Content optimization

Unlimited keyword research

Unlimited keyword trends

Unlimited trending topics

Unlimited landing page scoring

Download and save

Long-form blog generation

Facebook and Google ad generation

Keyword insertion

AIDA model content generation

PAS formula content generation

Amazon ad generation

Title generator

Intro generator