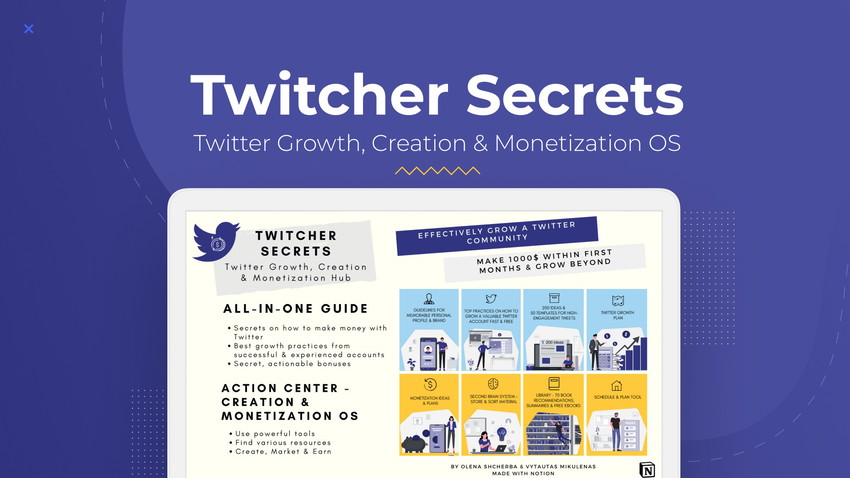 Twitter Growth, Creation & Monetization OS
– Start a side hustle by leveraging Twitter – earn your first 1000$ monthly, with the potential to earn beyond that. – Grow your audience naturally, fast & effectively. Fact: Twitter is booming with teenagers & people with little business experience that make thousands $ per month. What's stopping you to do the same? • Twitcher Secrets is an all-in-one guide, tool, and resource collection that will show you how to earn money by leveraging media. • Newly launched on November 2021 Twitcher Secrets is built to be a superior tool. It differs from the rest of the guides by: – Having a collection of best practices from various guides. – Keeping short-term practices updated – Twitcher Secrets will be updating its material in the future to stay up to date with the changing market. – Sharing timeless principles for the greatest long-term value. – Additionally, get email consultations and design work from us. Many Bonuses – Bonus 1 – 10 Most popular, timeless non-fiction advice eBooks for free. More info & closer look – https://bit.ly/3nPzOsY – Money-back guarantee – Instant download – Customer care Purchase now and you will have access to future updates through the same Notion link. The price will increase with updates. Claim your Template now, keep it forever.
Digital download of Twitcher Secrets – Twitter Growth, Creation & Monetization OS
Get lifetime access. Just download and save within 60 days of purchase.