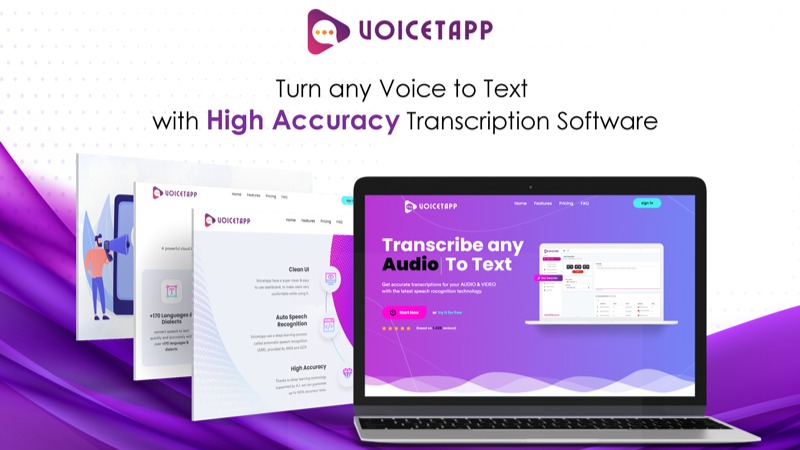 Imagine having the ability to extract text from any audio/voice with up to 99% accuracy.
Transcribe any voice or audio to text with up to 99% accuracy in easy 3 steps using Voicetapp, a powerful AI Speech to text transcriber. Voicetappuse a deep learning process called automatic speech recognition (ASR), provided by AWS and GCP.It covers more than 170 international languages & accents for recorded audios, and 12 Languagesfor Live transcription in real time. Unlimited use cases!From generating text contents from podcasts/videos & subtitles generations to converting your meeting recordings into hardcopy transcriptions, and you can set your transcription texts to turn out exactly how you need them. Voicetapp Features: – AI Speech to text Converts any voice to text with high accuracy rate – Latest ASR technology, powered by Google & Amazon – 170+ International languages for recorded audios & 12 languages for real time transcription – Cloud-based. No app installation required, it's all online – Upload file as MP3, OOG, MP4 or WAV – Unlimited use cases. Podcasts, marketing content, Subtitle generation, Conference calls & more
Get access today!
TL;DR
Get accurate transcriptions for your audio and video
Lifetime access to Voicetapp – AI Speech to text Transcription Plan
You must redeem your code(s) within 60 days of purchase
All future Voicetapp – AI Speech to text Transcription Plan updates
This deal is stackable
60 day money-back guarantee. Try it out for 2 months to make sure it's right for you!